Tom Gates Teams with ASDA for World Book Day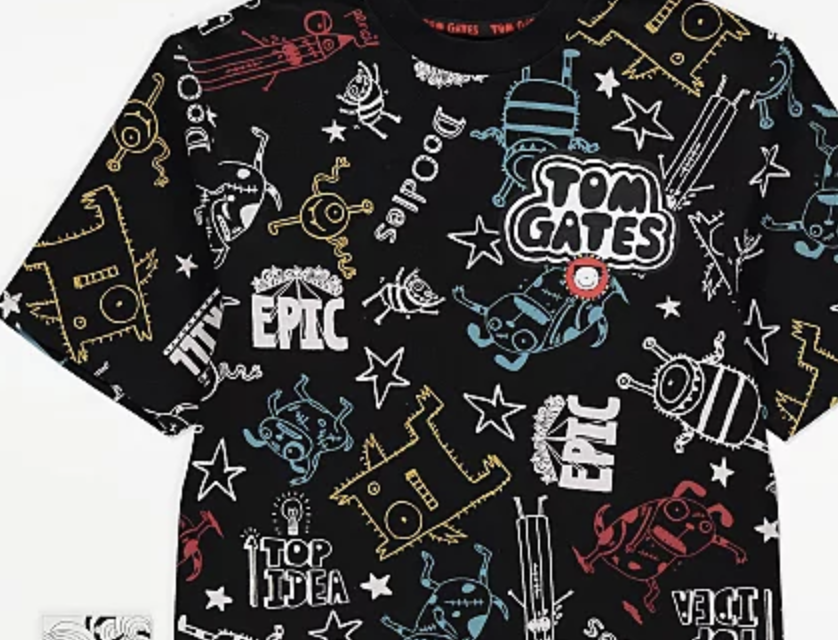 TG Entertainment Limited announces that it is teaming up with retail giant ASDA and Scholastic (publisher of Tom Gates) in a deal brokered by The Point.1888 for a special collaboration in the run up to World Book Day (WBD) (02/03/23).  The campaign introduces a colourful range of Tom Gates-branded daywear, nightwear and accessories from licensing partners Poetic Brands, Aykroyds and RoyLowe supported by two weeks of related promotional activity and support.
ASDA stores will run a multi-brand WBD promotion, including a range of the bestselling and multi-award-winning Tom Gates books by author-illustrator Liz Pichon. The new apparel, which features products with special colour-in hand tags to reflect the creativity of the brand, will be available in a dedicated aisle end promotion in 100 stores, and also online. The launch will be supported by a major promotional push including a UK-wide tiered influencer campaign and social media blast targeting 600K+ impressions. There will be coverage and a competition on popular parenting site UKMUMs.TV as well as support from ASDA's in-house publications and the Tom Gates social channels.
"2023 has opened brilliantly for Tom Gates with a major award win, and a number of 'epic' collaborations to share Tom's creativity and imagination with his very engaged young fans who are always looking for new opportunities to connect with the brand, in addition to enjoying the books and the TV series. And what better way to enjoy World Book Day then curled up with a Tom Gates book in your Tom Gates pyjamas?" Says Liz Keynes, Commercial Director TG Entertainment.
Hannah Redler, Director of Retail and Sport at The Point.1888, commented, "We are ecstatic to join in on the celebration of World Book Day with this incredible selection of Tom Gates products. We've seen an amazing surge in popularity for the brand over recent years – kids everywhere are taking up creative writing and drawing like never before. And things look set to get even bigger now that all our promotional events have been planned out. As always, it has been an absolute pleasure collaborating with our colleagues at Tom Gates Entertainment, Poetic Brands, Aykroyds and Roy Lowe."
The Brilliant World of Tom Gates TV series is based on the award-winning, multi-million-copy-bestselling Tom Gates books written and illustrated by Liz Pichon and published by Scholastic. The series follows the adventures of doodling schoolboy Tom, his family and friends as he has fun, and comes up with ever more creative excuses as he faces the everyday challenges of everyday life. Two series and a Halloween special are available to stream on Sky Kids and Now and Tom Gates is part of the line up on the new Sky Kids linear channel which launched this month. The latest series recently won the Best Mixed Media Award for Kids Programming at the prestigious Kidscreen Awards held in Miami which recognises children's programming from around the world.
A combination of 2D and stop-motion animation with live action, the series blends Tom's humour and home/school life with crafting ideas and makes which kids love to recreate, along with interactive games, gags and catchy songs. Tom and his friends pop up and interact throughout each episode, while Liz Pichon shares her tips on how to draw the characters and how to get creative at home.
Liz Pichon's award-winning Tom Gates book series has sold more than 14 million copies worldwide and has been translated into 47 languages. The heavily illustrated novels, in handwritten font with Tom's doodles and pictures embellishing the text, document in hilarious detail his everyday trials and tribulations at home and school which all kids can relate to. In 2022 book 20 in the series published Tom Gates: Happy to Help (Eventually), and the first art activity book was launched, You Can Draw Tom Gates with Liz Pichon
The Brilliant World of Tom Gates is produced by TG Entertainment Ltd – a company jointly owned by Black Camel Pictures and Wild Child Animation – with additional investment from The National Lottery and Scottish Government through Screen Scotland, and WildBrain. The Executive Producers are Ken Anderson from Wild Child Animation, Arabella Page Croft from Black Camel, author illustrator Liz Pichon, and Ian France, Commissioning Editor at Sky. Series Director is George Sawyer, Series Producer is Sueann Rochester and Head Writer