Endemol Shine Group Announces Six New Licensees for Peaky Blinders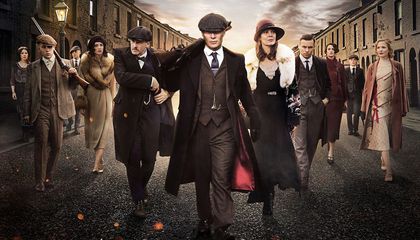 Endemol Shine Group, together with brand owner and production company Caryn Mandabach Productions, has announced six new licensees with a brand new and varied product range inspired by the multi-award-winning hit series Peaky Blinders.
Already an existing licensee, Half Moon Bay, who have a successful range of glassware, will be launching a premium range of mugs, shot glasses, whiskey stones and hip flasks.
Kimm and Miller are launching a range of beautifully crafted, bespoke gift sets which will include tea and ceramic mug gift set and a whiskey fudge tin gift set. Both ranges will be available in major retailers in AW20.
Boutique bedding specialist Dreamtex Ltd will be launching bedlinen, flannel blankets and a towel, all featuring the Shelby Company branding in a simple black and white design. Reversible bedding sets will be available in single, double and king sizes to cater for all ages.
Steamforged Games is bringing Peaky Blinders to tabletops with an official card game, Peaky BlindersTM: The Card Game featuring the iconic characters that fans know and love. In the true spirit of the award winning TV drama the game centres on bluffing and tricking your opponents and will be suitable for three to six players.
Following on from the success of the board game which sold out across multiple retailers, Just Media have developed a Peaky Blinders travel game which will incorporate elements of the current strategic board game, slated for release next year.
Fans will be finally able to host the ultimate Peaky Blinders themed party thanks to a range of party accessories that Smiffy's will launch in time for Halloween, together with quality fancy dress outfits inspired by the main characters.
Funiglobal has also come on board as the international e-commerce destination for the Peaky Blinders fancy dress costumes for both Men and Ladies, available for our fans to buy in time for Halloween.
Other forthcoming products include the first licensed videogame, Peaky Blinders: Mastermind from Curve Digital which will launch on PlayStation 4, Xbox One, Nintendo Switch, and PC later this summer.
Jane Smith, Group Director, Brand Licensing & Gaming, Endemol Shine Group said: "Landing deals with six new licensees demonstrates the strength of Peaky Blinders and its place in the market, and I am thrilled this popular brand shows no signs of slowing down. These latest products are for very different retail areas and without a doubt will bring something for every fan out there".
Susan Waddell, Commercial Director, Caryn Mandabach Productions, said: "We are delighted that the fans of the show will now have an even broader range of officially licensed Peaky Blinders inspired products."
Created and written by Steven Knight (Dirty Pretty Things, Eastern Promises and Locke), the multi-award-winning BBC One series is produced by Peaky Blinders official brand owner Caryn Mandabach Productions and Endemol Shine Group's Tiger Aspect Productions.