Marmite Teams with Nairn's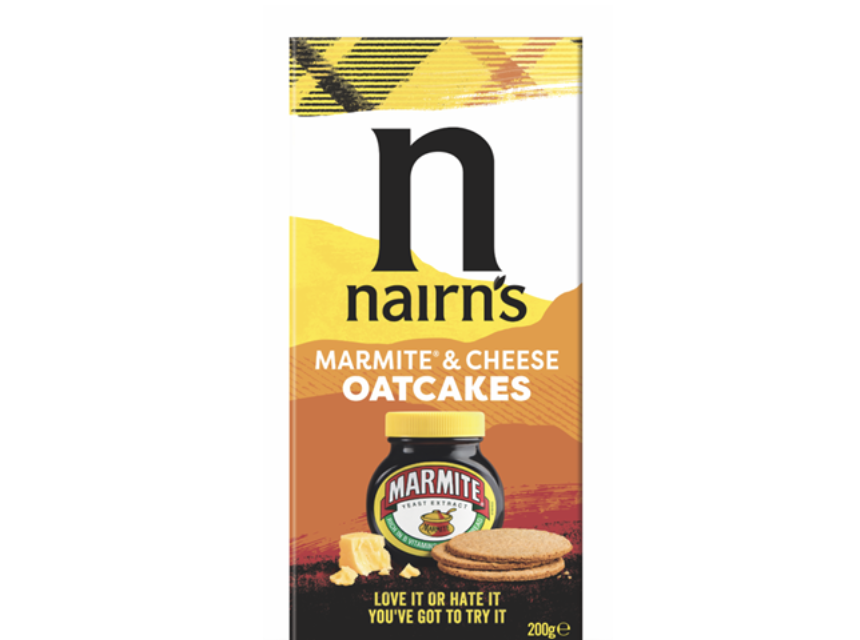 Marmite has joined forces with Nairn's to launch a new Marmite® & Cheese Oatcakes, marking Marmite's first expansion into oatcakes. The new product will become a permanent addition to the range and is due to launch in the grocery channel this month. 
The new oatcake looks to build on the success of Nairn's Cheese Oatcakes, the brand's best-selling oatcake by value[2], and attract incremental sales to the oatcake category with the addition of its first co-branded product. The collaboration also looks to increase the household penetration of oatcakes and attract younger consumers to a category that they may not have previously been aware of, to further increase incremental growth.
Melissa Wimble, Licensing Manager at Unilever said: "Marmite is a versatile product that lends itself to different flavour profiles. We are now taking the classic Marmite and cheese combination and extending that to a brand-new category for the brand – oatcakes. Our first collaboration with Nairn's is set to grow the Marmite consumer base by tapping into new occasions associated with the oatcake category, such as snacking. This evolution of Nairn's leading Cheese Oatcake SKU also is well positioned to introduce Marmite to the oatcake consumer and grow brand penetration."
Nairn's Brand Manager Euan Lutton commented: "Our customers have long been telling us about their go-to flavour combinations and toppings for their oatcakes, and Marmite and cheese are firm favourites. We are delighted to bring customers exactly what they want, and to see two classic brands that complement each other so perfectly, joining forces."
The new launch offers an effective way to bring new people to the oatcake category. Lutton added: "As brand leaders of the category, we understand that new, innovative flavours are a must to increase household penetration and to attract new and younger shoppers to oatcakes. Although Marmite is known for polarising the nation, we think that together we made a groundbreakingly delicious product, so even those who might not normally opt for Marmite could be in for a pleasant surprise. Love it or hate it, you've got to try it!"
New Marmite® & Cheese Oatcakes are available now and will be supported by a PR, media and influencer campaign from Nairn's.