Hoonigan Automotive Brand Revs into Licensing with The Brand Liaison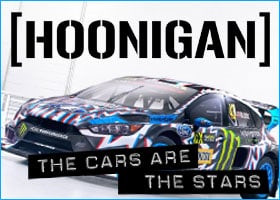 Hoonigan – the largest automotive media outlet for the sub-30 audience, and producer of the world's largest automotive viral video franchise of all time – has tapped The Brand Liaison to lead licensing for their brands, including Hoonigan, Gymkhana, Climbkhana, and Terrakhana, as well as renowned rally car driver Ken Block – who has 5 X-Games medals to his name, in addition to multiple wins across various global racing series. 
Hoonigan is more than just an automotive brand, however. It's a culture, with a mission that's all about making cars fun. Beyond creating the media, they build many of the wild machines too – ranging from a 1400 horsepower AWD 1965 Ford Mustang, to a snowmobile-powered golf cart. These cars become Hoonigan characters and heroes of their own accord, getting driven to their absolute limits, resulting in some of the most compelling automotive action around.
The numbers speak for themselves—a YouTube empire of over 7.5 million subscribers, nearly 1 billion views, and multiple awards and accolades: including three Emmy Award nominations for their Amazon Prime Original "The Gymkhana Files" – a docu-series about the action film franchise that changed the car scene forever.
At Hoonigan, the cars are the stars. Each new custom-built vehicle gets its own name and personality, as they quickly become fan favorites. Hoonicorn, Twerkstallion, Napalm Nova, Sh*tcar, ShartKart, ScumBug, and Tri5 by Fire are among the dozens of custom cars currently featured by the Hoonigan drivers. They represent the masters of the Hooniverse.
"This is one of the coolest properties we've ever represented," states Steven Heller, President of The Brand Liaison. "You are immediately hooked on these heart-racing videos and they have built an entire car culture. You can't fake this. Ken Block is the real deal. Mad skills!"
"Hoonigan is on the leading edge of sports brands that use digital content to convert fans and maximize revenue opportunities," says Hoonigan CEO Jenn van Dijk. "We are excited to be working with The Brand Liaison to build the Hoonigan licensing program and provide our fans with exciting new products."
Building on the current fan base and consumer products, including automotive inspired streetwear apparel, Hoonigan licensed products will range from apparel, accessories, headwear, and eyewear to toys, collectables, racing sets, video games and experiential licensing. To learn more about licensing for Hoonigan, Gymkhana and Ken Block, visit The Brand Liaison www.thebrandliaison.com or email: Joy@thebrandliaison.com.
# # # # #