H&A lead the way in Sustainable Health & Beauty Gifting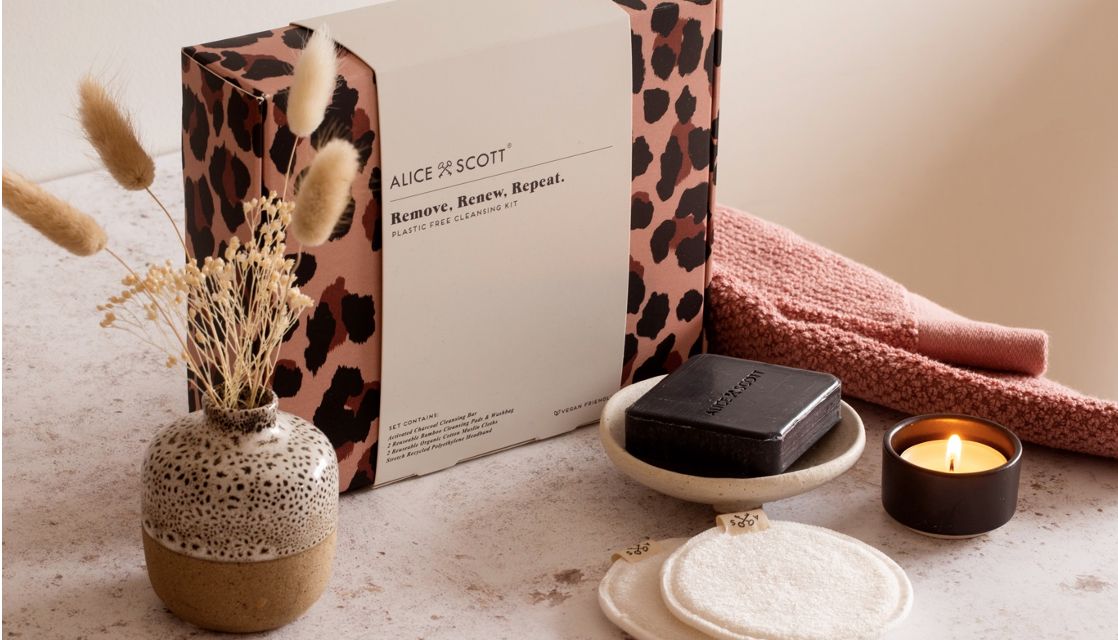 H&A, the UK's leading supplier of licensed health and beauty accessories have collaborated with Alice Scott, the award-winning British stationery, gifting and lifestyle brand synonymous with stylish patterning and illustration, for a health and beauty range exclusive to Tesco.
Launching the brand are three wellness-focused beauty gift sets, including everything you need to get started with a plastic-free cleansing regime, try out the benefits of dry body brushing, or recharge mind and body with the fabulous Self Care Sunday gift set.
Core to the Vegan-Friendly range are plant based fabrics and fibres, including bamboo, GOTS certified organic cotton and FSC certified wood, with nourishing formulations and botanical elements. Fragrance blends curated especially for the brand channel the natural benefits of essential oils, providing effective, mood-boosting and sleep focused formulations across the collection. Pretty, fully recyclable packaging in muted tones and a striking leopard print, makes for look-good-feel-good gifting this Christmas.
Launched in October 2021, the gift sets are available now nationwide, exclusively in Tesco stores. Range includes:
Deep Recharge Body Kit (RRP £12)
Remove, Renew, Repeat (RRP £14)
Power Off – The Self Care Sunday Kit (RRP £25)
In addition to the self-care gift sets, H&A have also created an all year round range of bathing accessories available now, also exclusively at Tesco. 100% Vegan with 100% Plastic Free Packaging, the first drop includes:
Exfoliating Body Mitt (£3.50)
Body Polishers (£2)
Vegan Nail Brush (£3)
Double sided bamboo washcloth (£3)
Vegan Dry Body Brush (£4)
Vegan Bath Brush (£7)
Livy Coare, Licensing and Marketing Manager at H&A says, "We are totally in love with our Alice Scott range for Tesco! It is exciting for us to be one of the first licensed brands to push forward sustainable skincare gifts and vegan-friendly all year round products into a mainstream retailer. Our attention to detail on making sustainability affordable is reflective of our commitment to drive forward the war on plastic."
Heather Flynn, Alice Scott's creative director says "Consumers are showing every day that they want change and are making active purchase decisions with sustainability in mind. It was important that we build on this, but also that we developed the potential for what gifting offers, placing wellness and positive change at the core of the collection, over a more traditional, straight-up 'pampering' approach. The plastic free cleanse kit is a great example of this – a gift that lets you dip your toe into an alternative beauty regime and try it out. If receiving that gift then inspires someone to go on to switch their regular plastic bottle cleanser for good, or ditch their cotton-wool make up pads, that's something we can all feel positive about."