Cath Kidston collaborates with The World of Peter Rabbit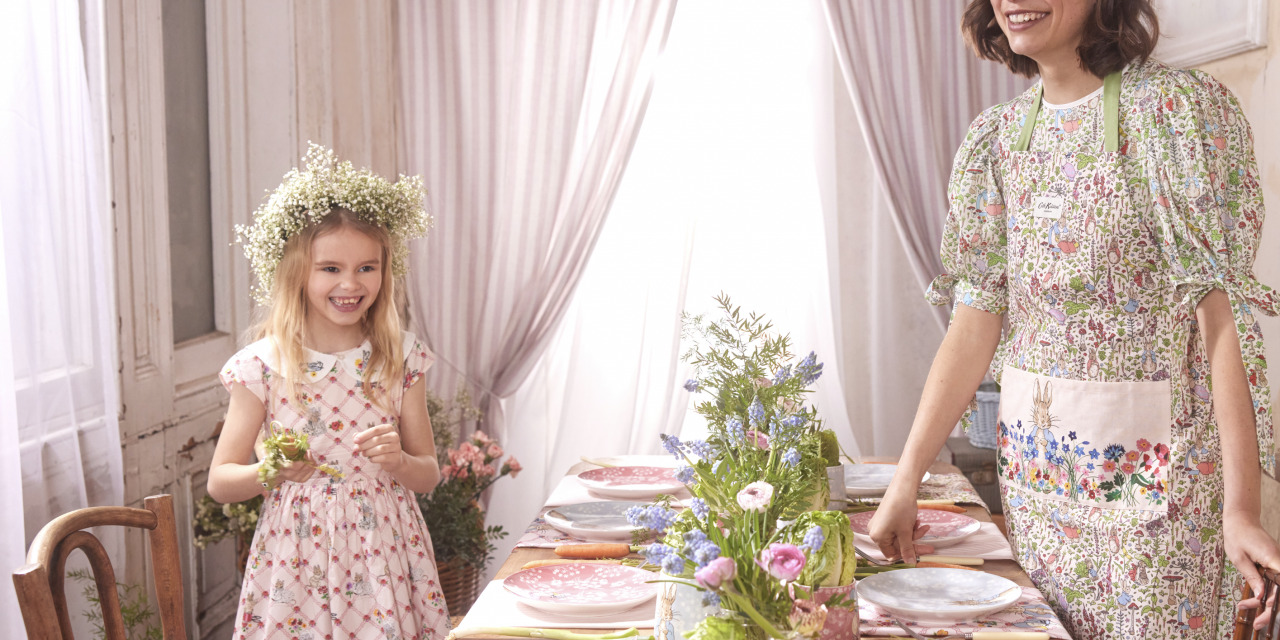 In celebration of the 120th anniversary of Beatrix Potter's The Tale of Peter Rabbit, Cath Kidston has announced a collaboration with The World of Peter Rabbit™. 
Developed under licence from Penguin Ventures (on behalf of Peter Rabbit brand owners Frederick Warne & Co.) this unique collection of hand-drawn illustrations and story-telling prints combine heritage with artistry. Witnessed across bags, clothing, home and children's, the collection continues to showcase the brands dedication to their 'Cath Cares' initiative with organic cotton being utilised for tea towels and aprons.
Cath Kidston's print design team were inspired by Beatrix Potter's life as an artist, scientist, painter, and author. Each print created lovingly embraces Beatrix Potter's sketches from this classic story, originally drawn in letters to her friend and former governesses' young son, plus other cherished characters, and stories, including The Tailor of Gloucester and Jemima Puddle-Duck.
Mr. McGregor's notorious garden comes to life with hand-drawn botanicals and vegetables, woven amongst Beatrix Potter's most beloved illustrated characters. Also to be found are hidden notes of Cath Kidston's own print heritage, such as a newly drawn take on their archive mushroom – a subtle way to gently marry worlds through artistry. The Garden Ditsy print is a rich tapestry of story, character and colour that is witnessed across all categories.
After a long afternoon of mischief in Mr. McGregor's garden, Peter and his sisters fell fast asleep against the cabbages inspiring the Sleeping Bunnies print that is featured on nightwear and children's. Carrying the authenticity of Beatrix Potter's hand-drawn illustrations against a soft, nostalgic palette that compliments the iconic blue of Peter's jacket.
The Tailor of Gloucester print weaves through the Summer narrative 'Love Sewn Into Every Stitch' with cherished characters from Beatrix Potter's stories. Here, The Tailor of Gloucester is offered a helping hand to finish a waistcoat for a customer by the grateful mice he saved from his cat. Find them busily sewing the hand-drawn stitch lines into the print, too, where the archive ditsies look to have been embroidered and cross stitched, each line crafted by hand.
To celebrate the 120th Birthday of one of Britain's most treasured children's stories, Cath Kidston's print team explored Beatrix Potter's original line drawings and illustrations from the very first breath of Peter Rabbit. Originally drawn in letters to her friend and former governess's ailing son Noel – Flopsy, Mopsy, Cotton-Tail and Peter – plus all their misadventures – were born as notes of love to bring him joy. For the 'Dear Noel' print, Beatrix Potter's words and drawings were thoughtfully and considerately given new life.
It is the synergy between these classic tales and the Cath Kidston brand that allow for a truly authentic partnership of artistry and heritage, witnessed through the dedication to detail that offers the consumer an authentic collaboration. The Tailor of Gloucester print which weaves through the brand's summer narrative of 'Love Sewn into Every Stitch' as The Tailor of Gloucester is visibly stitching the print together perfectly illustrates this alongside the imagination and storytelling of which Cath Kidston's print design team are entrenched.
Holly Marler, Creative Director of Cath Kidston, said,
"It is a joy to design the Beatrix Potter collection, to tell these beautiful stories through print is a real pleasure. It reminds me of my childhood and when my children were small, to evoke these fond memories and nostalgia is really important to our brand and makes our print narrative really passionate and purposeful. Watching each of these characters come alive in Cath Kidston's landscape and celebrating Beatrix Potter's craft was truly an honour."
David Sprei, Commercial Director, Penguin Ventures said,
"We were delighted to collaborate with Cath Kidston again and to see this beautiful collection launch during the 120th birthday celebrations for Peter Rabbit. Cath Kidston have brought Beatrix Potter's classic character to a contemporary audience through their exquisite craftmanship and narrative-led design. We can't wait to see the response to the collection from customers and fans alike."
Launching both online and in store in the brand's flagship store in Piccadilly on July 25th, this detailed collaboration is offered across all of Cath Kidston's product categories from homeware to apparel, inviting everyone to celebrate some of literature's most iconic characters this Summer.