RHS and Dexam team for kitchenware and lunchware collaboration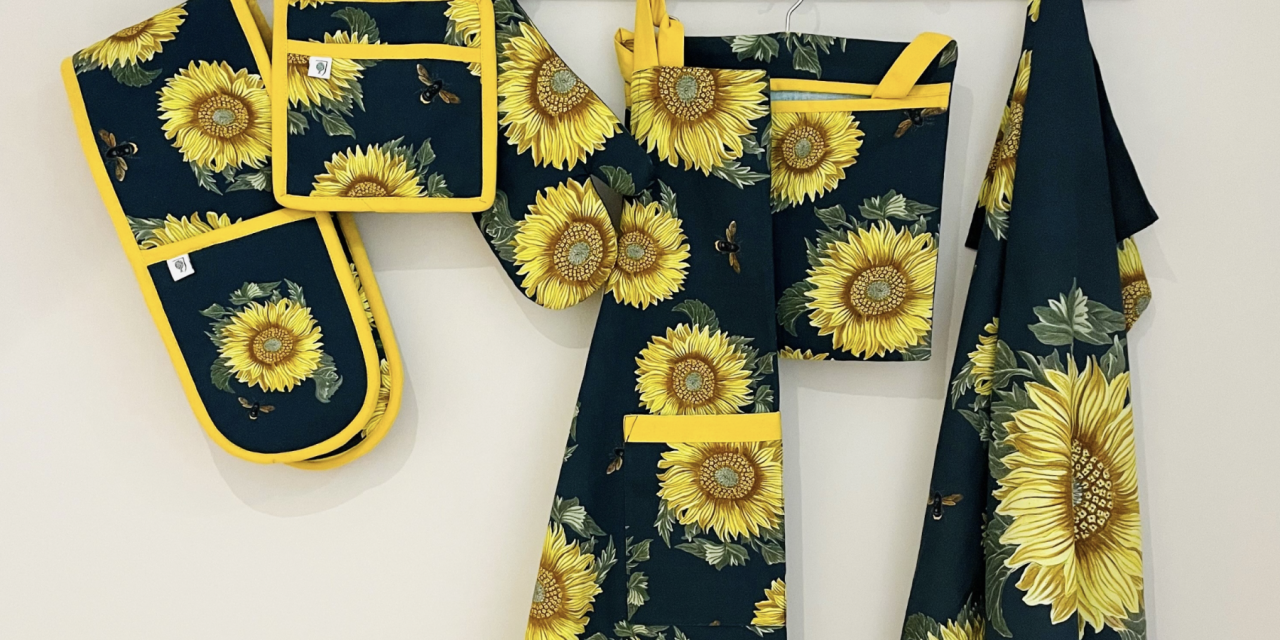 Following the enormous success of their first collaboration, the Royal Horticultural Society (RHS) has announced the launch of a second collection from licensee Dexam, a specialist supplier of kitchen cookware, bakeware and accessories.
The 2020 Home Grown collection of backpacks, lunch bags, lunchboxes, aprons and more was aimed at the children's market. This year Dexam is offering collections for both children and adults: a new fun and playful collection for Children called I Bug You plus two new adult textile ranges called Benary Vegetables and Sunflower, which aim to bring the love of gardening alive and into your home.
The designs take their inspiration from some of the thousands of images held in the world-famous RHS Lindley Collections, the world's finest collection of botanical art. In addition, as with the Home Grown collection, the I Bug You pieces have been designed with the environment in mind; this collection has been created using environmentally friendly or recycled material.
Featuring colourful ladybirds, beetles and other insects, the I Bug You range consists of a children's apron, messy play apron, lunch bag and backpack. I Bug You uses a distinctive bug design that will appeal to children who love bright and colourful patterns. The lunch bags, backpacks and aprons are made from recycled plastic bottles via a process that turns the plastic into a durable and practical fabric.
The Benary Vegetables range has been designed using unique vegetable prints produced by renowned horticulturist and botanist Ernst Benary (1819-1893). These beautiful vintage and colourful textile prints of carrots, peas, beetroot, cabbages and other veg bring a splash of colour to the kitchen and are printed onto the finest-quality cotton. Items in the range include an apron, double oven gloves, a gauntlet, a set of two tea towels, a pot grab and a peg bag.
The Sunflower range, again including an apron, double oven gloves, a gauntlet, a set of two tea towels, a pot grab and a peg bag, makes delightful use of two beautiful illustrations from the Lindley Collections – a bumblebee and a Helianthus annuus sunflower.
The adult ranges will be available to purchase in mid-July. The I Bug You range will be available in early August. All three ranges will be on sale at independent retailers and garden centres. They will also be available at RHS shops and online, including the official RHS online store, shop.rhs.org.uk, later this year
All three collections were previewed at Exclusively Housewares, the UK's premier houseware show, at London's Business Design Centre on 14 and 15 June, where they received a very positive response from the many representatives of the retail sector attending the event.
And that's not all. Look out for another RHS-Dexam collaboration this year: a Mistletoe print-based collection planned for Christmas This collection, featuring textiles and tabletop ceramics, will be launched in the autumn. More new products are in the planning stages for 2023.
Bryony Dyer, Managing Director of Dexam, says: "We started working with the UK's leading gardening charity in 2020 and are delighted to continue this partnership with the RHS and support the RHS with royalties from our stunning array of textiles and other accessories. With a Christmas collection and more new products in the planning stages for next year I look forward to even more successful collaborations with the RHS."
Cathy Snow, Licensing Manager at RHS, commented: "Stylish, useful and a lot of fun, these beautifully designed tea towels, aprons, lunch bags, backpacks – and so much more – are perfect for kitchens or picnics, while the wit and invention with which Dexam has employed RHS imagery will delight all ages. All the items have also been designed with the environment in mind, a key concern of the RHS. We're thrilled to have helped to inspire these wonderful new ranges."