Bing Continues Momentum in Benelux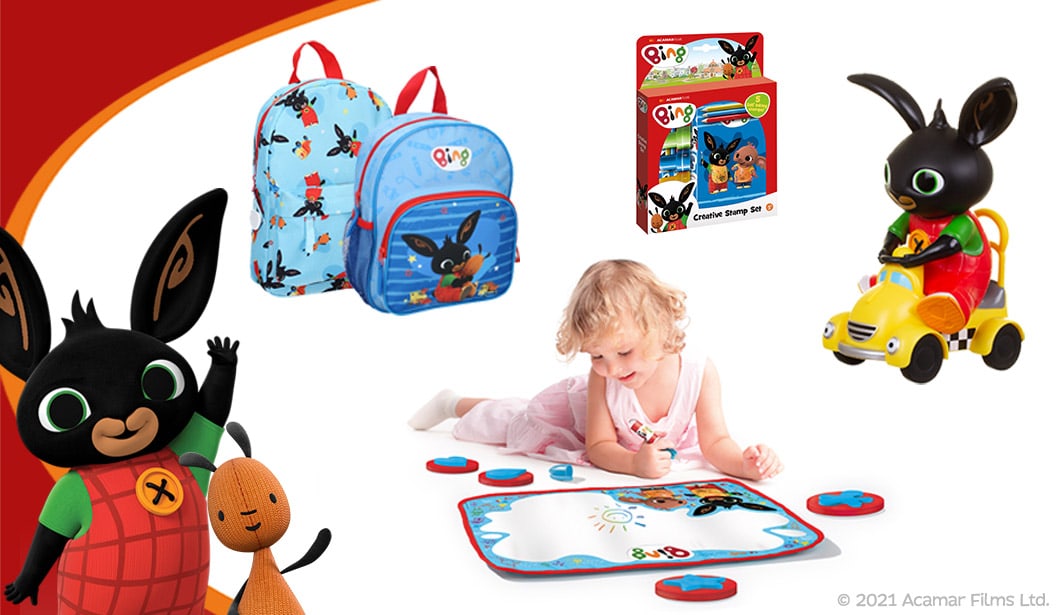 Acamar Films' hit pre-school show Bing continues to gather strength in the Benelux region. With 18 licensees now on board, exciting new products and continued expansion in the digital space, Bing is being established as a top pre-school property.
Leading Dutch cosmetics company Caresse BV is the latest partner to join Bing's best-in-class licensees for the region, set to produce a range of health and beauty products. This new deal follows recent renewals with Vadobag (bags, cases and umbrellas), Aymax (bedding) and Veldkamp (meet & greet). TM Essentials have also widened their Bing portfolio to now offer bath accessories and kids room furniture. Thanks to the meaningful connection Bing has with its young audience, sustained strong performance across all touchpoints and the efforts of local agent License Connection, Bing attracts licensees across a wide variety of categories.
In addition, Master Toy Partner Spectron is expanding its range and is launching hero lines Bing's Squeaking Talkie Taxi, Bedtime Bing with Owly and Train & Mini House Playsets for spring/summer 2021. Spectron has seen booming sales to date, with Bing stocked in all major toy retailers in the Netherlands and Belgium.
Bing is broadcast in the Netherlands on NPO Zappelin where it is a top show among its age group. In Belgium, Ketnet launched the new series dubbed in Flemish in January this year, attracting a flood of Bingsters, with Bing achieving a majority audience share in its timeslot. Bing has also been a hit on the big screen with the latest theatrical experience, Bing's Christmas and Other Stories, ranking in the top 10 at the Dutch box office.
Audience engagement deepens online, with Bing's Dutch Facebook page seeing followers grow by 106% YoY. Bing's Dutch YouTube channel has enjoyed a 58% YoY increase in views and 110% YoY increase in watch time hours, along with a growing subscriber base.
Laura Clarke, Head of EMEA Licensing and Merchandising, Acamar Films, said: "We are delighted that Bing moves and delights an ever-growing number of fans in the Benelux region. Bing has been warmly embraced by audiences and retailers alike and we are working hard to continue its growth, especially looking forward to the brand new Bing live show coming this Autumn. We also have more very exciting news in the months ahead – watch this space!"