ZAG Signs Global Deal with Flik Flak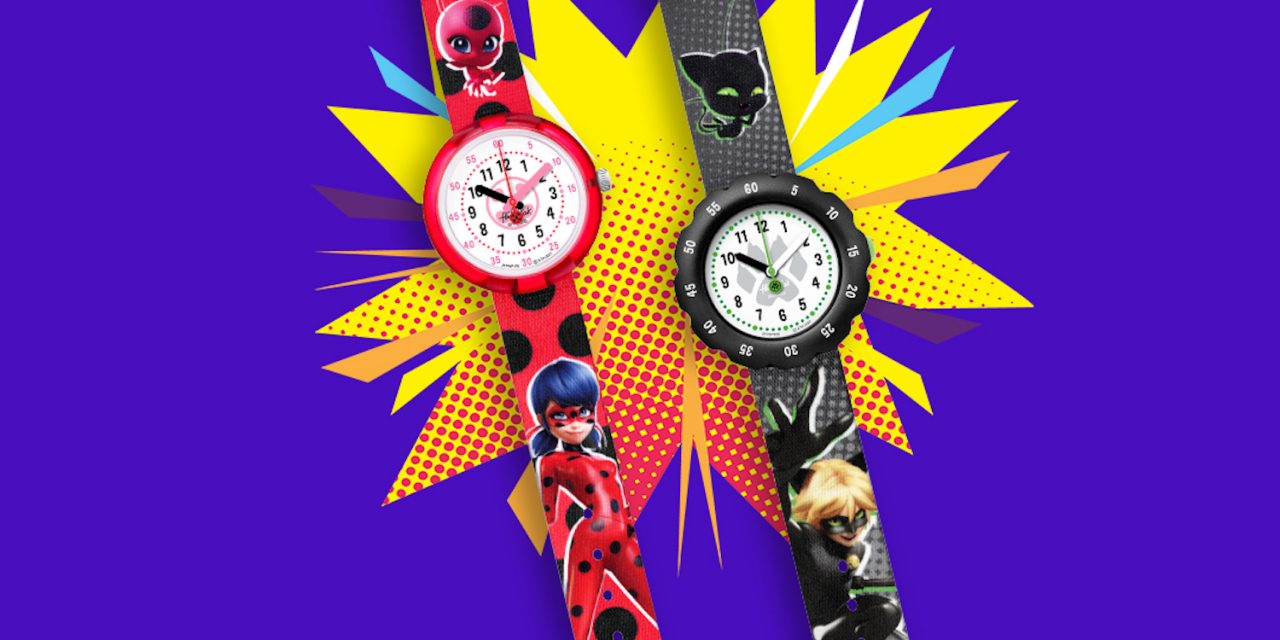 Award-winning global independent animation studio ZAG has signed an exclusive global license (excluding China, Hong Kong, Macao and Taiwan) with Switzerland-based Swatch subsidiary Flik Flak for a range of ZAG HEROEZ MIRACULOUS™ branded watches to debut at retail in early July in over 100 countries across five continents, with the U.S. launch on July 15.  The announcement was made today by Julian ZAG, Executive Vice President, Global Operations, ZAG.
Swatch's Flik Flak watches are the world's most popular children's timekeeper — the first child's watch to translate the concept of telling the time into accessible fun and entertainment. From July 2021, fans of Miraculous™: Tales of Ladybug & Cat Noir can have their own "magic jewel" in the form of a Flik Flak watch–durable enough to stand up to any powers of destruction they may run into when the play gets tough. Developed in close collaboration with teachers, each timepiece seamlessly combines education with appealing looks.
Available at Swatch stores, select retailers and online, Swatch's Flik Flak watches have broad appeal for both boys and girls, matching the 60/40 girl/boy audience viewership for the series and specials. The Miraculous Ladybug watch (SRP $45) salutes the ladybug-themed superhero's daytime dream of becoming a fashion designer. The watch features a red and black design, including a sassy color-coded dial for convenient time telling on the run. Tikki, the creative kwami, is perched strategically on the strap above 12 o'clock, ready to leap to the rescue at a second's notice! And on the Flik Flak Cat Noir watch (SRP $55), Cat Noir stretches out along the strap, while his kwami, Plagg, leaves paw-print marks on the dial and strap.
"Swatch's Flik Flak has been helping children all over the world to tell the time for more than 30 years, and we are delighted that Miraculous branded watches will now be available to our millions of fans around the world," commented Julian Zag. "Miraculous has become a global phenomenon, with the series scoring #1 ratings around the world, and over 200M products have been sold during the past four years. With our $100M+ movie Ladybug & Cat Noir: Awakening premiering later this year supported by a global QSR promotion, and the Miraculous toy line from Zag Labs and Playmates toys available at brick and mortar stores across the U.S. this fall, the future continues to look Miraculous!"
"We are thrilled to be part of the Miraculous world!" commented Flik and Flak. "As they always say: "together, we're stronger!" They are convinced that the 2 Miraculous themed watches will help any superhero wannabe around the world be on time and not miss any adventures of Ladybug and Cat Noir.
Swatch's Flik Flak joins Italian candy manufacturer Ferrero, and French company Epopia–whose unique epistolary letter format encourages children to read and write through interactive storytelling–as global Miraculous brand partners. Miraculous currently has more than 300 licensees across the globe across all major categories.
During 2020, Miraculous grew its digital reach by 178%. Miraculous attracts over 19.6 million subscribers across its nine official YouTube channels, currently available in eight languages. With a total 25 billion views, fans have collectively viewed more than 1.7B hours of content. Miraculous is available on TikTok, Facebook, Twitter, Instagram, and Tumblr—whose 12 official accounts feature dedicated accounts for the series' main characters–boasting 6.6 million followers in total.