Zag and On Kids & Family Announce TikTok Launch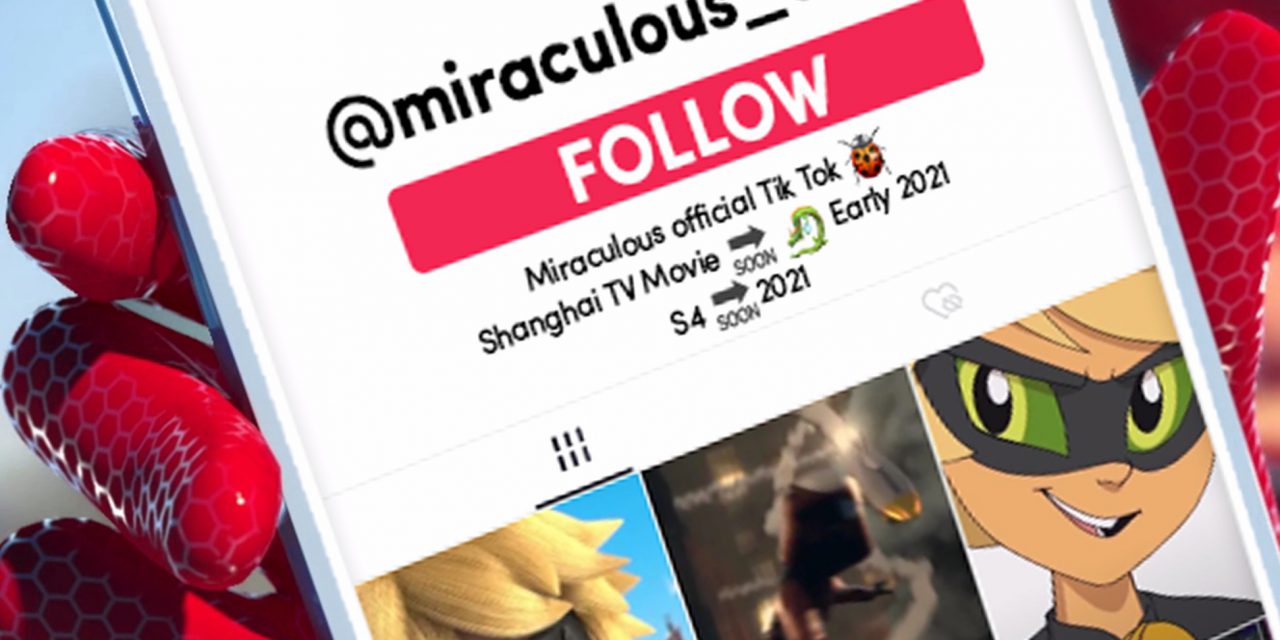 The award-winning independent animation studio ZAG and the first European animation studio ON kids & family (Mediawan group) continue to build an entire digital ecosystem around the world-famous series: Miraculous: Tales of Ladybug and Cat Noir. The digital performances are at the core of the development strategy that targets the diverse fan base of the franchise.
Miraculous is newly available on TikTok, the social media platform that has grown its userbase most rapidly and significantly in 2020. TikTok will expand the brand's presence on Facebook, Twitter, Instagram, and Tumblr—whose 12 official accounts, which include dedicated accounts for the series' main characters–boast five million followers in total. The new TikTok channel will unveil never before seen footage, including music videos with choreography for kids and young adults to replicate at home and record themselves performing the dances; split screen videos sharing script and storyboards with the corresponding animation; short videos from the TV series reflecting seasonal events; characters speed drawing; promotional videos/teaser trailers; 'making of' videos; gaming previews and special VIP invitations to discover new digital experiences by the new ZAG Games & Interactive Experiences division, and more.
During 2020, Miraculous has grown its digital reach by 178%.  Miraculous attracts over 15 million subscribers across its nine official YouTube channels, currently available in eight languages.  With a total 22 billion views, fans have collectively viewed more  than 300 million hours of content.   Recently posted video clips of the series' credits have been viewed by more than 350 million people around the world, and the exclusive 2D animated shorts based on the series "Miraculous Chibi," which initially launched on YouTube Kids, has over 500,000 followers and over 100 million views.  The Miraculous Chibi shorts have subsequently been made available on partner channels across the world.  Additionally, the Miraculous theme song for season two, performed by Lou and Lenni-Kim from The Voice Kids France, garnered  400+ million views worldwide since its YouTube debut in November 2018, and Jeremy Zag's "The Wall Between Us" French song, based on the series and performed by Miraculous' duo Lou & Lenni-kim, released September 2019, achieving 40+ million views on YouTube.
"With a powerful global brand and strong fan engagement and activity, extensions in digital amplify the magnitude of the fans, and help engage new audiences," commented Jeremy Zag, Founder & CEO, ZAG. "We continue to create new content across social media, and TikTok is going to be a great vehicle for us to share different types of content and reach out to fans across all demographics."
"Miraculous' main strength is the incredible alchemy surrounding an everyday life heroine. We adore Ladybug's heroism, but we also identify with her, we feel close to her. Our digital development strategy enables us to get even closer to the audience and to adapt to new trends. Miraculous' universe is accessible all the time, on every social network, but also in different forms, in order to offer custom-made experiences for all kind