WILDBRAIN REALIGNS EXECUTIVE TEAM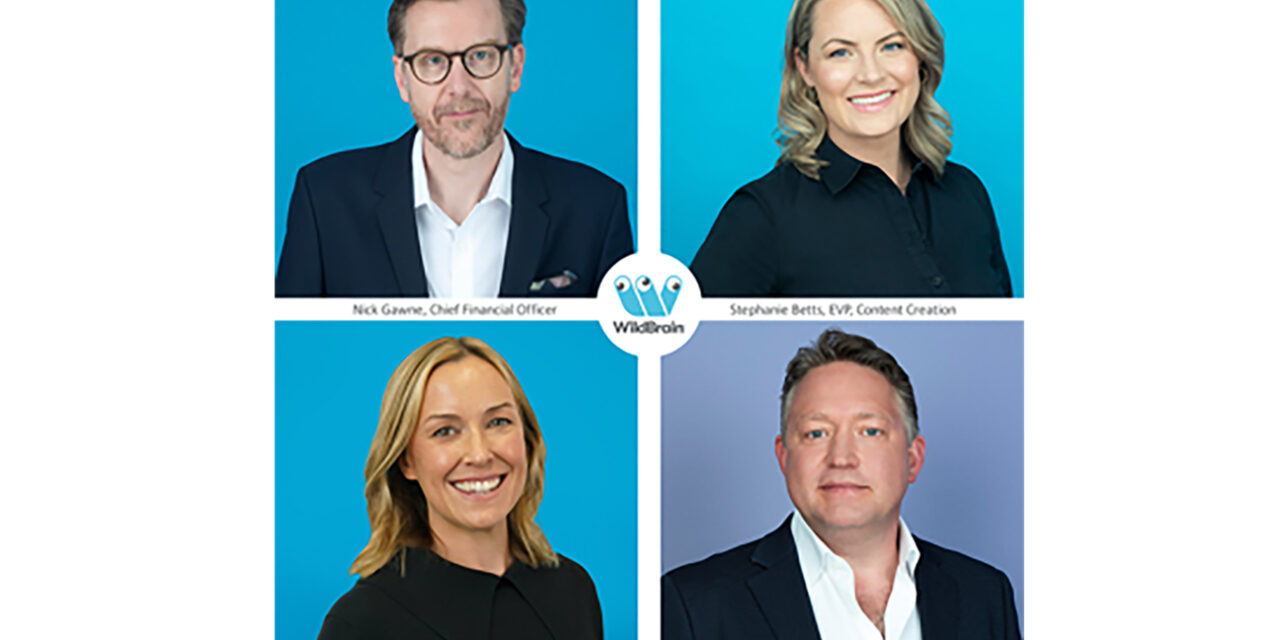 WildBrain Ltd has announced senior leadership changes and a streamlined business structure under a focused strategy designed to optimize its existing 360° IP management expertise and drive the growth of key WildBrain and partner franchises across its core capabilities of Content Creation, Audience Engagement and Global Licensing
As part of these changes, Nick Gawne has joined WildBrain as Chief Financial Officer, effective November 8, bringing over 20 years' experience in finance, operations and business development in the media space with a focus on kids' and family IP, including almost 15 years with eOne. A Chartered Professional Accountant, Gawne was most recently Executive Vice President and General Manager at eOne for three years following the acquisition of eOne by Hasbro. In that role he oversaw international teams in finance, HR and communications as well as three operating units across location-based entertainment, app publishing and animation.
Prior to the Hasbro acquisition, Gawne was Chief Operating Officer, Family and Brands, at eOne, working on production, content distribution and licensing for such franchises as Peppa Pig and PJ Masks. He was also responsible for revenue streams for digital (including AVOD, YouTube, social and paid media), online and gaming (app publishing), location-based entertainment and music. Preceding this, he held numerous senior finance and business development roles in eOne's UK business, including UK film distribution and international home video distribution. Earlier in his career, Gawne held roles with KPMG and NM Rothschild & Sons' TMT (telecoms, media and technology) M&A team in London.
Based in Toronto, Gawne reports to WildBrain President and CEO, Josh Scherba. He succeeds Aaron Ames, who will continue in an advisory capacity to ensure a seamless transition.
Additionally, WildBrain has realigned its senior management team and business under its core capabilities of Content Creation, Audience Engagement and Global Licensing, as detailed below, to focus on fully unlocking the significant growth potential for key proprietary brands, including Peanuts, Teletubbies and Strawberry Shortcake, as well as key partner brands.
"In the evolving landscape of kids' and family entertainment, WildBrain is in a position of leadership as the only independent company with a comprehensive, 360-degree suite of in-house expertise across Content Creation, Audience Engagement and Global Licensing­­," said Scherba. "As we continue our strategic shift to focus our business on key franchises that can generate the greatest returns from these integrated capabilities, Nick's deep experience in finance and operations for kids' IP is an ideal fit for WildBrain. With our strong leadership team, I'm confident this new, simplified structure will supercharge our plans to focus on the growth of key owned IP, such as Peanuts, Teletubbies and Strawberry Shortcake, alongside key partnership brands."
Gawne stated: "I'm delighted to be joining the WildBrain team, as I've long admired the company's capabilities and IP portfolio. I look forward to working with Josh as well as the senior management and finance teams across the global organization to help accelerate the growth of our brands and business and to drive value for shareholders."
Scherba continued: "I'd like to also thank Aaron for his leadership, dedication and years of service to WildBrain. Aaron has been a great business partner and a passionate champion of our Company. His contributions have been invaluable in shaping our strategic path forward and repositioning WildBrain for continued growth. We look forward to continuing to benefit from his expertise and knowledge as an advisor as we move through Fiscal 2024."
Ames commented: "I've greatly enjoyed working with the people across WildBrain's global organization to help build the Company into the global leader it is today. I have every confidence in the future of WildBrain, and I look forward to continuing in an advisory capacity to ensure a smooth transition and the continued success of the Company."
Stephanie Betts has been appointed Executive Vice President, Content Creation, reporting to Scherba, and will oversee creative teams behind WildBrain's content in an expanded role that builds on her longstanding leadership of the Company's development and production business. WildBrain's digital studio in London will now report to Betts while working closely with the Company's creative teams to maximize opportunities for its owned and partner IP.
Kate Smith has been appointed Executive Vice President, Audience Engagement, and will oversee all aspects of WildBrain's content distribution, its YouTube network operations and its digital marketing, reporting to Scherba. Based in London, Smith brings a valuable understanding of how the intersection between content distribution and digital marketing can supercharge brand awareness and engagement, having previously served for eight years as a key member of the management team behind the Company's world-leading YouTube business, spearheading its activities across marketing, research and insights.
Maarten Weck has been appointed EVP, Global Partnerships and Licensing, and will spearhead oversight of key global IP partnerships with third-party partners across the entire WildBrain ecosystem, and he will also continue to oversee all activities of WildBrain CPLG.
Tim Erickson will continue to oversee the Peanuts Worldwide business as EVP, Brand at Peanuts Worldwide.
Additionally, Deirdre Brennan, Chief Operating Officer, has departed WildBrain to pursue other opportunities. WildBrain would like to thank Brennan for her years of devoted and passionate service to the Company and for the leadership expertise she has provided, especially in our television, distribution and YouTube businesses.
Scherba stated: "On behalf of the management team and employees, I would like to thank Deirdre for her many positive contributions during her time at WildBrain. Deirdre is a leading light in our industry, and I wish her all the best in the next chapter of her career."