Unilever and notjust clothing Team for Festive Feast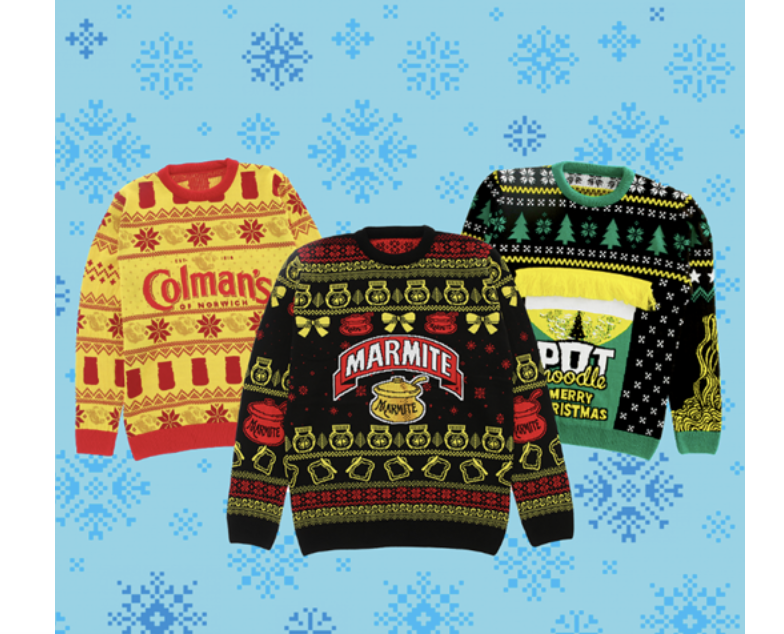 Christmas Jumper pioneers and social enterprise notjust clothing has teamed up with Unilever to bring out a range of tasty festive knits for three of Britain's most beloved grocery brands – Marmite, Pot Noodle and Colman's Mustard.
The new officially licensed winter range, designed and sustainably knitted in the UK, is now available on the notjust website. Half of the profits from each sale will be donated to The Trussell Trust, a nationwide network of food banks providing emergency food and support to society's most vulnerable.
First in the collection is the Marmite festive jumper (£39.99), which will even have the 'haters' spreading the Christmas joy this winter. Featuring Marmite pots, toast, and the world-famous Marmite logo across the front and "Spread the Christmas Cheer" text on the reverse, this knit is unmistakably Marmite. Responding to last year's rush for Marmite jumpers, fans won't go empty handed this year as the jumpers are deliverable across the UK and rest of the world.
Next up is the Pot Noodle Christmas knit (£39.99) with a wacky and wild design sure to send the office Christmas party potty. The stirring knit features 3D noodle frills bursting out of a festive Pot Noodle on the front and tongue-in-cheek "All I want for Christmas is Noods" text on the back, all surrounded by festive motifs and noodle inspired patterning.
Last but not least is a festive jumper with a kick, from Colman's Mustard (£39.99). The iconic Colman's yellow provides the base of the jumper with red motifs including the classic mustard pot silhouette and the trademark Colman's Bull alongside festive detail and the Colman's logo front and centre. The Colman's jumper is also available as a full set with matching scarf (£19.99) and beanie (£19.99) to complete the 'look'.
Jolanda Wells Licensing Manager at Unilever said: "Being able to have three of Unilever's much-loved household brands on the front of Christmas jumpers this season certainly puts us in the festive mood. Working with the great team at notjust, we're very proud that these jumpers will spread Christmas joy in more ways than one with half of the profits from each sale donated to The Trussell Trust. This will help them to continue their amazing work supporting some of the most vulnerable people in society at a critical time of year.
"Marmite, Pot Noodle and Colman's Mustard are regular staples of peoples' shopping baskets, and we're always looking at innovative ways we can further engage consumers with our brands. These jumpers are designed by notjust to last and to make an appearance every year."
Mike Harding, founder of notjust said: "We're back with an official range celebrating some of Britain's most beloved and historic brands, with designs that fuse together fashion with flavour creating a selection of showstopping knits that are a true feast for the eyes. These premium and carefully crafted garments won't just make you the talk of the Christmas party but also ensure that you're doing your bit to give back, with 50% of profits from every sale donated to The Trussell Trust, a charity who supports the most vulnerable especially in these trying times."