UBS GOLD collaborates with emoji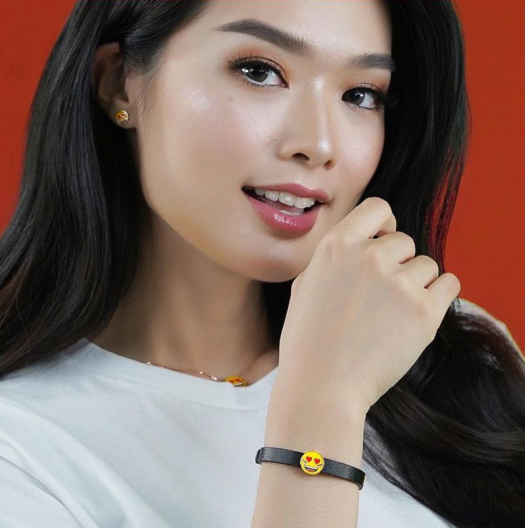 emoji®- The Iconic Brand is known to have various icons with expressions that are iconic and used to communicate an express emotions. UBS GOLD together with emoji®- The Iconic Brand brings expressive and optimistic icons closer and closer to reality in the form of gold and precious metal jewelry as a reflection of the spirit to value our lives and others as precious as gold.
This is what motivates UBS Gold to continue to create breakthroughs and innovations to encourage people's enthusiasm to invest. This spirit is realized through collaboration with emoji® which presents the latest collection of Gold Jewelry and Precious Metals 'emoji® Merdeka' in order to welcome the 76th year of independence of the Republic of Indonesia.
Merdeka" presents a wide selection of collections such as emoji® Merdeka necklace, earring emoji® Merdeka and The Merdeka X emoji® Charm bracelets, these products are available in 8K, 16K, and 17K respectively. There will also be another emoji® x UBS Gold series jewelry coming soon. Moreover, there will also be UBS Gold and emoji® gold red packets to choose from 0.1 & 0.2 grams and precious metals emoji® 24K along with attractive Gift Cards. UBS GOLD works with the aim of producing the best and most complete gold and precious metal jewelry for the satisfaction of Indonesian and international customers. This gold dedication is real and not changed since UBS GOLD was founded in Surabaya in 1981. Various awards from the private sector and the government have been achieved as a result of dedication in the gold sector for beloved customers.
Eddy Susanto Yahya as Chief Executive Officer of UBS Gold said, "UBS Gold is very enthusiastic and proud to be able to expand its strategic collaboration with emoji® Merdeka'. UBS Gold is very excited to introduce our new partner, emoji®  as well as being proud to be the official gold license in Indonesia. We want to present not only a cool piece of jewelry but also a meaningful one. UBS Gold strongly believes that Indonesia will make it through this pandemic condition, so we introduce the first edition collection "emoji®  Merdeka" to welcome the 76th Anniversary of the Republic of Indonesia (Independence Day) which brings the spirit of independence and optimism to be able to face all challenges together – the same as one Indonesian nation as the spirit of UBS Gold's 40 years, namely "Stronger Together".
In line with this optimism, Catur, R. Limas as Chief Marketing Officer of UBS Gold added "Today's gold jewelry designs are not old and old-fashioned anymore. UBS Gold is at the forefront of creating trends in line with your updated lifestyle. Inspired by the latest design trends from all over the world, UBS Gold becomes your closest friend who accompanies your cheerful days. Gold and Precious Metal jewelry is unique because apart from being able to be stylish, it can be resold for cash or to be exchanged for other models. In the long run, even the price of gold can go up and you can profit. The latest collaboration with UBS Gold X emoji® brings you a fun collection of gold and precious metals jewelry to spread joy and excitement to all of us."