tonies Announces Launch of its Pippi Longstocking Tonie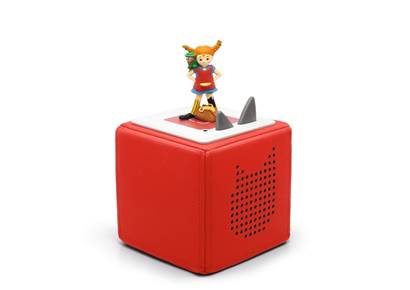 Children's audio system, tonies®, has announced that it will be launching its new 'Pippi Longstocking' Tonie character figurine in the UK this autumn. The UK edition will be voiced by award-winning presenter, comedian and writer Sandi Toksvig (Great British Bake-Off, QI, The News Quiz). 
The iconic, fictional redhead created by Swedish author, Astrid Lindgren, has become a role model for generations. The internationally bestselling Pippi Longstocking stories are among the most translated children's books in the world, with over 70 million copies being sold in 70 languages to date.
Pippi Longstocking will be making her way to the Toniebox with the new 'Pippi Longstocking's Adventures' Tonie that will be released for families to enjoy in their homes, as well as out on their travels, on 14th October 2021.
Nine-year-old Pippi, who lives in a house with a horse, a monkey, a suitcase full of gold, and no grown-ups to tell her what to do, was originally created by Lindgren for her daughter during the dark days of World War Two. Pippi was ahead of her time: a free-spirited girl with superhuman strength, who uses a powerful mix of anti-authoritarian thinking and kindness to challenge the status quo and bring joy to the lives of those around her.
With tonies®, Pippi Longstocking will take children on a world of new adventures and possibilities. Through the engaging and dynamic audio content, little ones will experience the wild and unique spirit of Astrid Lindgren's wonderful tales of Pippi on her many adventures.
The new Tonie features the eleven stories of the first volume of Pippi Longstocking's adventures and is suitable for children ages four and up. Approximate run time is 174 minutes.
Pinky Laing, UK Partnerships at tonies® comments: 'We are delighted to have released our new 'Pippi Longstocking's Adventures' Tonie. Working with The Astrid Lindgren Company, and descendants of Lindgren, we have brought to life the wonderfully wild and exciting adventures of Pippi Longstocking for audio.
At tonies®, we are committed to helping the next generation to ignite their imagination and fall in love with narrative. We hope that they will be inspired by beloved Pippi Longstocking's strength and resilience and can't wait for the wonderful tales to be enjoyed in homes on our Tonieboxes. '
Cilla Nergårdh, CEO at The Astrid Lindgren Company, comments: 'At the Astrid Lindgren Company, we are huge fans of the work tonies® do in bringing stories to life for children. We are thrilled to see the Pippi Longstocking Toniebox go out into the world, with its beautifully detailed figurine paired with excellent narration by self-confessed Pippi fan, Sandi Toksvig, and the popular Pippi theme tune, Here Comes Pippi Longstocking.
Astrid Lindgren cared deeply about the right of children to be children, and the idea of free play and exploration runs like a thread through all her books. As guardians of the Astrid Lindgren brand, we're always looking for new ways to keep her stories alive for a new generation of readers, and we hope this partnership will lead more people to discover and enjoy Astrid's extraordinary world of stories.'