Toikido Joins Forces with Panini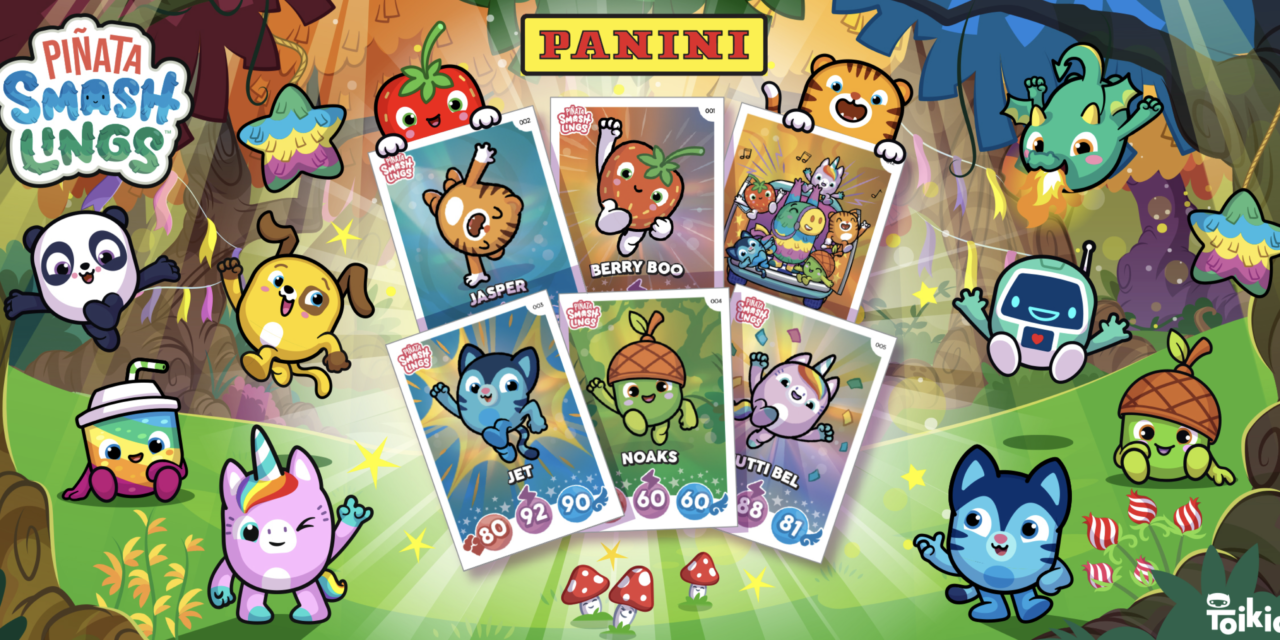 Fast-growing entertainment company, Toikido<https://www.toikido.com/>, has joined forces with international brand leader for sticker and trading card collectables, Panini Group<https://www.panini.co.uk/>, to roll out new Piñata Smashlings collectables on an international scale.

The first IP to be developed in house by Toikido<https://www.toikido.com/>, Piñata Smashlings is on-track to becoming one of 2023's most exciting children's brands, having attracted over 1.3 million users to its immersive Roblox game within its first month of launch.

Established in 1961, the Panini Group develops and launches over 1,000 sticker and trading card collectable products each year and boasts a long track-record of working with household names like Marvel, Disney, and Barbie.

In forming this new partnership, Piñata Smashlings trading card and sticker collections – together with a trading card game, collector's album, starter packs, display boxes and tins – will be widely available throughout the U.S., Canada, UK, Denmark, Finland, Norway, Sweden, Australia, New Zealand, Malta, and South Africa.

The new cards will launch with a sampling program at Chuck E. Cheese U.S. fun centers on November 11 and 12, as part of Toikido's partnership with the global entertainment brand. As part of this program, Piñata Smashlings starter packs will be available to children at participating locations while supplies last. Each pack will feature a unique code for a special Roblox in-game redeemable and four holo-foil collectible Smashlings cards, including exclusive Chuck E. Cheese character cards. The promotion also includes the chance to win a Chuck E. Cheese birthday party and Pinata Smashlings prize package for those who find one of 10 ultra-rare gold Chuck E. Cheese cards.

The launch of the trading card and sticker range comes as the first Piñata Smashlings toys hit the shelves at Walmart in the U.S. and at The Entertainer and Smyths Toy Superstore chains in the UK, which are currently offering collectables, plush and playsets.

"Panini Group is an influential market leader in the world of trading card and sticker collectables, and we are delighted for Piñata Smashlings to be one of their new ranges for 2024. With an exciting activation program planned, I can't wait to see the first series of cards and collectibles to roll out and for children in 11 countries to be able to collect Piñata Smashlings in the physical world of play alongside our immersive digital game," said Darran Garnham, Founder and CEO of Toikido.

"The early success of Piñata Smashlings on Roblox is exciting and we are thrilled to transition Piñata Smashlings in the digital space to the physical world with trading cards and sticker collections to drive further connectivity to Piñata Smashlings and its fans," said Mark Warsop, CEO of Panini America.

Established in 2020, Toikido is on the cutting edge of digital design and toys. Following the launch of Piñata Smashlings in July 2023, Toikido plans to roll out its second exciting IP in early 2024.