THE POINT.1888 TO LICENSE BRILLIANT WORLD OF TOM GATES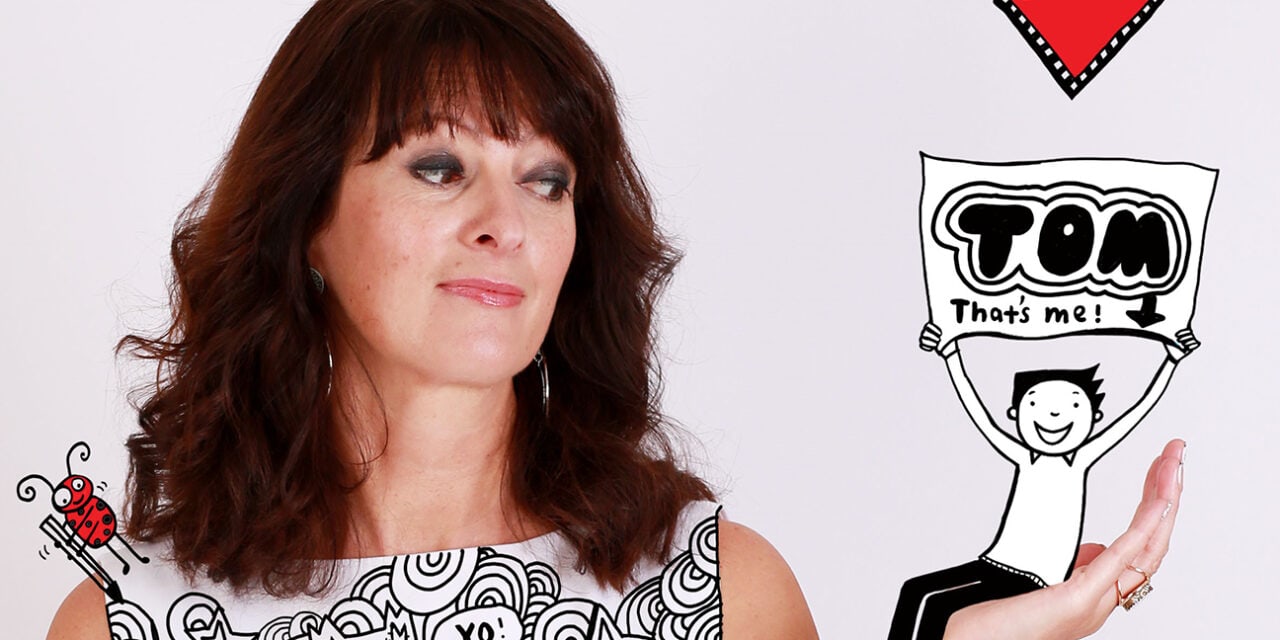 Following the recent announcement that The Brilliant World of Tom Gates (20×11') has been commissioned as a Sky Original kids series, TG Entertainment Ltd. has announced today that it has appointed The Point.1888 as UK licensing agent for the brand.
Celebrating its 10th anniversary next year, the Tom Gates series of books published by Scholastic entertains children all over the world, selling more than 11 million copies in 44 languages. Written and illustrated by Liz Pichon, with doodles, pictures and handwritten font, the books document Tom's adventures at home and school. The new 2D/stop-motion and live action TV series presented by Liz Pichon will follow a modular, mixed-media magazine format, bringing Tom's rib-tickling antics vividly to life for 6-12 year olds as he navigates the trials and tribulations of his world.
Making its debut on Sky Kids UK in the UK and ROI in early 2021, the launch of the TV series will coincide with the 10th anniversary of the first book and the publication of the 18th book in the series – Tom Gates Ten Tremendous Tales.
The Tom Gates' brand licensing will focus on encouraging children to get creative through illustration, music and doodling.
Commenting on the appointment, Liz Pichon, creator of Tom Gates, said, "I am delighted that The Point.1888 has been appointed as brand licensing agent and I can't wait to start working with them on ideas to take Tom's world off the page and inspire even more children to pick up pens, pencils and paintbrushes and explore their own creativity."
Janine Richmond, Senior Commercial Manager at The Point.1888, said, "We're thrilled to be working with Liz and TG Entertainment Ltd on this exciting brand licensing programme. Liz puts so much focus and energy into bringing the World of Tom Gates to life as evidenced by her incredible creativity during events, signings, festivals and more. It's time to bring a bit more fun into children's lives and we can't wait for Tom Gates to do just that."
Liz Keynes, Commercial Director, TG Entertainment Ltd said: "All the activity around Tom Gates in early 2021, means the launch of a licensing programme couldn't be more timely. Centered around everyday life, this fun and funny unisex brand connects 'brilliantly' with children and offers stand-out opportunities for partnering on unique and creative brand activations."
Pioneering the retail-first approach within the brand licensing industry, The Point.1888 creates new products based on a deep understanding of the target demographics' desires coupled with the gaps it sees at retail. This supports a higher chance of retailer buy-in and a better sales performance.
The Point.1888 has already begun its brand immersion phase, which will then be followed by further research and competitor analysis, before the team dive in to engage with their vast network of retail and licensee contacts.