RHS and Dexam expand Benary Vegetables collection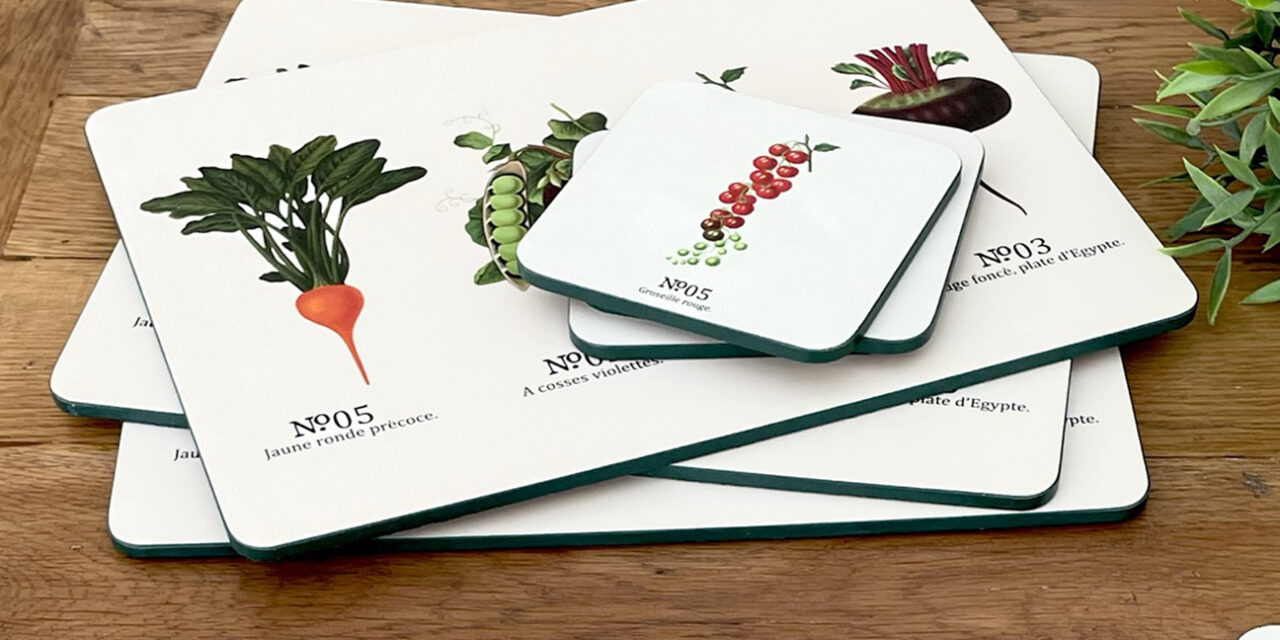 Following the successful 2022 launch of the Benary Vegetables kitchenware collection in partnership with Dexam, a specialist supplier of kitchen cookware, bakeware and accessories, the Royal Horticultural Society (RHS) has announced a significant expansion of the range.
The original Benary Vegetables range, designed using unique prints of carrots, peas, beetroot, cabbages and other veg produced by renowned horticulturist and botanist Ernst Benary (1819-1893), included an apron, double oven gloves, a gauntlet, a set of two tea towels, a pot grab and a peg bag.
These have now been joined by three crafted stoneware dishes available in a square, rectangular and round design and a range of accessories, including a set of four coasters and set of four placemats. To complete the table setting there is now a set of four napkins printed onto 100% cotton that is machine washable.
In addition, further textiles have been added to the range including a cotton tote bag and a shopping bag along with a set of three vegetable bags to neatly store potatoes, onions, garlic and root vegetables. The vegetable bags have a moisture-resistant liner that blocks out light, keeping food fresh for longer, and the shopping and tote bags are a perfect replacement for plastic bags.
All of the new dishes, accessories and textiles use illustrations based on Ernst Benary's distinctive and colourful prints of vegetables sourced from some of the thousands of images held in the RHS Lindley Collections, the world's finest collection of botanical art.
The expanded range will be exhibiting on Dexam's stand (EH446) at the Exclusively Housewares trade show at London's Business Design Centre on the 13th and 14th of June. It will be on sale at independent retailers and garden centres from late May.
This is the latest in a number of successful collaborations between the RHS and Dexam. The 2020 Home Grown collection of backpacks, lunch bags, lunchboxes, aprons and more was aimed at the children's market, as was 2022's fun and playful collection called I Bug You. Adult kitchenware ranges have included Sunflower and, of course Benary Vegetables, both of which aim to bring the love of gardening alive and into your home. A Mistletoe print-based collection, featuring textiles and tabletop ceramics, was launched in the autumn of 2022 for the Christmas market.
Bryony Dyer, Managing Director of Dexam, says: "We launched our Benary Vegetables collection in 2022 and are pleased to be adding these new product extensions to the collection. It is a delight to partner with the RHS and support its charitable endeavours. I look forward to continuing this successful partnership."
Cathy Snow, Licensing Manager, RHS, adds: "The success of our RHS Benary Vegetables collaboration with Dexam has inspired this extension to that delightful collection – and it's a very welcome one. The addition of crafted stoneware dishes, accessories and new textiles makes the collection more desirable than ever and, thanks to Ernst Benary, the RHS Lindley Collections and Dexam's design skills, they all look amazing."