Retail Buyers Panel Announced for Brands & Retail UK Winter Conference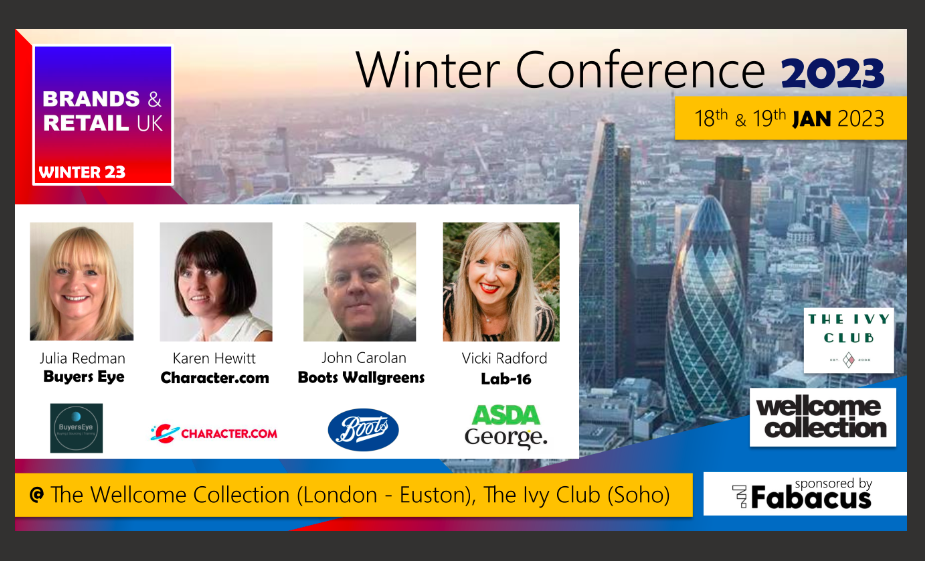 Brands & Retail UK announces the panellists for their Retailers Q&A panel which will close the first day of the Winter 23 conference – (sponsored by Fabacus).
Julia Redman ,owner of the Buyers Eye will moderate the panel made up of John Carolan (head of buying baby) Boots Wallgreen – Karen Hewitt (co-founder) Character.com and Vicki Radford (buying expert lab-16) George @ ASDA.
Brands Retail UK Winter 23 takes place at the Wellcome Collection Museum in London on the 18th and 19th January 23 and is FREE for Retailers and Manufacturers / Brand Partners to attend.
The program is now being finalised and has a deadline of Wednesday 30th November if Brands want to present – new brands confirmed include:
Bulldog Licensing / ZAG – (Day Two)
DSM – Digital Sports Mgmt – (Day One)
and…
Acamar Films – (Extended to 30mins – Day Two)
"I am really excited with the panel for Winter 23 – our last summer conference panel could have gone on for hours as there were so many questions from the audience for our esteemed panel of Retailers.
"The line-up is looking great as well with some fantastic new brands showing for the first time and we are now at 80% audience capacity already with less than two months to go. Tickets are also on sale for both days Ivy Club Parties as well," says Ryan Beaird – Event Director
If you are a Licensee or Retailer and wish to book your FREE tickets or book a last-minute slot please visit the website for more details.
Website: www.BrandsRetail.uk – Contact Event Director: Ryan.Beaird@BrandsRetail.uk