Record Number of Retailers Gather at Licensing Expo 2022 Last Week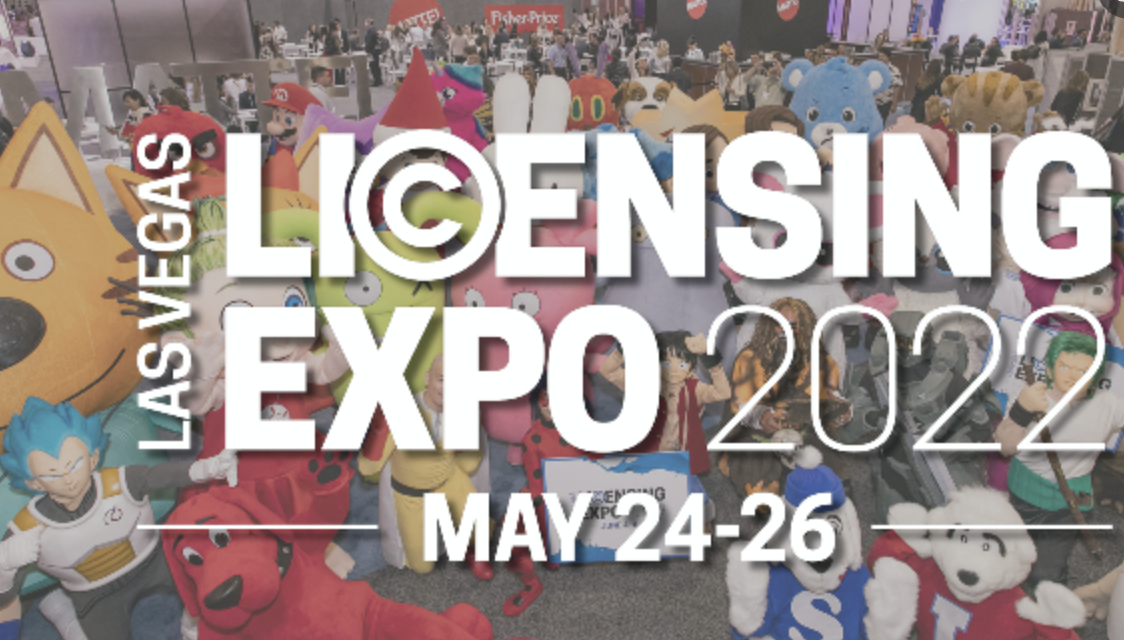 – Last week's Licensing Expo, organized in partnership with industry trade association Licensing International, drew thousands of attendees from the world's most reputable retailers and licensees, it is announced. The number of retailers in attendance rose 42% from the 2019 event, marking record growth for Licensing Expo.
Notable attending companies include Target, Hot Topic, Walmart, Fanatics, Five Below, Zulily, Centric Brands, Primark, Burlington Stores, CVS, Forever 21, El Corte Ingles, Macy's, Kohl's, Hybrid Apparel, Mad Engine, ASOS, Inditex, Hallmark Cards, Jakks Pacific, PacSun, H&M, Crocs, and Bioworld Merchandising, with many bringing large teams to span multiple product categories.
Held live at the Mandalay Bay Convention Center in Las Vegas from May 24 through 26, the event's in-person return was highly anticipated by the $292 billion global licensing industry, indicated by the nearly 5,500 meetings held on the show floor, with many more expected on the online platform, standing room-only keynote sessions, and well-attended educational and networking seminars.
The vibrant show floor hosted more than 250 exhibitors spanning the widest cross selection of categories to date – Characters & Entertainment, Art & Design, Gaming & eSports, Music, Agents, Corporate Brands, Location-Based Entertainment, and more – all benefiting from 10,000+ unique attendees in search of new partners, brands, products, and trends to introduce to consumers.
"We're still reeling from last week's remarkable event – everything from the engagement, education, to the dazzling booths surpassed everyone's expectations," said Anna Knight, SVP of the Global Licensing Group, organizers of Licensing Expo. "All we heard for three days was the incredible quality of attendees, underscoring the pent-up demand for an in-person event after three years apart. Thank you to everyone who collectively made the event the astounding success that it was."
Knight continued, "Each year, Licensing Expo serves as a springboard for new trends that will excite consumers that tap into societal behaviors, and this year did not disappoint. From Gary Vaynerchuk and Pam Kaufman addressing the cross selection of entertainment and NFTs on the keynote stage to the many immersive offerings that show the power of location-based experiences, which was our theme for the year, the show was the meeting place to discover how the most recognizable and up-and-coming brands are shaping and bringing new spins to the hottest trends."
Licensing Expo was held both in-person and online for the first time, opening the digital platform in advance of the live get-together for attendees to discover licensable IPs and schedule meetings for a productive on-site experience. Additionally, the online platform remains open from May 27 to June 3 to facilitate follow-up appointments and enable guests the opportunity to engage with content on-demand at a convenient time.
"It was wonderful to be back in person; the show exceeded all our expectations," commented Warren Schorr, SVP of Business Development & Global Licensing at Crayola, a sought-after exhibitor on the show floor. "While the show is always great for pre-booked meetings with traditional licensing industry partners, first-time attendees in Location-Based Entertainment, interactive, and traditional categories brought a fresh perspective and energy to the show. Decision-makers came looking for opportunities. Based on how our booth and the booths around us were packed, I expect most attendees came away with a robust pipeline for future new business."
In addition to discovering trend-driven IPs, registered guests had access to three days of expert-led education. Throughout the show, the Licensing U Theater drew thousands of guests for sustainability education, insights on entering the licensing industry, trend predictions, and much more.
Steven Heller, President and Founder of The Brand Liaison, a prominent exhibitor at Licensing Expo, added, "It was so great to be back live and in-person; the energy at Licensing Expo 2022 was beyond incredible. The show was crowded; everyone was excited about new licensing deals, bringing new products to market, and new brands. Can't wait till 2023."
A highlight of the event included the two keynote addresses that brought inspiration and insights to registered guests on May 24 and May 25, attracting the biggest audiences in the show's history with seats filling up quickly, thus resulting in standing room only that spilled into the expo hallways.
May 24: The Power of Possibilities: What's Ahead for Licensing

Pam Kaufman, president, consumer products and experiences, Paramount
Gary Vaynerchuk, chairman, VaynerX, chief executive officer, VaynerMedia and creator and chief executive officer, VeeFriends

May 25: From Dream to Reality: The Power of Brand Licensing for Location-Based Entertainment

Cecil D. Magpuri, Chief Executive Officer and Co-Founder, Falcon's Beyond
Robert L. Ward, President and Chief Executive Officer, Robert L. Ward, Inc.
Susan Vargo, Head of Live Events and Location-based Experiences, Moonbug
George Wade, President, Bay Laurel Partners (moderator)
The License This! Competition was another well-attended program that drew a strong audience for the live finale, where six finalists competed for the grand prize package in front of an expert judging panel. Kieche Meleson O'Connell, designer of Catoms: Atoms with Attitude, was selected as the winner of the Character & Animation category, and Stef "Sharky" Shultz won the Brand & Design category with Hunnie Bumble and Friends. Each winner walked away with the following:
Free-of-charge 100 square foot booth at Licensing Expo 2023 worth $2,500
One-year Licensing International membership worth $1,000 for a small business
One-year Products of Change membership, worth up to $450 for a small business
One-to-one consultation with License This! judges
Register here to engage with the event's online platform, and save the date for next year's Licensing Expo, returning from May 23-25, 2023, at the Mandalay Bay Convention Center in Las Vegas.
Follow Licensing Expo on social: #LicensingExpo