Pokémon Takes over Major Florence Retail Store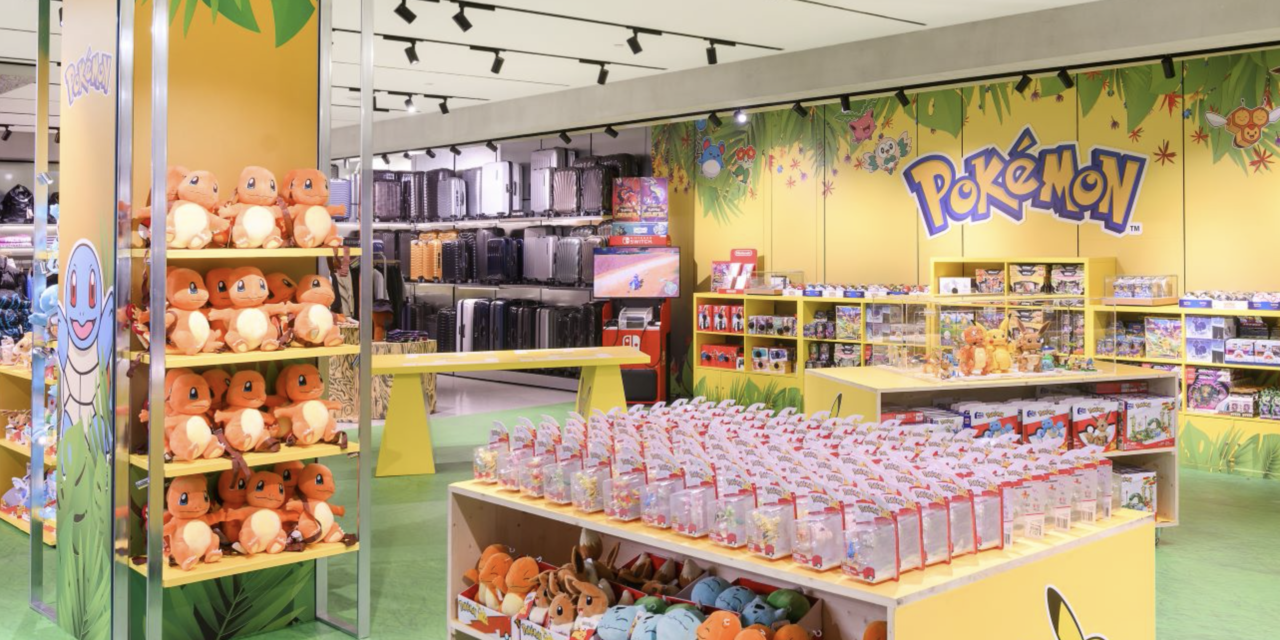 The Pokémon Company International is taking over Rinascente in Florence for three exciting weeks of immersive activities until 17 April 2023, following the huge success of the pair's collaboration at Rinascente's flagship store in Milan last autumn.
Pokémon's latest high-end store takeover features a window display and branded, immersive pop-up space on the first floor of Rinascente's historic store in the heart of Florence, just a few steps away from the cathedral.
The exciting spring extravaganza for fans of all ages features Pokémon products and displays from three of its key areas — the Pokémon Trading Card Game (TCG), video games for Nintendo Switch and licensed products — taking over the five windows that run along the front of Piazza della Repubblica. Special installations celebrating Pokémon include an infinity Poké Ball room and a video screen showing some of the most-loved moments from the Pokémon animation — such as when Ash and Pikachu met for the first time. A vibrant decoration welcomes Pokémon fans to the 60-square-meter pop-up store, where customers can browse and shop a wide range of Pokémon products, including the new Pokémon TCG expansion, Scarlet & Violet.
Additionally, exciting gaming opportunities are planned at an interactive, in-store space featuring a Pokémon TCG table with demonstrations for fans and collectors, as well as Nintendo stations where visitors can play the new Pokémon Scarlet and Pokémon Violet video games that launched last November for Nintendo Switch.
The unique, immersive pop-up — adorned with vibrant and eye-catching Pokémon images and displays — is packed with a wide selection of Pokémon products for customers to browse and shop. The latest Pokémon toys include the new Pikachu and Gengar Squishmallows from Jazwares, distributed by ReiToys — these lovable plush are just made to be squeezed! Fans can also find fantastic 3D backpacks featuring fan favourite Pikachu plus the iconic Kanto first partner Pokémon, Bulbasaur, Charmander and Squirtle. Covetable apparel comes from Milan-based creative streetwear designers Dolly Noire, whose capsule collection includes T-shirts, hoodies and accessories adorned with Kanto region Pokémon.
The latest Pokémon video game and TCG launches are also available. The Pokémon Scarlet and Pokémon Violet games for Nintendo Switch, which explore the Paldea region, marked a new evolutionary step in the Pokémon core video game series and enjoyed the fastest start of any title exclusive to a Nintendo platform. To date, sales are already nearing 21 million. And there's an updated take on the Pokémon ex gameplay mechanic in the Pokémon TCG: Scarlet & Violet expansion, which launches 31 March.
"We are delighted to strengthen our partnership with Rinascente, Italy's prestigious chain of destination stores, following the fantastic response to our first collaboration in Milan," said Mathieu Galante, licensing director (EMEA) for The Pokémon Company International. "As Pokémon's popularity in Italy continues to surge, we are thrilled to create another exciting, immersive experience to attract and engage our Italian fans."
Pokémon is becoming renowned for its innovative, immersive collaborations with leading stores across Europe, including Harrods and Selfridges in London, Galeries Lafayette in Paris and KaDeWe in Berlin.