Warner Bros. Consumer Products Black Adam product collection smashes into retail around the world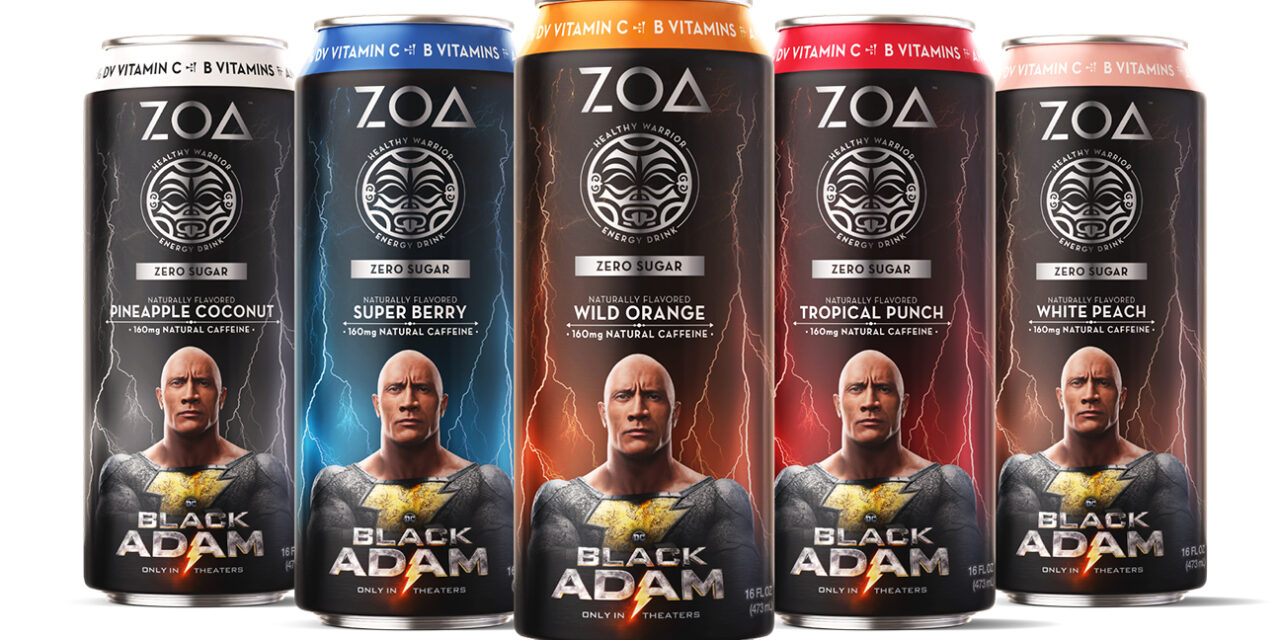 Dwayne Johnson and Under Armour's Project Rock x Black Adam collection and ZOA Energy Drink Brings the Power of Black Adam to Workouts and Everyday Adventures
Warner Bros. Consumer Products (WBCP) and DC will release an all-new variety of original products inspired by Warner Bros. Pictures' upcoming action adventure film "Black Adam." This is the first time Black Adam has appeared in a film and the first time a comprehensive collection of merchandise featuring the uncompromising antihero will be available. Premier toy, apparel, home goods and food partners have collaborated with Warner Bros. Consumer Products and DC to bring "Black Adam"-themed merchandise to mass market and specialty retailers leading up the film's release in theaters only, beginning 19 October internationally and on October 21 in North America.
Joining forces with some of the best licensees in their respective categories, WBCP will offer
Fashion and Footwear: Project Rock's Black Adam Training collection of innovative performance wear created by Dwayne Johnson and Under Armour captures the spirit of Black Adam, who rises from ruin and goes beyond where other heroes draw the line. The Black Adam Training collection was inspired by the work Dwayne Johnson put in to prepare for his most demanding role yet, disrupting the superhero genre and forging his own path.
"Black Adam deserved more than a portrayal," said Dwayne Johnson. "He deserved a transformation. Every training session, every rep, every drop of sweat was my commitment to disrupt the very notion about this character and myself."
The collection features apparel, accessories and The Ultimate Training shoe, the Black Adam PR 5 ($160), that was battle tested at new levels of intensity by Dwayne Johnson himself. Project Rock is proud to offer this limited edition collection for athletes and fans striving to reach their own levels of disruptive intensity, whether inside or outside of the gym.
Other new "Black Adam" fashion licensees include Bioworld, Fifth Sun, Issac Morris, LTD, Trevco, and IML for men, women and childrenavailable at Target and Amazon. Walmart will carry its own exclusive line of t-shirts from Mad Engine and more. Available now, Hot Topic alsobrings fans a range of "Black Adam" graphic t-shirts. ($6.90-$24.90).
Warner Bros.' own DC Shop will also carry merchandise from partners including McFarlane, Loungefly and Brandup. Apparel for adults featuring Teth Adam's imposing figure, Dr. Fate's magic, Hawkman's withering gaze and more are available along with mugs featuring the "Black Adam" logo and Dr. Fate ($20-$175).
Accessories and Jewelry: Loungefly brings the power of the gods to its light up Cosplay Mini Backpack featuring an electrified lightning bolt ($85). A matching Ziparound wallet ($40) helps fans suit up for any adventure. Speciality jewelry maker RockLove will debut its "Black Adam" necklace in the shape of a lightning bolt, a wearable statement of power and style. Specialty retailer Hot Topic bestows fans with the almighty powers of the Egyptian gods with earrings, charm bracelets, pins, necklaces, scrunchies and keychains featuring ancient Egyptian symbols and lighting bolts. Buckle-Down wallets and belts are available on Amazon and start at $17.95.
Toys & Collectibles: Fans and collectors alike can bring the action of the big screen home with true to character figures and a first-edition Hawk Cruiser from leading global children's entertainment company Spin Master. Play out epic movie battles with the highly detailed "Black Adam" 4-inch and 12-inch action figures, featuring Black Adam, Hawkman, Dr. Fate, Atom Smasher and Cyclone ($8.99-$10.49). Unleash justice on the modern world with the Black Adam 12-inch Feature Figure ($24.99), which features epic actions and legendary movie sounds. Standing at 16-inches wide from wing to wing, zoom off to unleash justice with the authentic movie look-a-like Hawk Cruiser Patrol ($34.99), which comes fully loaded with sounds and LED lights and includes 4-inch Black Adam and Hawkman figures. The new Spin Master "Black Adam" collection is available at Target, Walmart and Amazon.
The famous collectible manufacturer McFarlane has a stunning line up of collectibles – Black Adam,
Dr. Fate, Hawkman, Cyclone and more 7" scale figures are all available now for $19.99. Atom Smasher and Sabbac mega figures are also available now for $39.99. Also look out for the most authentic "Black Adam" movie statues arriving in-stores from DC Direct! Other retailers include Amazon, Target, Walmart, GameStop.
The Funko collection celebrating "Black Adam" is a must-have for collectors everywhere. Brought to life in Funko's signature style, the lineup introduces new Pop! figures of Black Adam, Cyclone, Dr. Fate, Atom Smasher, Sabbac, and Hawkman ($12 each). Funko is also unleashing new glow-in-the-dark Pop! collectibles of Black Adam on Throne ($25) and Hawkman in Cruiser ($30). Available at retailers nationwide.
Justice will be served this Halloween with Rubies' officially licensed costumes and accessories from the film. Available now at Costumes.com, harness the power of Black Adam with the Black Adam Child Deluxe Costume ($39.99), the Black Adam Men's Deluxe Costume ($49.99) and the Black Adam Men's Costume Top ($27.99). Wal-Mart stores nationwide will also feature the Black Adam Child's Costume for $15.00.
Cartamundi, the worldwide leader in playing cards, will be launching the next chapter of action-packed hybrid trading cards (complete with digital NFT twins). Don't miss out on this thrilling expansion of the one-of-a-kind line-up that journeys through all of DC's comic book history and celebrates how the hierarchy of power is about to change when "Black Adam" releases in cinemas around the world on October 21, 2022. This is your chance to join a global community of fans to collect, buy, sell, trade, and compete as you build the ultimate DC trading cards roster! The DC Unlock the Multiverse Chapter 2 hybrid collection is available starting October 11 for pre-order at Hro.gg and will be coming soon to retailers in the USA, UK, India, and Brazil this fall!
Food and Beverage: ZOA Energy and Warner Bros. Consumer Products are teaming up to bring consumers all the balanced energy of ZOA in specially designed "Black Adam" cans. Each bespoke 16-ounce can delivers the almighty power of Black Adam in a compelling design rooted in the film's narrative. ZOA Energy is also giving fans early access to behind-the-scenes footage from the upcoming film. After fans purchase these limited-edition Black Adam cans, they can scan the can's QR code to get a peek behind the curtain and go On Set with Black Adam. ZOA is the only balanced energy drink that combines turmeric, camu camu, which includes 100% of the daily value of vitamin C, as well as an abundance of focus-enhancing B vitamins, all in one 16-ounce can. Available September 12 for a limited time on zoaenergy.com, Amazon, and in grocery and convenience stores ($24.99 for a case of 12).
In honor of the new epic adventure, General Mills and "Black Adam" are taking over snack aisles in Canada. Fans can fuel up with a box of Motts Fruitsations, Nature Valley Granola Bars and/or Pillsbury Brownies, all with Black Adam on the box.
To carry your snacks, the "Black Adam" Large Reusable Tote Bag by Legacy Licensing is made from strong and reliable polypropylene giving them extra carrying capacity and a longer life, helping reduce plastic waste. Available at Publix, Kroger, Albertsons, Meijer, HEB, Safeway and United Supermarkets starting in September ($2).
Homegoods and Pets: "Black Adam" Wall Posters from Trends International are perfect for any DC fan. Shop Trends Posters are printed on premium paper with high-quality ink to ensure a sharp, vibrant design. Available now on Amazon, Walmart.com, ShopTrends.com ($9.99)
Enjoy your coffee or tea in this awesome "Black Adam" 20 oz. Ceramic Camper Mug by Silver Buffalo. Featuring Black Adam' on one side and a cool Lightning Bolt on the other side against a black background available on Amazon ($14.99). The "Black Adam" Stainless Steel Tumbler from Tervis is double-walled and features antihero artwork printed with eco-friendly plant-based inks directly on the stainless surface. Tumblers include BPA-free leak resistant, easy-to-clean and easy-close slider lid for sale at Tervis Retail Stores and Tervis.com on October 7 (20 oz – $32.99 / 30 oz – $42.99). Hallmark will offer an authentic "Black Adam" collectible ornament for the holidays available for purchase in Hallmark Gold Crown stores or online ($19.99).
Trevco's "Black Adam" ultra-silky touch blankets provide warmth and comfort yet are lightweight and breathable. In addition, the new "Black Adam" lightweight and compact beach towel is super absorbent to dry you quickly so you can head out on your next adventure. Available on Amazon ($29.99-$39.87).
Not to forget our four-legged superheroes, Buckle-Down has unleashed a newdog toy featuring the Black Adam character that is durable and long-lasting just like the antihero himself. Available at Buckle-Down.com and Amazon ($22.95).
Publishing: DC will offer a wide range of books and comics for the Black Adam fan. DC's Black Adam Box Set is a collection of Black Adam/JSA: Black Reign, Shazam! Vol. 1, and Black Adam: Rise and Fall of an Empire. The bundle is available on Amazon($51). Also from DC comes Black Adam: The Dark Age (New Edition), allowing readers to discover the magic word that has eluded Teth Adam for so long and learn the final fate of Isis on Amazon ($16.99). Visit your local comic shop or bookstore for more information, and check out the DC UNIVERSE INFINITE digital subscription service at www.dcuniverseinfinite.com for a curated digital list of classic Black Adam stories. Not available in all countries. Perfect for young DC Super Hero fans ages five to eight, Random House is offering Black Adam Strikes! and Shazam Featuring Black Adam available on Amazon ($5.99 each). Young readers can discover the story behind Black Adam becoming Shazam's almighty archenemy from Capstone's Black Adam: An Origin Story. The easy to read text and action-packed illustrations can be found on Amazon ($4.95).
INTERNATIONAL
In Australia and New Zealand, consumer electronics retailer Zing Pop Culture andAustralian theme park Warner Bros. Movie World will welcome DC's most powerful antihero in a big way with ranges that span adult and children's apparel, headwear, drinkware and accessories.
In Brazil, WBCP and DC will offer new collections from Jandaia, Riachuelo/Fanlab, Iron Studios, Sunny, MacFarlane, and Belfix will bring Black Adam's spirit to life with its notebook and apparel. The "Black Adam" skateboard from Belfix is designed with durable material and a "Black Adam" print. A special collection will also launch in the region's official DC Comics store featuring t-shirts, collectable cards, sweatshirts, mugs, pillows, mousepad and notebook case.
Mexico will be covered in the fashion and home categories with a new apparel launch from Aurimoda which includes t-shirts and sweatshirts for kids and men, an accessories line of caps from Dadivit, and a new collection of mugs from Regalos Siglo XXI to support "Black Adam."
Across Central America, Ecuador, and Chile, Carls Jr. will be launching local Black Adam programs that will support the movie in all of their Quick Service Restaurant locations across these territories. Additionally, key apparel partners such as By Desko in Argentina and Textiles Arval in Peru will also be releasing an exciting apparel collection. Finally, local fans in Colombia will also be able to purchase Black Adam costumes from Cacivaches, one of the strongest costume developers in the region.
In the UK, signed partners include Rubies and AMSCAN for dress-up for both adults and children, Pyramid International for posters and gifting, and Abysse for homeware. Additionally, "Black Adam" inspired apparel has launched from EMP in Germany and Lefties in Spain.
In India, there'll be a multi-partner launch with TheSouledStore.com and Bewakoof.com that will launch a range of "Black Adam" fashion tees and accessories. Octave Clothing and Bioworld Merchandising also have a range of fashion apparel across retail chains and online. Suditi Apparel will have an athleisure range, and Epicstuff.com will launch collectibles and a home product collection, and Zebronics India will launch a line of "Black Adam" audio accessories and wearables.
Partners in countries around Southeast Asia are also joining in on the celebration with new product launches in fashion, home and accessories categories. In Malaysia, Lotus's Hypermarket and Brands Outlet recently launched a "Black Adam" inspired apparel collection, Aurora Italia will also be launching a "Black Adam" 0.5g Gold Bar timed with the local movie premiere.
In the Philippines, there'll be branded home and office accessories including a waterproof Bluetooth speaker, insulated tumbler, earbuds and more from Our Licensed Collective,alongside teen and young adult apparel from Reinfore and Goldwing. In Indonesia, Matahari Department Store has released a special range of "Black Adam" tees, and Lotus Archi will be launching a limited edition "Black Adam" Gold Mint Bar with special packaging. And finally, EZ-Link in Singapore, will soon launch a "Black Adam" version of its contactless prepaid transit card.