Pocket.Watch Launches Onyx Monster Mysteries Franchise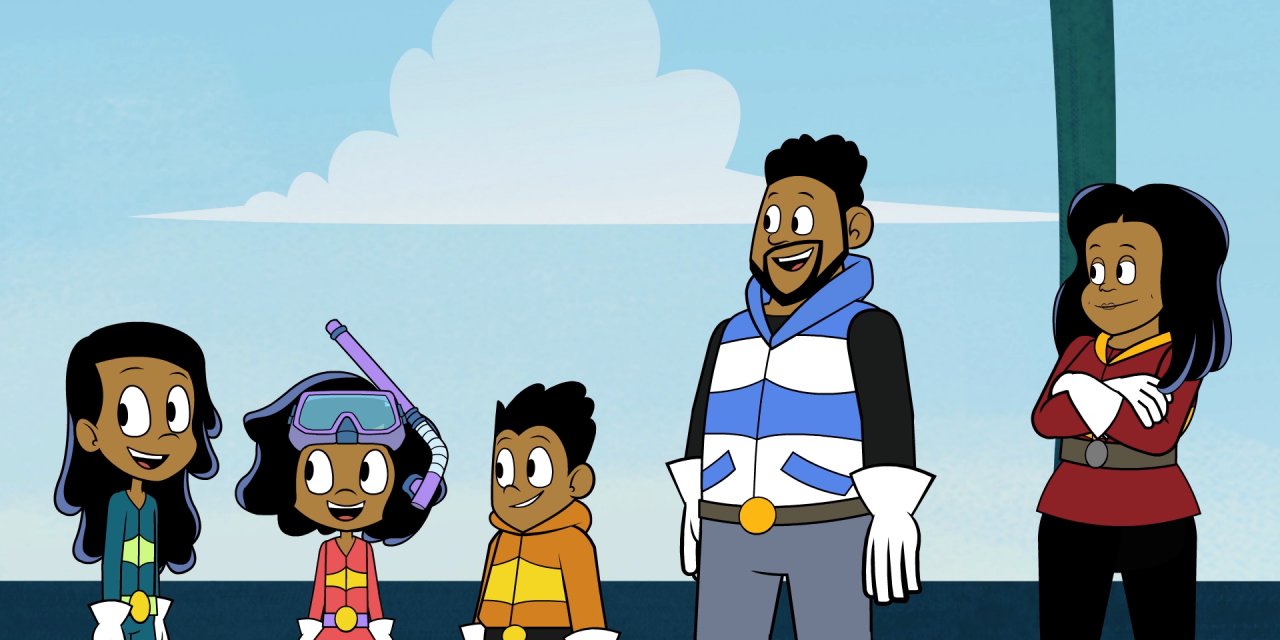 Pocket.watch has announced the wide release of animated comedy series 'Onyx Monster Mysteries' and related games, merchandise and original music. This marks an expansion of their successful 'Onyx Family' partnership. Season 1 of the series, consisting of 12 episodes, is seeing an ultra-wide release across dozens of streaming services, just in time for Halloween.  A special sneak preview of all 12 episodes of Season 2 is available exclusively on Amazon Kids+ beginning today and will go into wide release in December.
In 'Onyx Monster Mysteries', created by Albie Hecht, pocket.watch's Chief Content Officer, and starring the Onyx Family (3.5 million subscribers), the Onyx Family is transformed into cartoon characters in an epic adventure series to save the most endangered and misunderstood species in the world- monsters! The family proves along the way that with bravery, compassion, empathy – and a few cool gadgets– there's no problem they can't solve together. 'Onyx Monster Mysteries' promotes diversity throughout the production, with the incredible voice and musical talents of the Onyx Family as well as diverse production talent behind the camera. The show is proud to include the perspectives of showrunner Doreen Spicer (The Proud Family), Producer Jon Barnett and Creative Consultant Adrienne Lopez.
Fans can now stream Season 1 of 'Onyx Monster Mysteries' across 20+ platforms and Season 2 exclusively on Amazon Kids+.
Streaming

'Pocket.watch' live-linear channel: 'Onyx Monster Mysteries' season 1 will anchor 'Scream Stream', a weeklong Halloween programming block, running 10/26-11/1 on the 'pocket.watch' live-linear channel available via The Roku Channel, SLING TV, Pluto TV, Philo, Samsung TV Plus, VIZIO's WatchFree+, Plex, Redbox, Xumo and more
'Pocket.watch' apps: 'Onyx Monster Mysteries' season 1 is available on-demand on the pocket.watch mobile and connectedTV apps across all major devices including Roku, FireTV, iOS, Android and more
Premiere streaming services: 'Onyx Monster Mysteries' Season 1 is available across popular streaming services including Peacock, The Roku Channel, and Prime Video, as well as popular kid streamers Amazon Kids+, HappyKids and Kidoodle.TV. Season 2 is now available exclusively on Amazon Kids+ before going wide in December 2021

Original Music: The 'Onyx Monster Mysteries' soundtrack is a fun and engaging lead up to Halloween! All songs were written and performed by the Onyx Family and are available across all major music services, including iTunes and Spotify, and weekly music videos featuring the animation will drop on the Onyx YouTube channel and across the family's TikTok and Instagram accounts
Video Games: 4 Onyx Monster Mysteries HTML mini-games, 'Yeti Family Rescue,' 'Matchup!,' 'Spot the Difference,' 'Word Search' are available now on the pocket.watch mobile app
Ecommerce: Amazon will carry a brand new collection of 'Onyx Monster Mysteries' merchandise, which includes t-shirts, sweatshirts, PopSockets, phone cases, and tote bags. Product is launching globally and available at amazon.com/onyxfamily, the newly launched brand destination on Amazon that also provides easy access to all episodes and games
"We are so lucky to get to work with the incredibly talented Onyx Family", said Kerry Tucker, Chief Marketing and Franchise Officer, pocket.watch." Onyx Monster Mysteries is an animated celebration of everything that makes this family so popular – music, humor, adventure, and teamwork. At pocket.watch, we strive to create franchises that proudly represent our diverse global audience and we are thrilled to bring it to so many people, in such a unique way, through this many platforms at once."
Amassing over 7 million social media followers, more than three billion views on their YouTube content and many more viewers more across major OTT platforms and streaming services including Hulu, Prime Video, and The Roku Channel, the Onyx Family consists of parents, Mirthell and Rita, and their four children Shalom, Sinead, Sade (Shasha), and Shiloh. Their mission is to reach families around the world to "Tell the Story, Feed the soul, Make them Laugh, Heal the heart." Through funding community outreach programs, contributing to HBCU scholarships, and participating in various mission projects, their vision is to give back by inspiring families and children around the world to live out their greatest hopes, dreams, and aspirations.
"We are so proud of Onyx Monster Mysteries, and its message of diversity and empathy, which are core values of our family," said Rita and Mirthell Onyx. "We are grateful to pocket.watch for their vision, creativity and commitment to bringing diverse voices and characters to kids and families all over the world."
The Onyx Family's multi-million dollar portfolio includes videos, books, music, courses, podcasts, branded merchandise, consumable products, websites, speaking engagements, television appearances, animations, and streaming shows on multiple platforms and streaming services.
Onyx Family series and videos are also widely available across pocket.watch's OTT network on platforms including Hulu, The Roku Channel, SLING TV, Pluto TV, Philo and more.
Last year, the Onyx Family was invited to participate in Joe Biden and Kamala Harris' inauguration, "Our White House: An Inaugural Celebration for Young Americans," hosted by Keke Palmer; and interviewed Dr. Fauci on their YouTube channel to educate families about COVID-19 safety.
For more information on pocket.watch, its partnerships, creators, products, and content, please visit pocket.watch.