New Miffy CGI animated series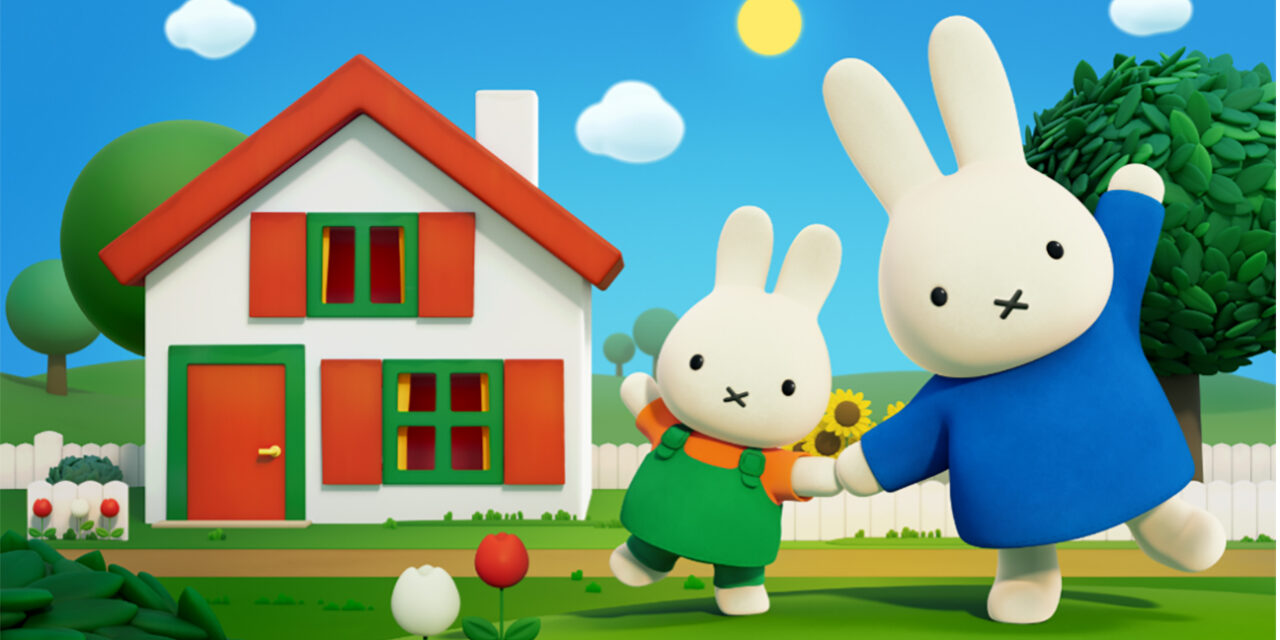 STUDIOCANAL in partnership with MERCIS and SUPERPROD ANIMATION today announced plans to develop and produce a new CGI series of the worldwide renowned children's animation classic MIFFY. The series is in development with CANAL+ and will launch on the channel in 2025.
Francoise Guyonnet, Executive Managing Director TV Series, STUDIOCANAL made the announcement at Brand Licensing Europe (BLE) in London, concurrently with Marja Kerkhof, Managing Director, MERCIS and Clément Calvet and Jérémie Fajner, co-founders of SUPERPROD GROUP.
Based on the world-famous character MIFFY, created by Dick Bruna in 1955 and featuring in more than 30 books, a brand-new animation series of the much-loved bunny will be produced to excite and engage today's pre-school aged children and all the people who love her around the world.
MIFFY – the "sweet, lively little bunny" has evolved into a more complex, funny and engaging character who lives in an exciting, contemporary world. The new MIFFY series is distinguished by its emphasis on character-driven stories that teach emotional lessons. MIFFY is positive, creative and spontaneous, sometimes even impulsive which can lead to tricky situations that she cleverly overcomes, thanks to her positive attitude and empathy.
Francoise Guyonnet says "We fully respect the legacy of this wonderful character and are delighted to be part of the transformation of MIFFY who, while retaining the same iconic look, now has a fresh and contemporary vision. Along with our co-producers at MERCIS and SUPERPROD ANIMATION we want to make sure that such a beloved character will stand the test of time, by widening her appeal to capture the hearts of children and families across the globe. After the continued success of STUDIOCANAL's Paddington, a treasured and cherished character for 65 years, it's wonderful to make this announcement today which underlines our ambition in the quality franchise space."
Marja Kerkhof expands, "STUDIOCANAL boasts a unique experience of working with classic and iconic brands in the children's space, and we are very pleased to have entrusted them and SUPERPROD ANIMATION to work with us on this important project. We are so excited that MIFFY will be reintroduced to future generations with complete new stories, new sets and locations and new characters such as her young brother Bun. This series will be a new milestone for Miffy."
Clément Calvet and Jérémie Fajner, SUPERPROD GROUP add, "It is such a pleasure to work on such an amazing and strong IP and to develop and produce it with STUDIOCANAL and MERCIS. MIFFY means a lot to us and our teams are thrilled to develop this new series with our coproduction partners and CANAL+. We have been very careful to keep MIFFY's positive attitude and her sense of adventure while reimagining her world to reflect today's kids and the world around them. Like many families these days, her mum goes out to work while her dad stays home to look after the family. She now has a little brother and lots of diverse and interesting friends."
Christine Cauquelin- Malitte, Director of Program Units and Documentary Channels, Youth and Animation at CANAL+ says, "CANAL+ is thrilled to have the opportunity to work with MERCIS, STUDIOCANAL and SUPERPROD on such a great IP as MIFFY! "CANAL + THINKS BIG FOR LITTLE ONES" means we have big ambitions for the content we provide for kids. Our approach is largely illustrated by what we call "Original Recreation" which brings together what we consider to be the most creative and entertaining content that sparks children's imaginations. We'll be very proud to present MIFFY's new series in our future line up."
Available as 78 episodes of 7 minutes and targeted at 3-5 year olds, MIFFY is a CGI animated series produced in SUPERPROD ANIMATION studios.
International sales will be handled in the Netherlands and Japan by MERCIS and by STUDIOCANAL and SUPERIGHTS in the rest of the world. All merchandising and publishing rights regarding the new series shall be handled by MERCIS.