Millimages Announces Deals Across Europe for Molang & Lascars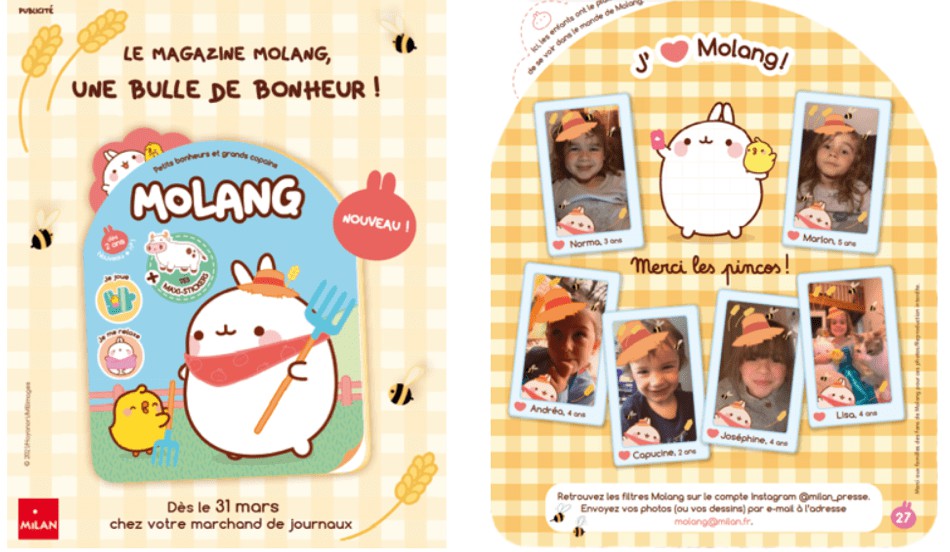 From a premium new plush collection for kawaii cute Molang to an exclusive streetwear line for cult-favorite Lascars and exciting new broadcasts across the board, the studio has many announcements to make.
NICI is collaborating with Molang for an exclusive plush and goodies collection. Available in Germany, Spain, Switzerland and Austria, the plush line will also include plush key chains and special Molang stationery.
Long-time press licensee Panini are releasing a Molang sticker book later this year. The sticker book will be available in Gemany and Spain with a release date set in late Q4. The sticker album will complete a wider collection including books and a Molang magazine.
Licensing giants Abysse are creating a Molang line of products including cosmetic cases, acrylic figures and 2D acrylic keychains and mugs to be released in July. In September, the brand will drop Molang phone cases, pins, 2D and 3D keyrings, glasses, and more.
The new Molang Magazine by Milan Presse is all about teaching children positivity and positive education. There's even a feature on yoga and kids' meditation.
 In tandem with the debut of LASCARS the movie on Netflix France this February, the already cult-favorite IP is undergoing a revival 11 years after the film's release. Reaching #6 in Netflix's Top 10 most watched films in France and nominated at the 2010 Cannes Festival, the iconic film is now partnering with French streetwear brand TEALER for an exclusive capsule collection.
Following its success on Netflix, LASCARS has also made a bang on digital – accumulating hundreds of thousands of views on TikTok. In addition, TikTok France are holding a Live session with the movie's screenwriter and voice actor, IZM.