IWD: Mattel Honours International Women's Day with a new Barbie Role Model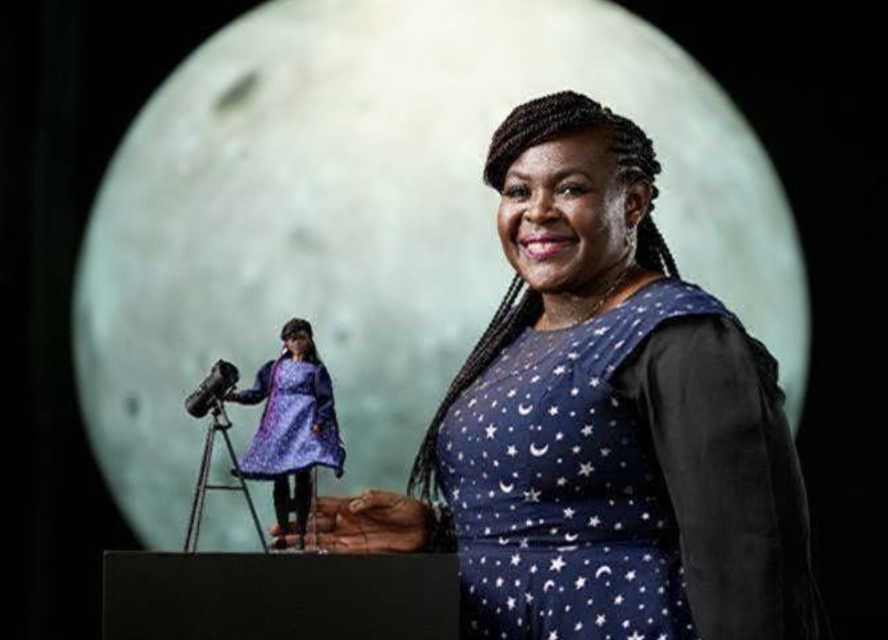 Mattel, Inc. announces today that Dr Maggie Aderin-Pocock is honoured as a 'Barbie Role Model' ahead of International Women's Day (8th March) and British Science Week (10th – 19th March). The black British female scientist receives a one-of-a-kind Barbie doll created in her likeness, in recognition of her achievements in making space and science fascinating and accessible to girls.
Dr Maggie Aderin-Pocock says "Since falling in love with the idea of space travel as a young girl, I have spent my career trying to show girls how fascinating Space science can be. I want to inspire the next generation of scientists, and especially girls, and let them know that STEM is for them. These subjects are just too important to be left to the guys because through science, you can literally change the world. I hope my doll will remind girls that when you reach for the stars, anything is possible."
A former President of the British Science Association, Dr Maggie Aderin-Pocock (MBE) is best known for presenting BBC One's 'The Sky at Night' and her work looking deep into Space with the James Webb telescope. Her one-of-a-kind Barbie wears a starry dress reminiscent of the night sky and comes with a telescope accessory for stargazing.
Dr Maggie Aderin-Pocock continues, "As a black woman I've found that I don't always fit some people's perception of a scientist. We do often have these stereotypical images of what people do, and I like to smash those stereotypes whenever I get the opportunity.
As a child growing up, I played with Barbies, and I still do now with my daughter. When I was little, Barbie didn't look like me, so to have one created in my likeness is mind-boggling. It's such an honour to receive this doll that is celebrating my achievements. My daughter and I danced around the living room when we heard!"
Barbie is donating Dr Maggie's book 'Am I Made of Stardust?' to schools across the UK through partner charity Inspiring Girls. The brand is also expanding the Career range with a Marine Biologist doll this Spring, joining STEM career Barbies including Doctor, Vet, Scientist & Astronaut.
Kelly Philp, Marketing Director Mattel UK says, "We know that globally STEM is a field widely recognised as underrepresenting women, so as a brand, Barbie is committed to showing girls more STEM careers. In the UK, research tells us women make up only 26% of the STEM workforce* so showcasing an exciting career in space science like Dr Maggie's is just one way we are inspiring girls to think differently about their career opportunities."
Today, Barbie also recognises 6 other STEM professionals globally who are trailblazers in their field. The line-up of women honoured with a one-of-a-kind doll includes:
Dr Maggie Aderin-Pocock (UK) – Space Scientist and Science Educator
Susan Wojcicki, (US) – Long-time Youtube CEO
Anne Wojcicki (US) – Co-Founder and CEO of 23AndMe
Janet Wojcicki (US) – Professor of Paediatrics and Epidemiology at the University of California
Prof Dr Antje Boetius (Germany) – Marine Researcher and Microbiologist
Katya Echazarret (Mexico) – Electrical Engineer & Science Show Host
Li Yinuo (China) – Co-Founder of ETU Education
Barbie has highlighted the boundary-breaking stories of more than 60 historical and modern-day role models from diverse backgrounds and fields to help inspire the next generation to believe they can be anything. In the UK, previous Barbie Role Models include Vaccine Creator Professor Sarah Gilbert, Beauty Founder Pat McGrath, Broadcaster Clara Amfo, Fastest Woman in British History Dina Asher-Smith, Champion Skateboarder Sky Brown, Activist & Model Adwoa Aboah, and Boxer Nicola Adams.