Lajkonik teams with emoji for tasty reveal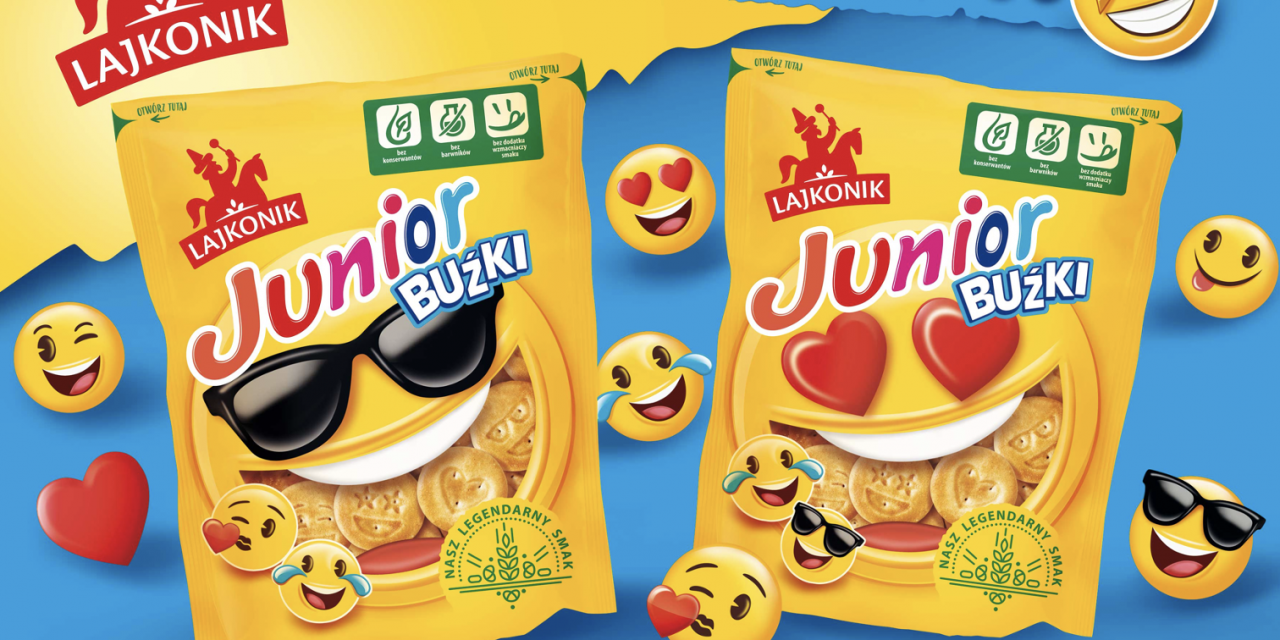 Junior Buźki, new snacks from Lajkonik, and the emoji®️ brand have entered into a tasty collaboration!
The surprise face, blink eye face, or a blowing kiss face – these are just some of the digital icons that each of us knows today. Thanks to Lajkonik and emoji®- The Iconic Brand, they can now not only be sent via instant messaging, but also… eaten. Junior Buźki, new snacks on the Polish market with 11 designs of the most popular emoji® brand icons and the legendary character of the Lajkonik, in two packaging layouts.
Lajkonik is the leader in the Salty Baked category and the most recognizable brand in this context . Consumers appreciate Lajkonik for the quality and wide assortment addressed to the whole family. The brand is an expert in salty snacks, it is constantly developing and expanding its portfolio – for both Lajkonik and Lajkonik Junior products. Lajkonik Junior has been present on the Polish market for 13 years. Their distinguishing features are: a subtle, salty-sweet taste, delicate texture and attractive shapes. And this is what Junior Buźki snacks are, the latest product of Lajkonik.
"Crackers is a segment with great potential. Their consumption increases from year to year. As a leader in the salty braked category, we recognize this and, in response to the needs of consumers, we regularly introduce new products. Junior Buźki is our latest offer – both for adults and children. It is not only a perfect, delicate sweet and salty taste, but also a unique form. Consumers will find snacks with as many as 11 different patterns in their packages, which correspond to the most popular emoji® brand icons, as well as the pattern of the legendary Lajkonik," says Joanna Sterna, Senior Brand Manager of the Lajkonik brand.
Marco Hüsges Founder and CEO of the emoji company says: "The Lajkonik X emoji® crossover brand collaboration breathe new air into the food and beverages category, giving  all targets an unforgettable experience."
The product was licensed under the emoji® brand, which is currently one of the most popular and dynamically developing brands. Consumers love emoji® brand icons and recognize them as the universal language for expressing emotions – for all targets.
The product is available in two different packaging layouts, in a weight of 90 g.