Karma's World Season 3 premieres July 7th on Netflix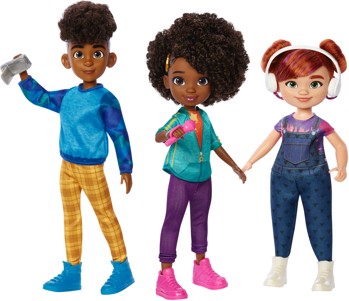 Karma's World, originally inspired by Chris's oldest daughter Karma, follows Karma Grant, an aspiring musical artist and rapper with big talent and an even bigger heart. Smart, resilient, and deeply empathetic, Karma pours her soul into songwriting, channeling her feelings into whip-smart rhymes with passion, courage and her signature brand of humor. She's a lyrically gifted aspiring musical artist juggling rap dreams and rhyme schemes, all while using her talent, ambition and heart to solve any problem.
The animated series returns for a third season, with new entertaining and educational content that features original songs focusing on issues such as self-esteem, body positivity, discrimination, creativity, expressing emotions, friendship, family, leadership, celebrating differences and more.
The series premiered in the Top 10 in 42 countries on Netflix Kids at launch and garnered 3 NAACP Award nominations. Karma's World continues to get love from fans all over the world on social – kids dressing up as Karma, learning her songs and dances, etc.
In partnering with Mattel to create a dolls and accessories line that will bring Karma's World to life through play, the line will be available this summer. The line invites kids to recreate the adventures, styles, and friendships from the series and play out iconic moments from the show with their favorite characters. Within the toy line, fans will be able to play out their favorite rhymes and beats with musical features starring songs from the show. The extensive toy line from Mattel spanning dolls and doll accessories, styling heads, role play, and plush will begin launching July 17th.