Introducing the first Barbie doll with Down's syndrome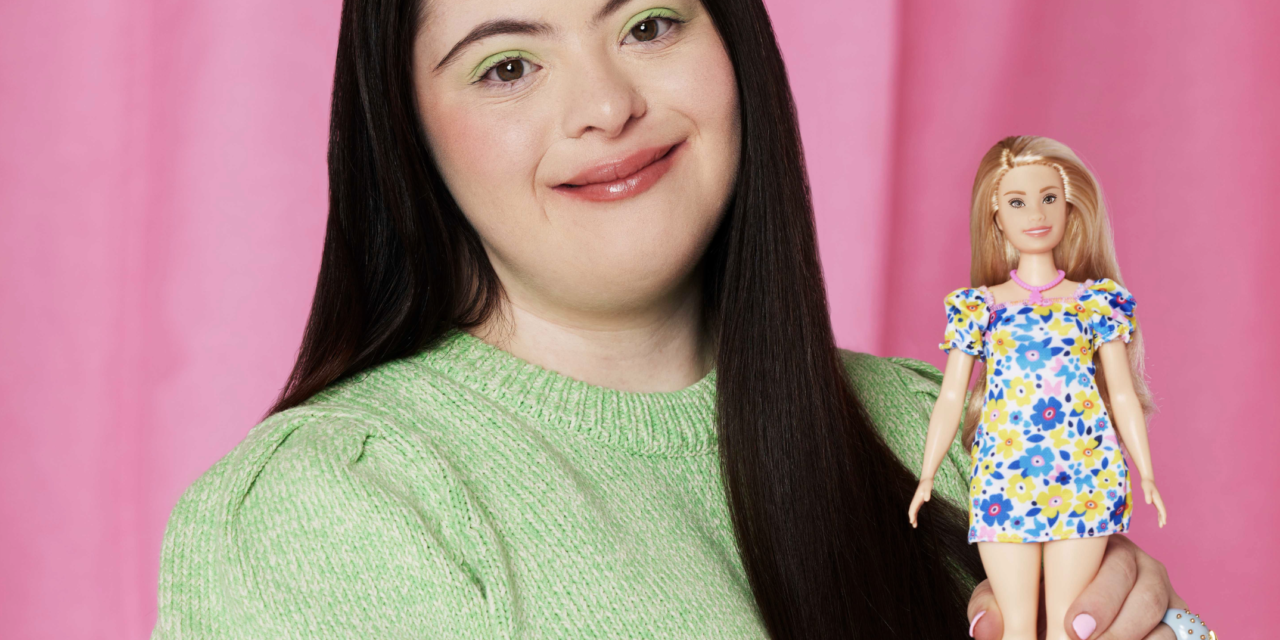 Today, the Barbie brand launches the first Barbie doll with Down's syndrome which will go on pre-order from 25th April from Smyths. To mark this moment, British model Ellie Goldstein has appeared in a campaign with the new Barbie which allows even more children to find a doll that represents them and enables all children to tell more and different stories through play.
The Barbie Fashionistas line is the most inclusive doll line on the market, and since its inception in 1959 Barbie has introduced more than 175+ looks with variety in skin tones, hair textures, body diversity and dolls reflecting people with disabilities. The line has featured dolls who use wheelchairs, prosthetic limbs, hearing aids, dolls with vitiligo and a doll without hair. This is the first Barbie doll to be introduced with Down's syndrome, expanding the Fashionistas line to include a person with an intellectual disability, enabling even more people to see themselves in Barbie.
In joyful images and video, Ellie sees the Barbie with Down's syndrome doll for the first time on a fashion shoot that celebrates her uniqueness. 21-year-old model Ellie is one of fashion's rising stars and the UK's most prominent model with Down's syndrome. Ellie advocates for a broader view of beauty across the fashion industry, making history as the first model with Down's syndrome to feature in major international campaigns for brands like Gucci Beauty and Adidas. She is one of British Vogue's cover stars this May, and is also named one of the Business of Fashion 500, a list of people shaping the global fashion industry.
Ellie Goldstein said "I am so happy that there is a Barbie with Down's syndrome. Seeing the doll, I felt so overwhelmed – it meant a lot to me and I'm so honoured and proud that Barbie chose me to show the doll to the world. Diversity is important to me as people need to see more people like me out there in the world and not be hidden away."
Barbie has brought this new doll to life in close partnership with the National Down Syndrome Society (NDSS) in the USA. The NDSS empowers individuals with Down's syndrome and their families by providing resources, driving policy change and engaging with local communities. As the first-ever Barbie doll with Down's syndrome, it was important that the doll not only accurately represented a person with Down's syndrome but celebrated the Down's syndrome community – through the Barbie's clothing, accessories and packaging.
Consultation with the NDSS and medical professionals informed the design process, introducing a new face and body sculpt to be more illustrative of women with Down's syndrome, including a shorter frame and a longer torso. The new face sculpt features a rounder shape, smaller ears, and a flat nasal bridge, while the eyes are almond shaped. The doll's palms even include a single line, a characteristic often associated with those with Down's syndrome.
Guided by the NDSS, the doll's pink pendant necklace with 3 upward chevrons represents the three copies of the 21st chromosome, which is the genetic material that causes the characteristics associated with the condition. The chevrons, or arrows, are synonymous with "The Lucky Few," meant to represent the lucky few who have someone with Down's syndrome in their lives.
"It was an honor working with Barbie on the Barbie doll with Down syndrome," said Kandi Pickard, NDSS President and CEO. "This means so much for our community, who for the first time, can play with a Barbie doll that looks like them. This Barbie serves as a reminder that we should never underestimate the power of representation. It is a huge step forward for inclusion and a moment that we are celebrating."
The doll's puff sleeved dress pattern features butterflies and yellow and blue colours, which are symbols associated with Down's syndrome awareness. The doll also wears pink ankle foot orthotics (AFOs) to match her outfit and the trainers have a zip detail. AFO's are most commonly used by children with Down's syndrome in the US. While not all people with Down's syndrome wear ankle foot orthotics as each person is unique, Barbie took the decision to promote the representation of adaptive equipment in the play space by including them as accessories.
In the UK, Carol Boys, Chief Executive of the UK Down's Syndrome Association says "The Down's Syndrome Association (DSA) are pleased to see that Barbie is introducing a doll who has Down's syndrome into their range. As the only charity in the UK supporting all aspects of Down's syndrome, we often hear from families who feel their children are not represented enough in the mainstream media. We therefore welcome the fact that children in our community will be able to play with a doll that represents them and their lives. We look forward to seeing her on the shelves alongside Barbies who wear hearing aids, use wheelchairs, and celebrate inclusion."
In addition to the Fashionista doll with Down's syndrome, this year's Fashionistas line-up includes new dolls including a Barbie wearing braces and a Ken with a prosthetic leg. Barbie is constantly redefining what it means to "be" and "look like Barbie," and is committed to creating dolls that represent global belonging and promote inclusivity.
"As the most diverse doll line on the market, Barbie plays an important role in a child's early experiences, and we are dedicated to doing our part to counter social stigma through play," said Lisa McKnight, Executive Vice President and Global Head of Barbie & Dolls, Mattel. "Our goal is to enable all children to see themselves in Barbie, while also encouraging children to play with dolls who do not look like themselves. Doll play outside of a child's own lived experience can teach understanding and build a greater sense of empathy, leading to a more accepting world. We are proud to introduce a Barbie doll with Down syndrome to better reflect the world around us and further our commitment to celebrating inclusion through play."