Immersive Experience based on The Little Prince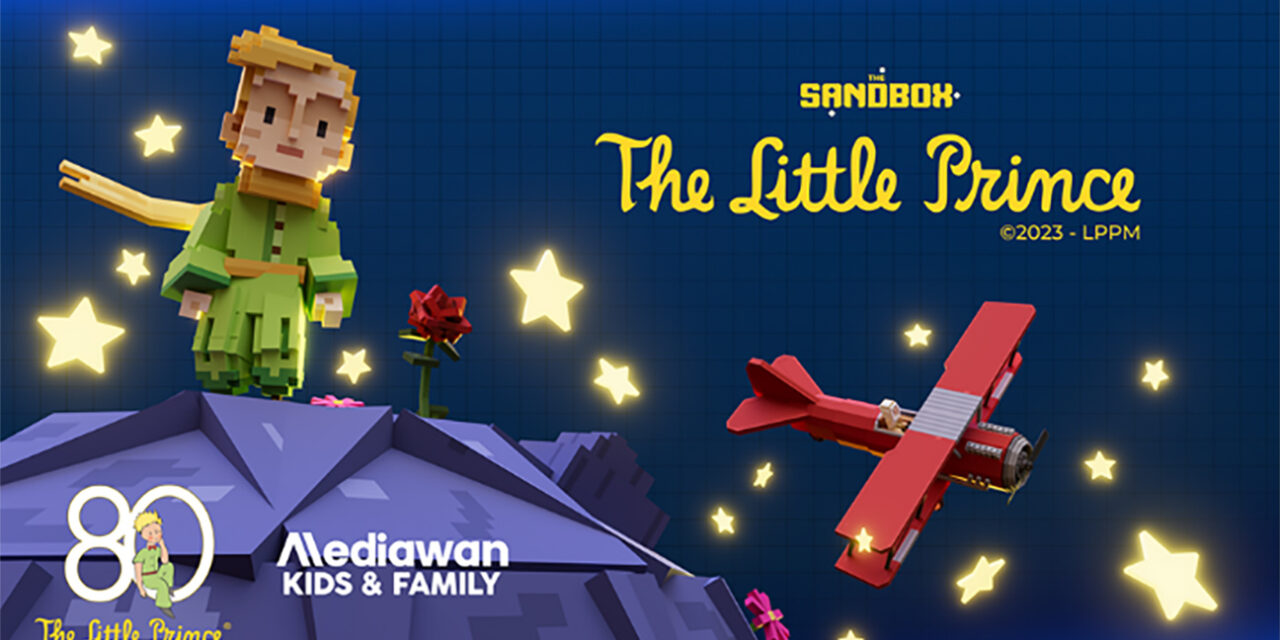 Mediawan Kids & Family, the independent European multi-genre studio dedicated to the production and distribution of children's and family content worldwide, is teaming up with The Sandbox to develop an immersive experience around The Little Prince to mark the 80th anniversary of the book's first publication.
With over four million registered users in France and abroad, The Sandbox, a leading decentralized gaming virtual world and a subsidiary of Animoca Brands, allows its community of players to store, exchange and monetize their creations in a virtual space of decentralized games shared continuously where worlds and heroes coexist to create a unique and secure experience.
Mediawan Kids & Family has been working closely, via its main label, Method Animation, with the Saint-Exupéry-d'Agay estate for many years to develop the world of The Little Prince for today's audiences. In September 2023, a new animated TV series dedicated to preschoolers, The Little Prince and Friends, will be broadcast worldwide.
Thanks to this partnership, Mediawan Kids & Family offers innovative experiences based on one of the most iconic characters of its portfolio. The Little Prince will be available to players in The Sandbox around the world. This is an opportunity for players to discover The Little Prince and for fans to rediscover Saint-Exupéry's hero in a brand new adventure where users will be able to enjoy a fully personalized experience around a The Little Prince-themed NFT avatar collection.
Mediawan Kids & Family accelerates its digital diversification and thus marks a first step in its Web 3.0 development.
"We are delighted to pursue our privileged collaboration with The Saint-Exupéry-d'Agay estate by bringing The Little Prince into the Metaverse with the Sandbox" declares Julien Borde, President of Mediawan Kids & Family. "Kids & Families around the world dream with the Little Prince since 80 years and we are thrilled to explore new ways of storytelling to perpetuate Antoine de Saint-Exupery's values and bring them to new audiences."
"Bringing The Little Prince – one of the most globally known cultural icons of our times – into The Sandbox open metaverse is a meaningful moment for me," said Sebastien Borget, COO and Co-Founder of The Sandbox. "We hope to inspire a generation to dream of wonders and friendship and share their creations in a new format of storytelling and entertainment that goes beyond print or traditional media."
"Pilot and writer, Antoine de Saint Exupéry was also an inventor. Bringing The Little Prince into the metaverse is perpetuating this legacy by evolving the character through the technological innovations of our time. The appearance of The Little Prince in the Web 3.0 represents a new significant milestone, and 80 years after its first publication, its message is more universal than ever. In 2023, The Little Prince shines worldwide, and its values continue to be passed down from generation to generation." declares Olivier d'Agay, director of the Saint-Exupéry Estate and little nephew of Antoine de Saint-Exupéry.