Hotter and RHS Step into new Shoe Range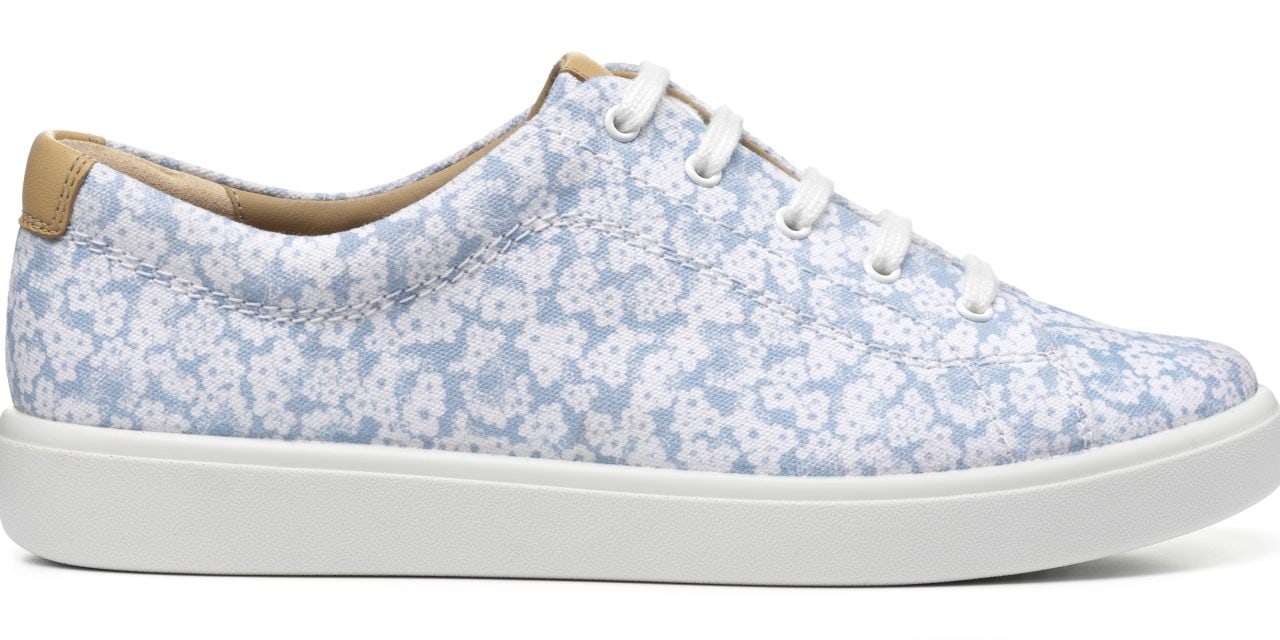 The Royal Horticultural Society (RHS) has announced that Hotter, the UK shoemaker, has launched a limited-edition range of new RHS Molly shoes – canvas shoes for women with active outdoor lifestyles.
The shoes are available in two designs – RHS Rose Floral and RHS Blue Floral. The RHS brand will be highlighted on the packaging and swing tags for both pairs of shoes.
Using carefully selected illustrations from the RHS Lindley Collections, the world's largest collection of botanical art, Hotter has created these two exclusive repeat pattern designs to deliver something unique and evocative. Both designs evoke aspects of what makes the British outdoors so special: the beauty of the carefully tended garden in the elegant Rose Floral shoes and the joy of the wildflower meadow on the beautiful Blue Floral shoes.
The shoes are not just modern and stylish – they are also practical and comfortable. All Hotter deck shoes use Ortholite, a branded footbed recognised as a trademark for comfort in the industry.
The shoes are aimed at women in the core Hotter demographic – active outdoors-loving consumers over 50. The launch is timed to arrive when spring and summer send more people outdoors – a happy coincidence this year, as the launch occurs just before lockdown eases, retailers reopen, and people meet friends and family at the much-loved RHS gardens.
A total of 1,400 pairs of the shoes have been manufactured at Hotter's Skelmersdale factory. They are now available through the Hotter website and 23 stores and garden centres. They will also be sold in the US and internationally via hotter.com
This is the second major RHS footwear launch by Hotter, which has been exclusively licensed by Britain's favourite gardening charity to provide a selection of comfortable and elegant footwear. The agreement, first signed in 2019, was recently extended for another year.
Claire Pearl, Chief Product Officer at Hotter, said: "Our design team created these practical, comfortable, modern and stylish designs in collaboration with the RHS just in time for the start of national easing of lockdown. Like many other organisations and visitor attractions across the country, the RHS has been severely impacted by the coronavirus pandemic and at Hotter we wanted to play our part in raising awareness of this fantastic horticultural charity.
"It's fantastic to see these unique designs come to life on our comfortable footwear. The launch of this small, focused collection is even more poignant at a time when we know that our customers are keen to be outdoors enjoying long-awaited walks with family and friends."
Shereen Llewellin, Licensing Executive, RHS, says: "With their strong evocation of the joys of meadows and roses these shoes underline the RHS message about the health benefits of getting outside to enjoy gardens and nature, while adding a touch of flair and style that makes these shoes truly stand out. These Hotter deck shoes are a joy to look at and I'm sure will be a joy to wear."