Whitepaper Changing the World TOY BY TOY Released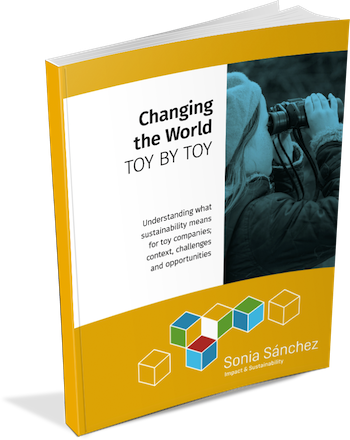 Almost 90% of toy companies missing the opportunity to connect with conscious families, according to the whitepaper Changing the World TOY BY TOY.
In a social and environmental crisis context, consumers have evolved to expect brands to care and take a stand. This trend reaches its highs amongst Gen Zs, with 70% of them stating they try to purchase products from companies they consider ethical (McKinsey&Company).
According to research for the whitepaper Changing the World TOY BY TOY, toy companies acknowledge this paradigm change, and a notorious 93% declare that managing their impact is "very important" or "vital" for their success, and 73% state they feel compelled by children and parents to operate responsibly towards the environment and society.
However, despite understanding the importance and benefits of managing sustainability, evidence points to the immense majority of toy companies lacking a formal analysis of their social and environmental impact and a
a sound plan, with only about 13% of them displaying a solid and comprehensive sustainability strategy.
This contradiction leads to inconsistencies in business practices and quick-fix solutions of dubious efficacy in addressing important and urgent social and environmental problems and contributing to the UN Sustainable Development Goals.
Additionally, companies might be missing the opportunity to leverage their sustainability efforts to develop competitive advantages, for instance, creating a solid connection with conscious families eager for brands that reflect their values. According to The Insights Family, Covid-19, environment, climate change and racism rank amongst the main concerns of European children, which influence more and more what their parents buy. With consumer using their purchases to vote for the changes they want to see, toy companies can no longer ignore this reality.
Changing the World TOY BY TOY, released on the 2nd of August, is a free whitepaper aiming to support all participants in the toy market in their quest for sustainability. It seeks to help executive and product managers, designers and marketers understand how sustainability reshapes the toy industry. It's available for free downloading at https://sonia-sanchez.com/toy-industry/ .