Hey Duggee Hits the Dance Floor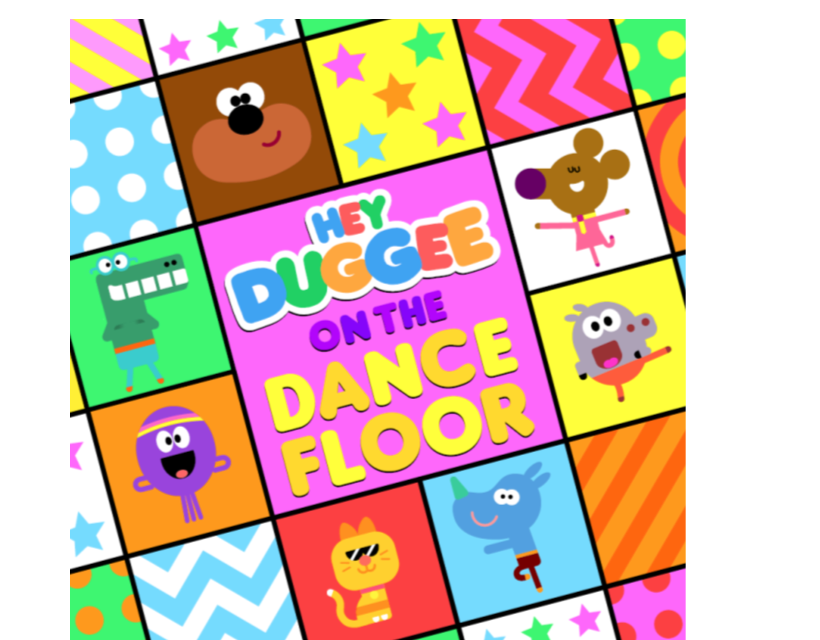 Hey Duggee On the Dance Floor is available globally to stream and download on all major music platforms from 6th October 2023
London, Thursday 5th October 2023 – Hey Duggee On The Dance Floor album is released globally on Friday 6th October at 00:00 BST and will be available digitally on all major music platforms.
Hey Duggee On The Dance Floor is the exciting follow up to Hey Duggee: The Greatest Woofs album, which was released last year. The brand new album features 25 tracks that span an eclectic mix of sounds and genres that are sure to delight both kids and their parents.
The Rabbits' retro leading track, 'Feelings Song', celebrates the joy of expressing feelings, inspiring cool inward reflection. While tunes like 'Camping', 'Making Music' and 'Superheroes' indulge in adventure and play.
The album also features the exciting electro 'Shapes', groovy disco number 'Duggee On The Dancefloor', the hip-hop 'Mealtime', and even country 'Harvest'.
As Stuart Heritage at The Guardian says: "Not only is Hey Duggee the greatest British children's TV show of the past 20 years, but it has also worked up an organic relationship to music" and Hey Duggee On The Dance Floor is the hit preschool property's latest testament to that.
From instantly recognisable pop-culture references in several Hey Duggee episodes – the most recent being The Music Video Badge, which is crammed with nods to music icons such as Beyonce, Miley Cyrus and a-ha – to collaborations with the likes of the legendary British electronic pop band Hot Chip for the 'Hey Duggee: Summer Fun Mix' this year, music is a key element of the brand and captivates Hey Duggee fans of all ages.
Created by Grant Orchard, Hey Duggee is packed full of fun adventures, imagination, gentle humour and learning through doing. The series is narrated by comedian and presenter Alexander Armstrong, and features voices performed by Sander Jones, Lucy Montgomery, Adam Longworth and Anelisa Lamola.
Since launching in 2014, Hey Duggee has become a seven-time BAFTA and international Emmy award-winning hit. It was the most streamed CBeebies show on BBC iPlayer in 2022, the third year in a row it topped the list. All episodes of Hey Duggee are available exclusively on BBC iPlayer in the UK. Additionally, Hey Duggee has amassed over 2.5 billion lifetime views on its official YouTube channel.