BBC Expands Partnership with Golden Bear for Supertato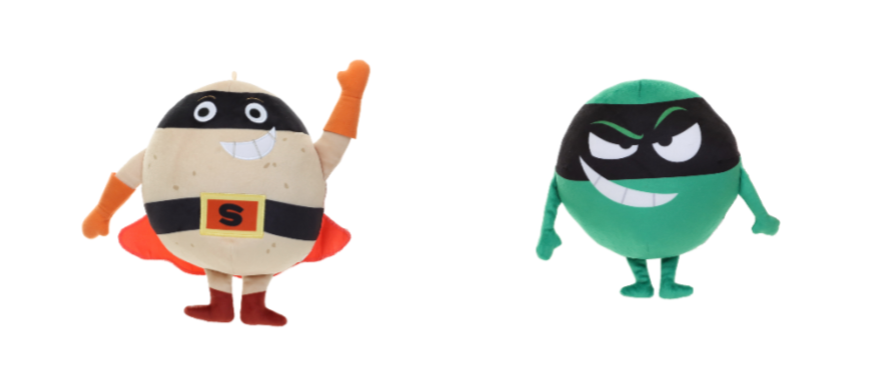 BBC Studios is delighted to announce that it has expanded its existing partnership with Golden Bear to include the much-loved children's show Supertato.
Golden Bear will create a range of Supertato character plush toys, which are set to hit retail in AW24. Samples of these plush toys will be available to see at the BBC Studios stand at BLE (C180).
Golden Bear is already master toy partner for BBC Studios properties Hey Duggee and Something Special.
"We are delighted to have been granted the rights for Supertato, extending our long-term partnership with BBC Studios. We were big fans of the original book and love the TV Show adaptation. We can't wait to get Supertato and Evil Pea toys into the hands of our pre-school superheroes."
Barry Hughes – Managing Director, Golden Bear Toys
"We are so pleased to have secured Golden Bear as Supertato's master toy partner and we look forward to showcasing initial samples of their Supertato plush toys at BLE."
Julie Kekwick – Head of Hardlines, BBC Studios
Supertato follows the world's first potato superheroes and is co-produced BBC Studios Kids & Family Productions, BBC Children's & Education and Tencent Video Productions.
The first series, which launched in the UK in Autumn 2022, has consistently ranked as the top show for 4-6 year olds on CBeebies in the UK. After new episodes aired on CBeebies in May 2023, Supertato ranked sixth among the Top 10 kids' programs for households with children aged 0-6. Further new episodes are dropping on CBeebies and BBC iPlayer on Monday 16th October. Supertato also airs on RTÉ in Ireland, CBeebies in Australia and Asia and on Tencent Video in China.
The emerging brand has also secured a global publishing deal (excluding China) with Simon & Schuster Children's Books. The tie-in publishing range launches at retail on 28th September 2023 with search-and-find book Where's Supertato?
Additionally, Rainbow Productions will debut the brand-new Supertato costume character at this year's BLE. Plus a digital album featuring music from the popular series will be released by Demon Music on 13th October.