Grow With Peter Rabbit: Community garden campaign launched to mark 120 years of mischief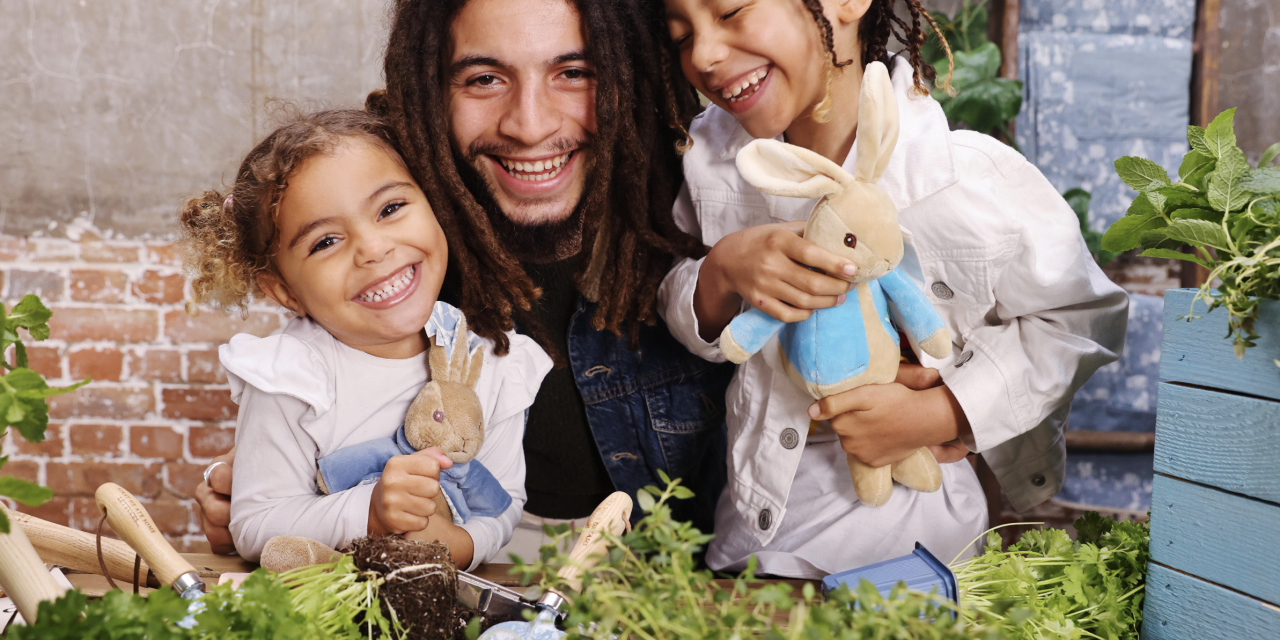 #GrowWithPeterRabbit
To mark 120 years since the publication of Beatrix Potter's much-loved children's classic, The Tale of Peter Rabbit, publisher Penguin Random House Children's today announces a three-year partnership with non-profit garden designers Grow2Know CIC, on behalf of Frederick Warne & Co. (owners of The World of Peter Rabbit™).
Since the first commercial printing of The Tale of Peter Rabbit in 1902, the mischievous bunny in a blue jacket has gone on to become one of the most recognisable and iconic children's characters in the world. Over 250 million copies of the original Tale have sold globally, inspiring a TV series and film franchise, as well as nature trails, immersive family attractions and live events, and an award-winning publishing and consumer products programme.
A pioneering non-profit dedicated to reconnecting people with nature and each other through the creation of community gardens, Grow2Know reclaims blank spaces and transforms them into gardens designed to contribute to local residents' health, happiness and wellbeing. The seed for Grow2Know was sown by North Kensington resident Tayshan Hayden-Smith in response to the Grenfell Tower fire tragedy in 2017, when residents came together to green up spaces in the area to uplift and unify the community through nature – inspiring the creation of the Grenfell Garden of Peace.
The new Grow With Peter Rabbit initiative has been developed by Penguin Random House Children's in partnership with Grow2Know to bring the benefits of gardening and spending time in nature to as many families as possible. Drawing on Peter Rabbit's playful nature, as well as his insatiable appetite for vegetables, Grow2Know's founders – semi-professional footballer, community activist and TV presenter Tayshan Hayden-Smith, garden designer and TV presenter Danny Clarke (aka 'The Black Gardener'), and Ali Yellop, agriculturist, chef and herbalist – will design and deliver three Peter Rabbit community garden makeovers between now and 2024.
The first Peter Rabbit-inspired garden is currently in development in a disused plot attached to St Clement & St James CE Primary School, Kensington: a school in the heart of the community where Grow2Know was founded, and the borough in which Peter Rabbit's creator, Beatrix Potter, was born on 28th July 1866. The garden will be unveiled just before the school breaks up for the summer holidays. An illustration showing the design inspiration for the garden, by visual artist Kai McKim, is revealed today.
Interactive areas for children to read, play, grow and learn, inspired by the adventures of Peter Rabbit and friends, have been incorporated into the garden, which can be used by the local community to host workshops and events from this summer onwards.
Members of the public from across the UK will also be encouraged to Grow With Peter Rabbit from home during National Children's Gardening Week 2022 (28th May to 5th June) when a series of filmed How-To videos, led by Tayshan Hayden-Smith, will be released. TV presenter and farmer JB Gill will take part in the challenge on his social media, as will married couple Jake and Hannah Graf MBE, named by the Guardian as one of the UK's most influential LBGTQ couple, who – alongside their current careers and parenting responsibilities – are vocal advocates for the trans community. Along with their families, they will be joining in with the Grow With Peter Rabbit challenge to demonstrate how easy and fun it is to grow your own vegetables at home using simple, upcycled objects and a packet of seeds. In addition, primary school teachers across the UK will have access to specially created Grow With Peter Rabbit learning resources, meaning multiple opportunities for parents and children to engage with the 120th-anniversary campaign.
Supporters of Grow With Peter Rabbit include garden centre retailer Dobbies and London-based non-profit organisation Octavia. Dobbies, the official garden centre partner for The World of Peter Rabbit this year, will be donating plants and materials for the school garden in support of the initiative, as well as hosting free Peter Rabbit workshops in stores nationwide. Octavia, founded by the Victorian philanthropist Octavia Hill to support Londoners of all ages, is providing a contribution towards the build through its Better Lives Community Fund, which supports projects which reduce loneliness and isolation amongst young people in London.
Tayshan Hayden-Smith, founder, Grow2Know, commented: "Through this partnership with Penguin Random House Children's, we hope to raise awareness of the social, psychological and environmental benefits of gardening and nature, as well as highlighting the need to provide children with the opportunity for nature play from a young age. It's been inspiring to learn about Beatrix Potter's work as a passionate conservationist, the legacy of her writing and environmental activism. This is in line with Grow2Know's philosophy and commitment to creating hope and meaningful change within communities through a shared creative process – with children and young people at the core of it. We can't wait to share the new garden with the local community this summer."
Sarah Bouette, Executive Head Teacher, St Clement & St James CE Primary School, Kensington, added: "We are very grateful to Grow2Know and Penguin Random House Children's for making a garden at our school. Many of the children in this area do not have gardens at home, so access to green space is of great importance to us. We know they flourish when they are outside, and they already take great pleasure in growing vegetables in our edible garden, as well as sharing books in our reading corner. The new Peter Rabbit Garden will offer hope and a sanctuary for children and their families in North Kensington, many of whom have endured so much in the past few years. We are so excited to share this gift with our local community."
Izzy Richardson, Global Brands Director, Penguin Random House Children's, said: "As custodians of The World of Peter Rabbit and publisher of Beatrix Potter's tales, we're in the unique position of being able to use Beatrix Potter's timeless stories to affect change and drive positive, social impact. Grow2Know is a brilliant organisation and a perfect partner for this anniversary year. The passion, knowledge and design expertise of its team, led by Tayshan, Danny and Ali, have enabled us to launch an initiative that both honours the legacy of Beatrix Potter and brings Peter Rabbit to life in a playful and meaningful way for families across the UK. We are thrilled to be working in partnership with Grow2Know to deliver outdoors spaces to schools in some of the UK's most disadvantaged communities and, in turn, inspire young children to enjoy and learn from the benefits of nature."