FUBU Partners with PEM America for Home Fashions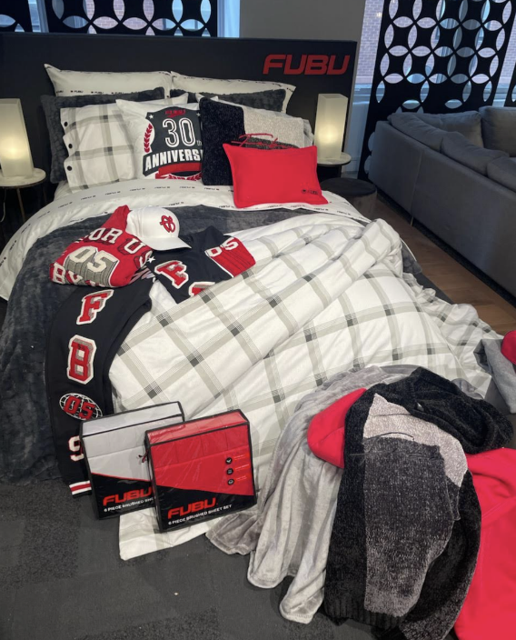 The iconic 'For Us By Us' Brand FUBU has announced the debut of its new Home Fashion Collection with leading home textile manufacturer PEM America.   PEM America will showcase the FUBU Home Collection in their showroom located at 70 West 36th Street, NYC  during the Home Textile Market Week beginning March 20.
The FUBU Home Collection includes an assortment of comforters sets, sheets, pillows, throws and other home décor, with offering for all channels of distribution; as well as on Fubu.com
"We are very happy to see the FUBU brand again expanding across all market segments" Explained Daymond John, "Following many years of collaborations and limited-edition releases, we are now offering the FUBU brand to a new generation of customers. We selected PEM America for this category as they are a trusted leader in the home space and really understand the brand DNA and strategy."
Riding on the massive success of the 90's and early 2000's, FUBU is currently enjoying a renewed enthusiasm for the brand due to the renaissance of nostalgic brands and the link to current social movements. FUBU is currently trending on Twitter with millions of people globally. Daymond John and all 4 of the brand's original founders, Keith Perrin, Carlton Brown and J Martin Alexander often reminisce about the classic brand. They are proud of the important moments in FUBU's history and the impact that FUBU has had on so many lives today.
"FUBU remains an active voice for the Black community and its culture and will continue to be a beacon for equality and human rights for all." explained co-founder and Executive Vice President J. Alexander Martin who remains Creative Director and oversees all aspects of design.
FUBU, ( "For Us, By Us") was founded by Daymond John, J. Alexander Martin, Keith Perrin, and Carlton Brown, and originated as a hat company based in Hollis, Queens, NY. In 1992, the founders, with the help of their neighbors, changed Daymond's home into a factory for what they called, "TEAM FUBU." FUBU became a fashion staple of the 90s, forever changing the course of American fashion and solidifying its place in history
The FUBU x PEM America license was created by The Brand Liaison as licensing agent for FUBU. To learn more about FUBU licensing, visit The Brand Liaison at www.TheBrandLiaison.com or email Karen@TheBrandLiaison.com.