Elton John Honored by Royal Mint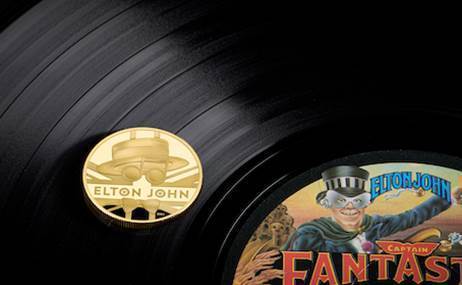 The Royal Mint has announced that Elton John, one of the most successful and enduring artists of all time will be celebrated on a new commemorative coin. Available from this week, the design is the latest addition to The Royal Mint's new Music Legends series.
With a career spanning more than 50 years, the new coin to celebrate Elton John's legacy has been designed by artist Bradley Morgan Johnson. Featuring unmistakable Elton John iconography, Bradley has used musical notes to create an image of glasses and a straw boater's hat, inspired by one of Elton John's most iconic looks, and a Union Jack flag background punctuates the design.
The commemorative coins will be available to purchase in Gold proof, Silver proof and Brilliant Uncirculated editions with prices ranging from £13 for the Brilliant Uncirculated coin up to £64,950 for a Kilo Gold proof coin. The Royal Mint has developed advanced striking and tooling techniques for the high end, premium coins in this collection. These designs feature a pulsating star pattern in the glasses' lenses and a high relief finish on the hat, glasses and bow tie that further enhance the appearance of each coin.
Elton John said of the design: "It really is a fabulous honour to be recognised in this way. The last few years have contained some of the most memorable moments of my career, and this is another truly humbling milestone on my journey."