Dennis marks 70 Years with Stamps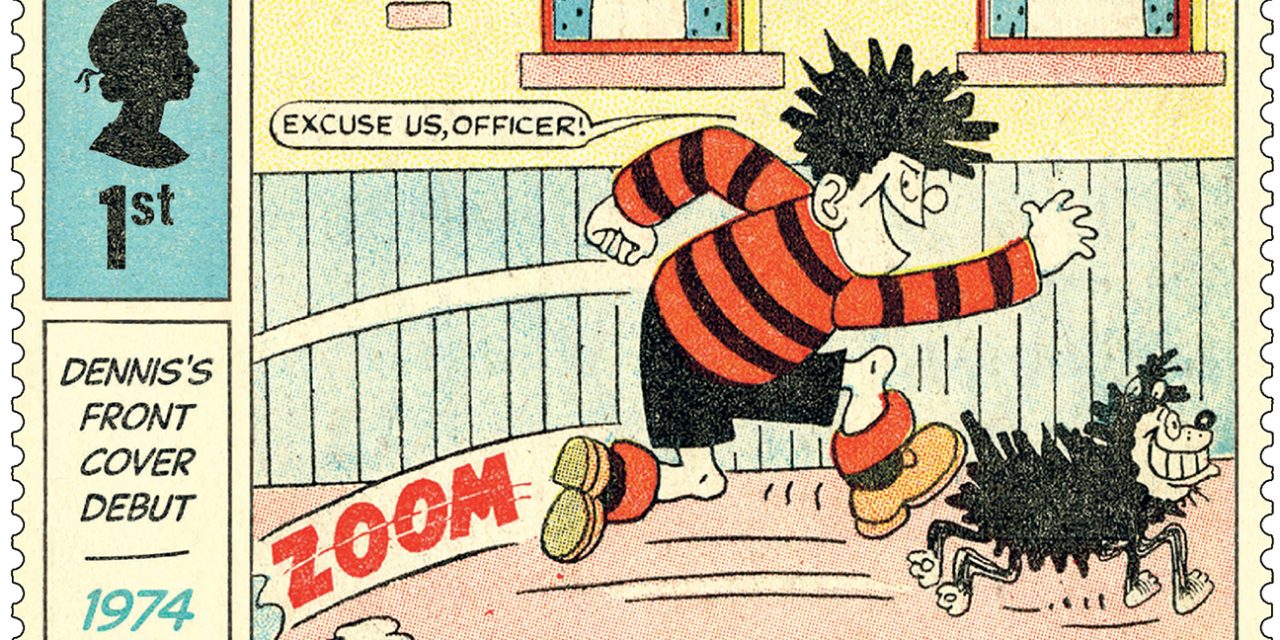 Beano Studios is marking the 70th year of the iconic comic character Dennis with the launch of a stamp collection in partnership with Royal Mail.
Six stamps look back at Dennis through the ages; from his first ever black-and-white comic strip in 1951, to important events in his life, including meeting his baby sister, Bea, adopting Gnasher, and even finding out that his dad is a grown-up version of Dennis from the 1980s.
A further four stamps, exclusively illustrated by the current Dennis artist, Nigel Parkinson, show the culmination of an exclusive comic strip. The strip, written especially for Royal Mail is featured in the Presentation Pack. The story focuses on Dennis's birthday celebrations and includes a brief 'history of Menaces'. The light-hearted episodes end with a birthday surprise, with the final comic strip frame revealing the four new stamps.
Vanessa Andre is, Franchise Planning & Partnerships Director, Beano Studios said: "Dennis has stamped his spirit on generations of kids for the last 70 years and continues to spread smiles and laughs between kids, parents and grandparents. Having Royal Mail join our licensing programme to mark this incredible year is very special and we can't wait for fans to get their hands on this latest piece of Dennis history."
Charlie Donaldson, Joint Managing Director, Rocket Licensing said: "We are delighted to be celebrating the birthday of this national treasure in partnership with this quintessentially British institution, Royal Mail. The bespoke artwork is so fun and eye-catching, it's a very special collection for Beano that we are excited to see shared."
Natasha Ayivor, Royal Mail said: "For seven decades Dennis has been entertaining children by getting into all manner of mischief fand mayhem. Generations have experienced the excitement and anticipation of reading about Dennis's latest prank. Royal Mail is delighted to be honouring Dennis and Gnasher with a set of stamps as the ultimate birthday present."
For more than 50 years, Royal Mail's Special Stamp programme has commemorated anniversaries and celebrated events relevant to UK heritage and life. Today, there are an estimated 2.5 million stamp collectors and gift givers in the UK and millions worldwide. Her Majesty The Queen approves all UK stamp designs before they are issued.
Beano was first published by DC Thomson in July 1938 and is still put together in its original Dundee headquarters and printed in the UK each week. Beano has an ABC of 45,644-an increase of 9.0% YOY. The brand reaches over 5m kids a month on its digital network, centred around multi-award winning Beano.com and fans in more than 100countries across the world can watch Dennis & Gnasher: Unleashed!, the Emmy nominated TV series.
The full setof10 stamps, available in a Presentation Pack, retails at £13.65. The stamps and range of collectible products are available today (1 July) from www.royalmail.com/dennisandgnasher.
.
Beano Studios is also developing Dennis, Banana man, Minnie the Minx and other characters from the Beano, Dandy and the wider D.C. Thomson comic archives to reach teens, young adults and a whole new international audience in live action form.
Multi-award winning Beano.com is the fastest growing kid's website in the UK and is growing rapidly worldwide. It is driven by a unique combination of kid's insight and highly responsive content creation and keeps kids giggling several times a day with a constantly refreshing feed of funny stuff.