Chupa Chups Ice Cream by Bulla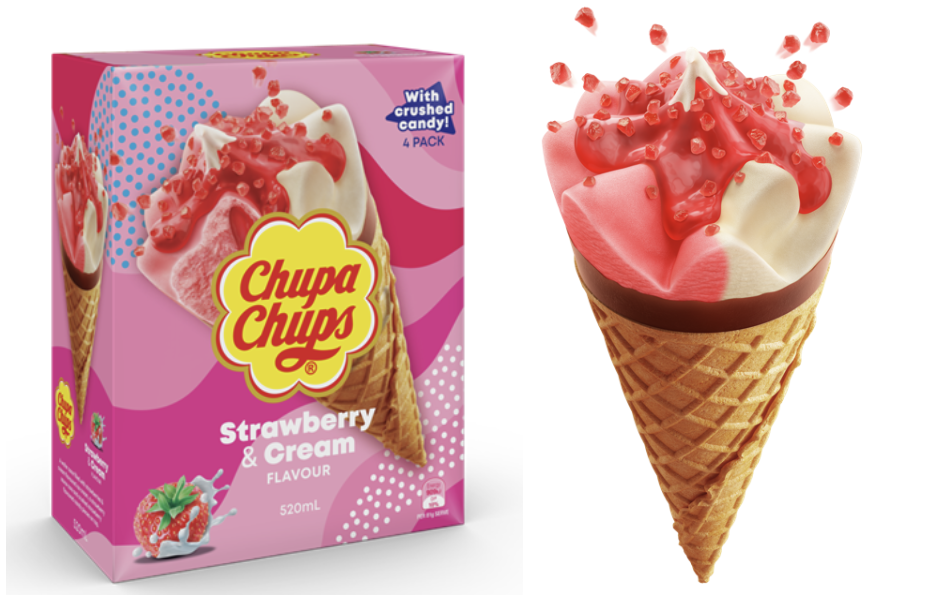 Asembl is representing Perfetti Van Melle's licensing interests across Australia and New Zealand and will develop strategic licensed opportunities for the company's Chupa Chups and Mentos brands in new food and non-food categories.
As one of the world's largest manufacturers and distributors of confectionery, Perfetti Van Melle creates imaginative products and brands that are enjoyed in over 150 countries.
Kickstarting the many licensing interests for Chupa Chups is a delicious ongoing partnership with one of Australia's oldest family-owned and operated dairy companies, Bulla Dairy Foods. First to launch in the partnership between the two brands is a Strawberry & Cream flavoured ice-cream cone – Bulla Dairy Foods' homage to the global bestseller Chupa Chups lollipop. Brought to its creamiest and dreamiest life in ice cream form for the first time in Australia, the Strawberry & Cream ice-cream cone features a truly spectacular strawberry and vanilla ice-cream flavour with crushed candy and a delectable strawberry sauce drizzled throughout and on top.
"It is incredibly exciting to partner with a global brand synonymous with such fun and excitement. We believe our two brands fit together like the famous strawberry and cream flavour now brought to life in ice cream form," says Bulla's Head of Marketing, Andrew Noisette.
"We are excited to see our iconic Strawberry & Cream lollipop come to life in an ice cream format. It is sure to surprise and delight Australian Chupa Chups fans", said Marta Ballesteros, Area Licensing Manager of Perfetti Van Melle.
"We are thrilled to be adding Perfetti Van Melle to our growing brand extension agency – and of course to be launching for the first time, a Strawberry & Cream ice-cream with Bulla Dairy Foods that honours the global bestselling lollipop. For Australian fans of Chupa Chups and Bulla Dairy Foods, this licensing partnership is really an ice-cream dream come true," said Asembl Managing Director, Justin Watson.
Combining Chupa Chups' vibrant flavour and crunch with Bulla Dairy Foods' signature premium ice cream smoothness, Chupa Chups Strawberry & Cream cone 4pk (RRP $8.50) is now available through Independent Grocers nationwide and Woolworths from 2nd May with a vibrant point of sale activation as well as strong social media campaign.