Boy Girl Dog Cat Mouse Cheese Sales Stretch Across Four Continents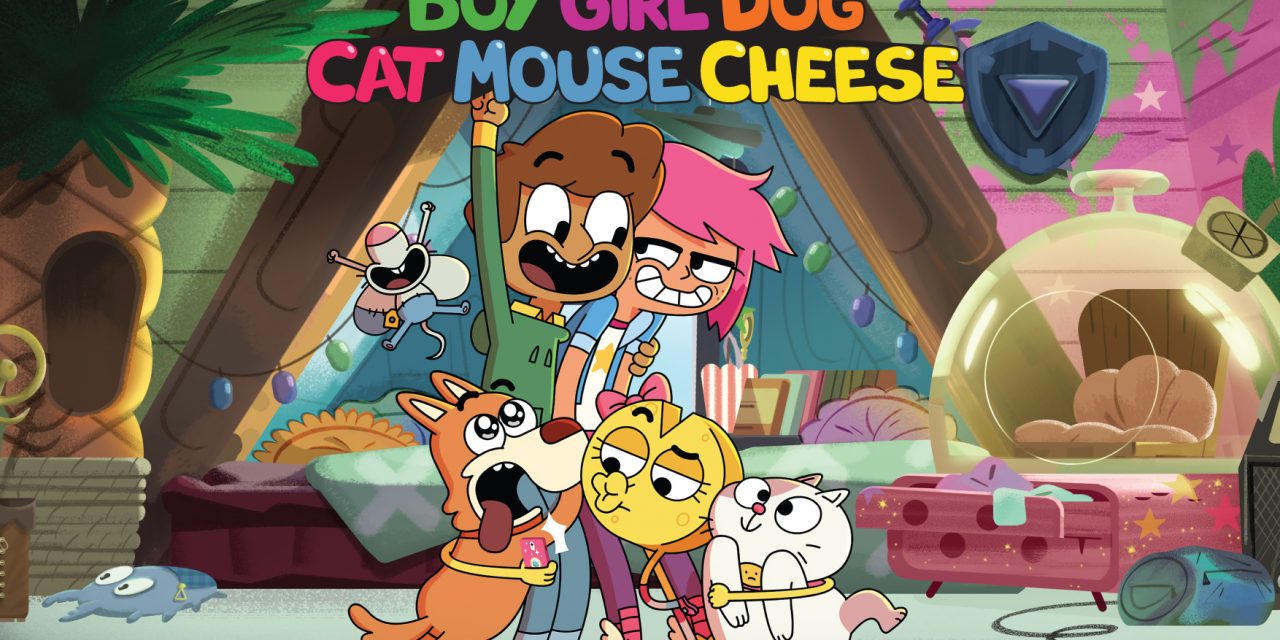 Cloudco Entertainment, in the United States, in conjunction with co-production partners, Watchnext Media in France and Kavaleer Productions in Ireland, are pleased to announce a bevy of new sales deal for their global hit animated series BOY GIRL DOG CAT MOUSE CHEESE, currently in production for its second 52 x 11' season.
Joining a long list of broadcasters that have recently joined series commissioners Gulli (France), the BBC (UK), RTE (Ireland), and De Agostini's DeAKids (Italy) for Season 1 are Netflix (UK, France, and Canada), Disney Channel (Benelux and CEE), Warner-Media's Kids' channels and streaming services including Cartoon Network, Boomerang, HBO Max, and HBO GO (pan-Africa and Turkey; Southeast Asia, Australia, and New Zealand) as well as the broadcaster MBC Group for its children's edutainment channel MBC3 (the Middle East) and SIC (Portugal). In addition, early Season 2 sales now include SUPER RTL (Germany) and Wildbrain's Family Channel (Canada), with the entirety of Season 2 expected to deliver in early June 2022.
Stemming from an original IP from Cloudco Entertainment, BOY GIRL DOG CAT MOUSE CHEESE is the "BRADY BUNCH meets MODERN FAMILY" in an animated comedic take on a blended family sitcom, with Dad's "sons" – a boy, a dog, and a mouse – and Mom's "daughters" – a girl, a cat, and a piece of anthropomorphic cheese – learning to live together under one roof. Launched in late 2019 on BBC, RTE, and DeAKids, Season 1 debuted to, and has maintained, consistently high ratings in the UK, Ireland, and Italy, while its May 2020 debut in France on Gulli saw it achieve the rank of the #1 rated show for both children (ages 4-10) and teens (ages 11-14).
"We are very excited to share our award-winning series with new audiences from around the world via our top tier broadcast partners. In addition, we are pleased to see early pick up on Season 2, and we look forward to announcing additional deals in due time." said Ian Lambur, EVP, Content Strategy, Co-Productions and Global Distribution, Cloudco Entertainment.
BOY GIRL DOG CAT MOUSE CHEESE production is supported in part by France's Centre National du Cinéma et de l'image animée (CNC), Pictanovo, and Screen Ireland. Its Executive Producers are Philippe Alessandri (Watchnext Media); Sean Gorman, Ian Lambur, Ryan Weisbrock, and Daniel Barnes (Cloudco Entertainment); Andrew Kavanagh and Gary Timpson (Kavaleer Productions) as well as Season 2 Story Editor Tom Krajewski and Series Director, Mathieu Giner.