Blue Skies for Natural Highs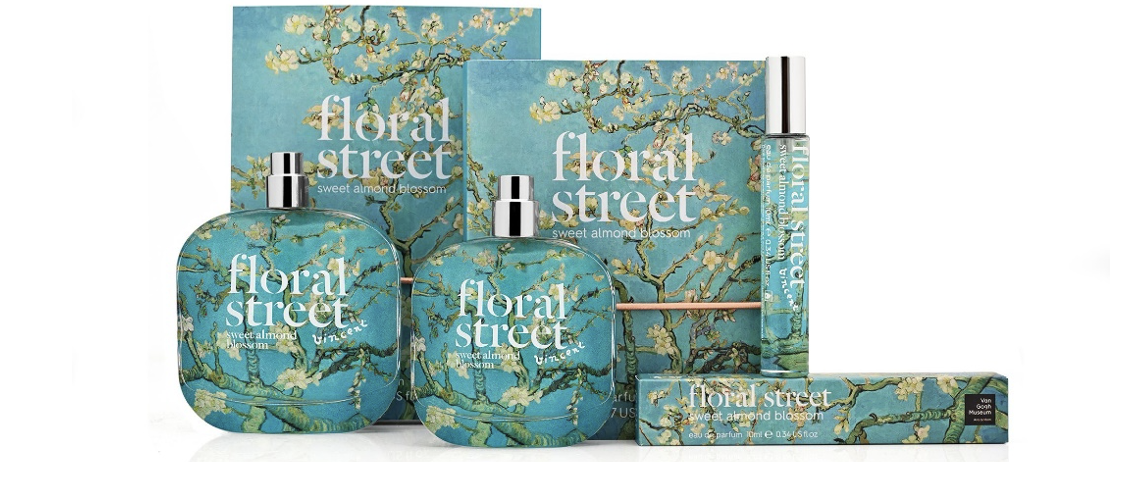 Driven by consumer demand, Floral Street Fragrances further expand their Van Gogh Museum range with the introduction of a NEW eau de parfum, Sweet Almond Blossom to sit alongside the hugely successful Sunflower Pop! Range introduced in 2021
It's the idea of art as a sensual living experience and the ethereal view of nature captured within Van Gogh's Almond Blossom, 1890 masterpiece that inspired Floral Street's serene Sweet Almond Blossom eau de parfum, crafted in collaboration with the Van Gogh Museum, Amsterdam. The concept of reimagining this iconic art through fragrance was a challenge that inspired Floral Street founder, Michelle Feeney and master perfumer Jerȏme Epinette. The home fragrance range in 2022 received both industry-wide and consumer acclaim, creating a desire and demand for a Sweet Almond Blossom parfum to sit alongside the hugely successful Sunflower Pop! Range.
Vincent's citation, "If one truly loves nature, one finds beauty everywhere" was the creative inspiration for Floral Street's renowned 'nose' Jerȏme Epinette. As VP Fine Fragrance Perfumer at Robertet, protecting the environment is his second nature as the Company leads the world in sustainable, organic raw materials in perfumery. Their fragrance innovations are crafted around responsible sourcing that assures full traceability and security of supply, and they support communities globally through long term relationships, contributing to the balance of their ecosystems.
"I was deeply inspired and moved by the iconic colours and emotion of this painting. For a simple subject there was so much complexity and storytelling in the shapes and movement of the branches. I captured this dynamism with a sparkling top from natural pomelo and focused on the matcha and apple blossom in the heart for a clean, crisp but also lush floralcy, to emphasise the multi-dimensionality. I ended with creamy vanilla and woods in the back for signature and warmth," says  Jerȏme Epinette, master perfumer.
Michelle Feeney, Founder Floral Street added: "Van Gogh's art resonates with so many people of all ages around the world and my personal connection to this masterpiece has enabled me to reset and evolve my blue-sky thinking! To express his uplifting Almond Blossom masterwork in a fragrance is a massive gift that I'm personally hugely proud of."
Marijn Veraart, Head of Global Licensing: "We are extremely excited about the launch of the new fragrance that honours our incredible Almond Blossom in the most graceful way.
Every product in our joint range celebrates the love of nature and finding beauty in the everyday. Partners like Floral Street help us to develop innovative, sustainable means of inspiring people with Vincent's work and life."
Ian Wickham, director at Licensing Link said: "We are extremely excited with the launch of the Sweet Almond Blossom eau de parfum next month. The team have worked tirelessly to bring to market a personal fragrance on the back of the success of both the home fragrance range and the Sunflower Pop! range. We couldn't be more delighted to be working with such a fantastic and pro-active fragrance partner who totally understand the importance storytelling plays within the Museum's licensing strategy. Such a great partnership"
As responsible leaders in Beauty, Floral Street have been recognised globally for their eco-conscious packaging innovation. Each Sweet Almond Blossom 50ml and 100ml eau de parfum comes tucked inside a biodegradable pulp box, wrapped in an FSC certified sleeve featuring close crops of Van Gogh's masterpiece. Crafted from planet-friendly concepts of reuse, repurpose, recycle, upcycle, these plastic-free boxes are created with high-quality recycled fibres and 100% natural renewable wood fibres from responsibly managed forests. Mixed with 20% upcycled takeaway cups, using 'world first' CupCycling™ technology, they give new life to previously non-recyclable waste. Turning trash into luxury packaging there is around x1 used cup in every 50ml box.
The Sweet Almond Blossom fragrance collection launches from July 2023.