BBC Studios expands Hey Duggee portfolio; renews with Golden Bear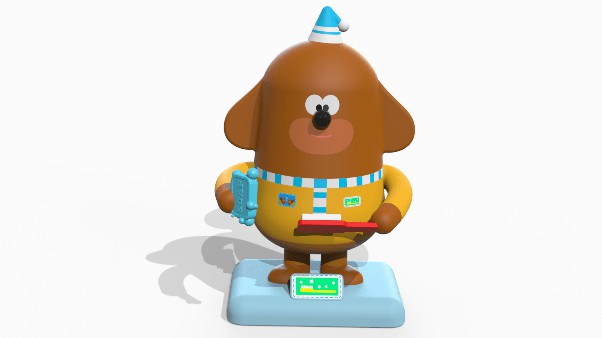 BBC Studios has renewed licensing deals with Hey Duggee toy partners Golden Bear and 8th Wonder. These new deals will see the launch of new Hey Duggee children's toys in the UK in 2021. 
BBC Studios is also thrilled to share a raft of new partners for Hey Duggee, including: HTI for a range of bubbles, outdoor, electronic musical instruments and character cases and Fiddes Payne for home baking. Hey Duggee also has its first confectionery product with Kinnerton launching at Easter.
Julie Kekwick, Senior Licensing Manager at BBC Studios said: "It's a real joy to start 2021 by renewing licensing agreements with two hugely valued partners and adding further great new deals to our Duggee portfolio. I'm excited for parents and kids to experience and enjoy the incredible selection of new Hey Duggee products on offer this year."
Hey Duggee had a hugely successful 2020 and became the most-watched kids' show of the year on BBC iPlayer, with over 192 million requests. Meanwhile, Golden Bear saw sales of its Hey Duggee product grow 97% year-on-year with products such as Adventure Bus, Singing Sticky Stick Stick, and figurine packs proving popular with Hey Duggee fans. 
2021 will see the launch of an extensive new range of Hey Duggee toys from Golden Bear as part of its licensing partnership with BBC Studios. Hero SKUs will include: bathroom play products Toothbrush & Handwashing Time with Duggee and Duggee's Light Show River Boat; toys aimed at aiding the expression of emotions, mindfulness, and focus, like My Best Friend Duggee Soft Toy and Duggee Hug Squirrel Club Soft Toy; and toys designed to inspire creativity, such as the Interactive Club House and the Spin & Groove DJ Duggee.
Barry Hughes, Managing Director, Golden Bear Products Ltd said: "Hey Duggee is a phenomenal success and an iconic brand with a hugely prominent position in the UK toy market. We're delighted to continue our long-term partnership with BBC Studios and drive forward into 2021 with a stellar range of new products to excite both children and parents. The new lines deliver a strong and appealing choice to consumers and they translate the learning benefits and quirky and humorous nature of this amazing show."