2020 range of The Beatles Merchandise Released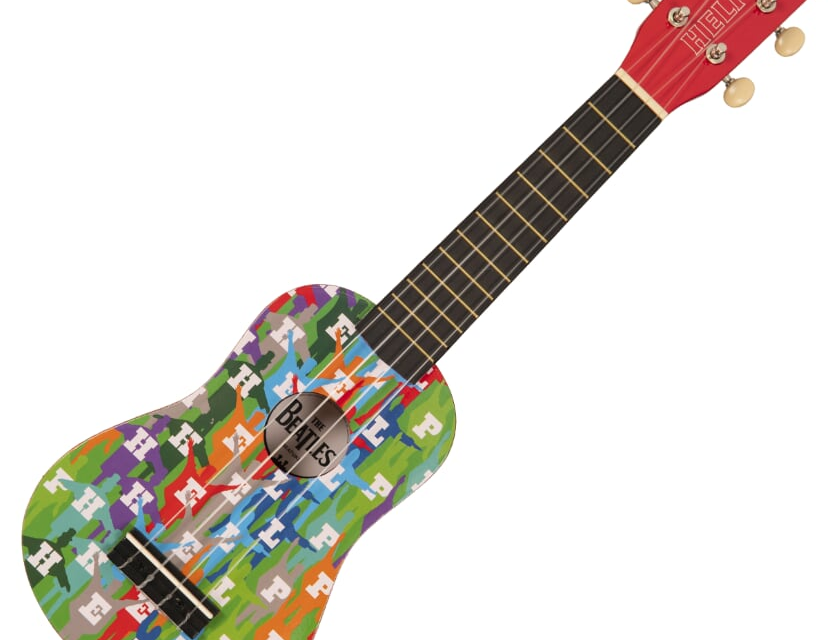 The new 2020 range of The Beatles officially licensed products features a unique line of ukuleles, guitar and uke straps and plectrums.
All four nylon strung soprano ukuleles have designs focusing on the band's 1965-1970 era, including the classic 'Help' album cover, showing the fab four with their arms position as a flag semaphore, while the iconic 'Rubber Soul' album, is portrayed with the distinctive stretched logo in a groovy orange and purple colour scheme.
Peace and love is also represented with the 'Love Is' heart design, featuring hand drawn graphics, while the 'Abbey Road' theme is honoured with the now classic image of all four band members on the zebra crossing.
These take-anywhere size ukes (sold in funky coloured Beatle packaging) with colour matching headstocks and The Beatles soundhole sticker, are not only built from quality timbers and produce honey sweet tones, they're also fun and totally cool, ideal for beginners and intermediate players, or simply for uke players who want to look hip at the next ukulele club meet. They're also irresistible to Beatle fans and collectors alike.
Three new Beatle themed ukulele straps have been introduced to match the 'Rubber Soul' and 'Love Is' ukuleles, whilst the new 'Hard Days' strap, bears the classic Drop 'T' bass drum logo in white with colour block images of the fab four. All ukulele straps are built from strong 1.5″ wide polyester webbing and a fully adjustable 51.5" long, with vegan-friendly end-pieces and high profile 'The Beatles' logo.
The Beatle thesis continues with three new colourful guitar strap designs offered in black or red, capturing the band's early years also with the familiar drum drop 'T' bass logo first seen in 1963. The band's psychedelic moustached era of '67, is also honoured with an array of multi-coloured, fine- art print images of arguably the most famous faces in pop music history.
Ideal for acoustic, electric and bass guitars, all straps are colourful, attractive and built from strong polyester webbing with a generous 2" shoulder-comfy width. Whether you wear it high or sling it low, these fabulous new guitar straps are 63" long and fully adjustable, with vegan-friendly end-pieces and high profile 'The Beatles' logo. Four new, six-pack Beatle pick sets Hard Days, Love Is, Help and Faces, contain high quality guitar picks featuring detailed artwork, with timeless Beatle images highlighting the many milestones of the band's career. These thumb-size, must-have accessories for musicians are also highly collectable amongst Beatle fans.