Women in Toys Announces Finalists for its 30th Anniversary Wonder Women Awards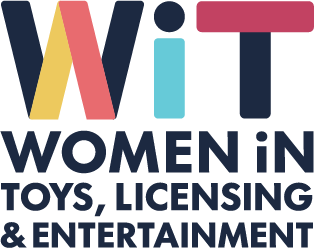 Women in Toys, Licensing & Entertainment (WiT) announces the slate of Nominee Finalists for its 30th Anniversary Wonder Women Awards, which is set to return to New York City on Sunday, February 20, 2022 at Pier Sixty coinciding with Toy Fair New York. The annual event hosted by WiT, a nonprofit organization and global community whose mission is to advocate for the advancement of women and a more inclusive and equitable workforce, will recognize outstanding industry leaders  in toys, licensing and entertainment for their impactful contributions over the past two years. And the Finalists are:
DESIGNER/INVENTOR
Carla Schneider – WubbaNub
Carolina Arce – Jazwares
Jackeline Gonzalez – Universal Brand Development
Kenna O'Brien – Mattel
Launi King – DPEP (Disney)
Mel Hershey – Hasbro
Tahlia Gee – Moose Toys
Vina Arriaga – Fuse
LICENSOR/ENTERTAINMENT
Alpana VIrani – Universal Brand Development
Jennifer Kobashi – Mattel
Jes Wolfe – Rebel Girls
Jordyn Curtis – LEGO Systems, Inc.
Karri Bean – DPEP (Disney)
Kerri Estreich – Sesame Workshop
Kerry Tucker – pocket.watch
Susan Brandt – Dr. Seuss Enterprises
Tara Craze – Hasbro
Yvette Sittrop – Moose Toys
LICENSEE/MANUFACTURER
Allyson Sullivan – LEGO Systems, Inc.
Amanda Bright – Spin Master
Aneisha Vieira – ZURU Toys
Carly McGinnis – Exploding Kittens
Julie Gwaltney – TOMY
Karen Branson – IMC Toys
Melissa Kustell – Hasbro
Riza Javellana – Mattel
Tiffany Good – TOMY
COVID HERO
Anna Mowbray – ZURU Toys
Holly Peacock – Spin Master
Karen Balduf – Mattel
Mary Mason – Little Medical School
The LEGO Group
Monica Monteiro – Hasbro
Stacy Lellos – Workman Publishing
Susie Jaramillo – Encantos
ViacomCBS
SOCIAL GOOD
Alicha Treerotchananon – Magic Dolls Thailand
Amanda Gummer – Good Play Guide
Cynthia Nishimoto – Bandai America
Jennifer DuBuisson – The LEGO Group
Kate O'Loughlin – SuperAwesome
Mary Couzin – Chicago Toy & Game Group
Pamela Gill-Alabaster – Mattel
Sarah Jordan – Mastermind Toys
Sarah Knott – Hasbro
Sharon Keilthy – Jiminy Eco Toys
Tammy Smitham – Spin Master
Terri-Nichelle Bradley – Brown Toy Box
Yla Eason – Olmec Toys
MARKETING / PUBLIC RELATIONS
Arlene Biran – Spin Master
Beatrice Chow – Sesame Workshop
Dana Moncrief – Moose Toys
Devin Tucker – Mattel
Erika Sava – ZURU Toys
Lisa Orman – KidStuff Public Relations
Mary Pietrucha – VTech
Renee Guida – The LEGO Group
Shannon Spisak – Dr. Seuss Enterprises
Shannon Vacca – Universal Brand Development
Susan Anderson – Mastermind Toys
Teresa Pearson – Hasbro
DEAL MAKER
Chelsea Wood – IMC Toys
Claudette Munoz Molina – The LEGO Group
Elizabeth Moody – Seven Towns
Jessica Vivolo – Jazwares
Karen Margolis – Bandai America
Paula Kupfer – Hasbro Inc.
Sara Taylor – Spin Master
Sherrie Conn – ZURU Toys
Siobhan Elvin – ViacomCBS
Tatania Minguet – Mattel
Trina McFarland – TinkerTini
RISING STAR / DESIGNER/INVENTOR
Joanna Paul – Whatsitsface
Lorena Montalvo – TOMY
Vanessa Fung – Universal Brand Development
Hilary Richards – BOO BOO BALL
STORYTELLER
Azhelle Wade – The Toy Coach
Christina Royston – TOMY
Jenni Townsend – Moose Toys
Liz Lamb-Ferro – Hasbro
Liz Maglione – Mattel
Nana Bouwens – Memory Print Nederland b.v.
Niki Lopez – ViacomCBS
Raquel Roca – IMC Toys
Stacey Kovalsky – USPA Global Licensing
Stephanie Guo – Spin Master
UNSUNG HERO
Alison Whitaker – Moose Toys
Amy Yoslov-Llaneta – TOMY
Beth Colosi – VTech
Catherine Souza – The LEGO Group
Coco Chan – ZURU Toys
Debbie Hancock – Hasbro
Erica Lenard – Joyful Consulting
Hannah Palfrey – Fuse
Jennifer Petsche – PlayMonster
Joyce Mesch – Otis College of Art and Design
Maggie Snow – Mattel
Michele Martell – Martel Media House
Mimi Stella – What Do You Meme LLC
Nissa Benjamin – Jazwares
Sara Gibber – Make It Real
Sara Newbold – ViacomCBS
Toni Stevens – Spin Master
WONDER GIRL
Nicole Laeno – Influencer, The Lego Group
Cassie & Sabrina Glow, Glow Girls Kid Voiceover
Anastasia Radzinskaya – Like Nastya
Alaya High – That Girl Lay Lay, ViacomCBS
Love, Diana, pocket.watch
RISING STAR / DEAL MAKER
Brittany Oliver – ZURU Toys
Molly Robbins – USPA Global Licensing Inc
RISING STAR / LICENSOR/ENTERTAINMENT
Alex Yee, DPEP (Disney)
Claire O'Sullivan, Hasbro/eOne
Haley Yates – ViacomCBS
Tiffany Suzuki, Crunchyroll
RISING STAR / LICENSEE/MANUFACTURER
Jamie Emmick – Beverly Hill Teddy Bear
Dr. Lisa Williams – The Fresh Dolls (World of EPI)
RISING STAR / SOCIAL GOOD
Louisa Parast, Hasbro
Maria Altamirano – Lego Systems
Louisa Parast – Hasbro
RISING STAR / STORYTELLER
Danielle Battaglia – TOMY
Rupa Parekh – Umani Studio
RISING STAR / MARKETING/ PUBLIC RELATIONS
Chedney Rogers, Hasbro
Jenna Kay – Moose Toys
Jenna Marson, Dr. Seuss Enterprises
Jordan Swenson – TOMY
Molly Martin, The LEGO Group
Rachael Reid – Spin Master
Sakita Withers, PlayMonster
Sabrina Taraborelli – Mattel
RISING STAR / UNSUNG HERO
Amanda Marschall – The LEGO Group
Jessica Anderson – TOMY
Keilany Whyte – Jazwares
"Our slate of Finalists includes incredible women who continued to innovate and make their mark on our industry during the past two years of COVID and massive disruption in our industry," said Genna Rosenberg and Jennifer Caveza, WIT Wonder Women Co-Chairs. "We look forward to the industry learning more about their extraordinary contributions as they vote for 2022 Wonder Women Winners in advance of the upcoming Awards dinner."
Voting for the Wonder Women Awards is open to all WiT members, from Monday, December 20, 2021 through Friday, January 14, 2022, and the winners will be announced at the event on Sunday, February 20, 2022.
Tickets to the Wonder Women Awards are available for purchase here.
WiT would like to thank its generous sponsors, including Amazon, Hasbro, Mattel, ViacomCBS, SpinMaster, LEGO, Jazwares, The Bandai Foundation, VTech, and the many sponsors who underwrite WiT's year-round programming. Proceeds from this event are used to fund scholarships, develop and maintain a full calendar of programs and networking events, and power initiatives for WiT's members and its community.