Barbie announces new musical adventure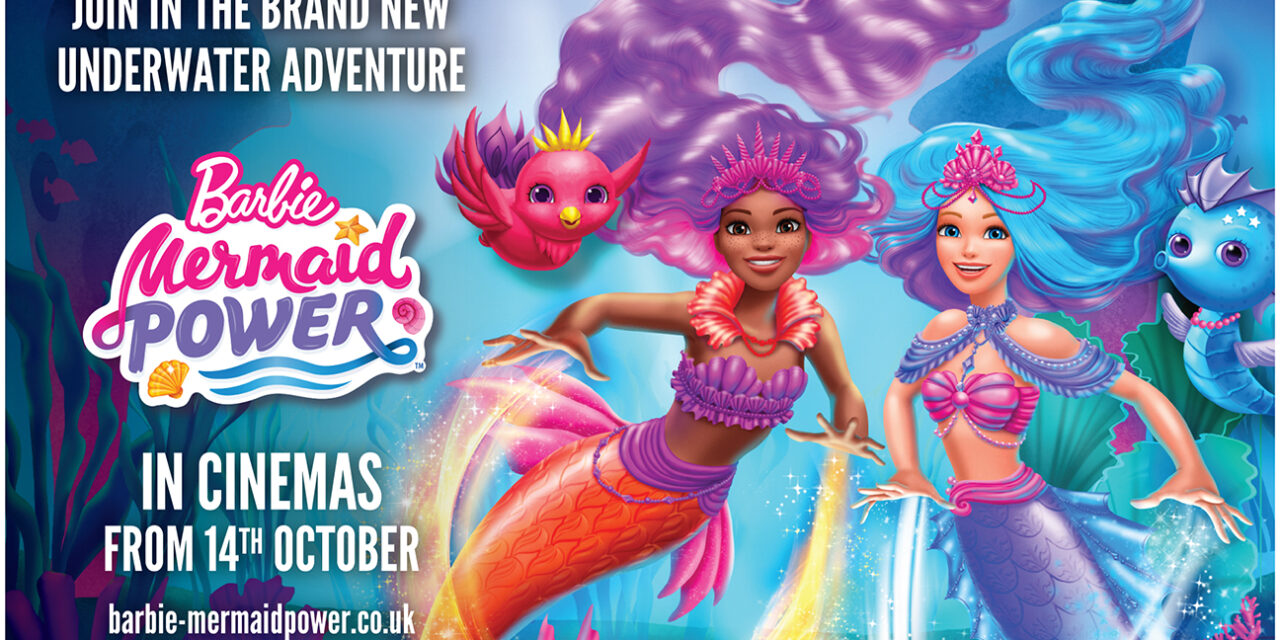 Starring Brooklyn and Malibu, Barbie Mermaid Power is an all-new, aquatic movie adventure that will bring Barbie fans the fairytale content they love. Following Barbie "Brooklyn" Roberts character's debut as co-lead in Big City, Big Dreams™, the next release focuses on the character's continued integration in the brand, and today the Barbie brand announces a new adventure with 'Barbie Mermaid Power'. This exciting musical celebration premieres on Friday 14th October 2022 in cinemas nationwide.
Building upon the history of mermaid content and the success of modern fantasy for the Barbie brand, the Barbie Mermaid Power movie will find both characters under the sea for the very first time.
The new adventure follows Barbie "Brooklyn" Roberts, Barbie "Malibu" Roberts, and her sisters Skipper, Stacie, and Chelsea on an underwater adventure as they transform into mermaids to help save the world of Pacifica! In the Barbie Mermaid Power movie, Barbie and Barbie are summoned by Isla (from Dolphin Magic) to compete to be the underwater "Power Keeper" in a series of challenges designed to find their inner powers. Through these competitions they discover whether they are mermaids of Earth, Air, Water, or Fire, all while making new animal and mermaid friends. In this fish-tale of friendship, adventure, and bravery, Barbie, Barbie, and family experience first-hand what it's like to balance the worlds above and below the sea and learn a lesson in finding their inner powers along the way.
The new Barbie Mermaid Power toy range is inspired by the movie and includes the Barbie Mermaid Power™ Dolls, with Barbie "Malibu" Roberts and Barbie "Brooklyn" Roberts mermaid dolls each featuring a magical mermaid look, complete with extra-long fantasy hair and beautiful ombre tails with premium touches and sculpted scales. The range also includes the Barbie Mermaid Power™ Boat with 2 Dolls, this playset features an 18-inch boat that can float in water and seats up to 4 dolls (other dolls sold separately).The range is available to buy at Amazon.
Mattel is hosting an exclusive private screening on 8th October, 12pm in the UK's biggest cinema The Showcase De Lux in Bluewater, with special guests Jacqueline Jossa and her two daughters Ella and Mia, as well as micro influencers. The screening will include a red carpet, photo opportunities, product displays and merchandises to create a magical Barbie Mermaid Power atmosphere.
Barbie Mermaid Power will also be represented in the latest update to the Barbie Dreamhouse Adventures™ mobile game, available now for free. The update features a new underwater adventure with Malibu, Brooklyn, and friends where gamers can explore hidden corners of the deep ocean in Pacifica, discover new fashion outfits and decor for magical summer vibes, and compete in a new fashion challenge.
Barbie Mermaid Power will be showing at UK Cinemas including, Showcase, Vue and Odeon.