VLAD & NIKI – PRESCHOOL INFLUENCERS IN AUSTRALIA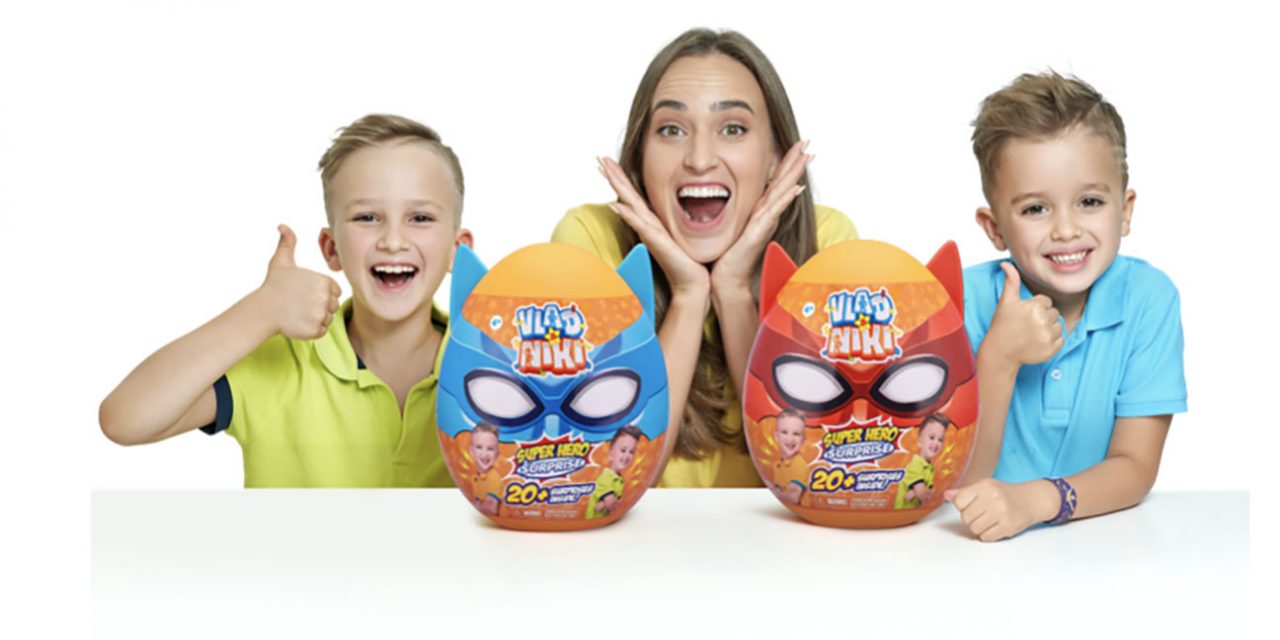 "Vlad & Niki" is an imaginative, live-action preschool YouTube series, showcasing the everyday comedic antics of two young brothers, starring eight-old Vlad Vashketov and six-year-old Niki Vashketov, along with the help of their humorous mother Victoria Vashketova. "Vlad & Niki" have more than 236+ million subscribers worldwide, with 78+ million subscribers on their English Channel.  They have received more than 135+ billion total views. In Australia and New Zealand they capture an average of 19+ million monthly views 
The streaming short-form content is packed with non-stop adventures, creativity and tons of fun. Localized on 21 channels and translated into 18 languages, the key preschool learning themes for "Vlad & Niki" include family fun, discovery play, home adventures, indoor and outdoor fun and games, singing and dancing.
The inspiration for the series began when Vlad noticed the antics of other kids while watching YouTube, and wanted to make a video of his own. The Vashketov family began recording and uploading videos of the boys during their free time on the weekends in their home. As their popularity grew, so did the families' creativity. Each episode is produced with an innovative mix of live action, animation and music to create comedic videos that capture the attention of the preschool demographic. Their one-year-old brother Christian often guest-stars in the episodes.
"Vlad & Niki" continues to be well received by critics as well as the public as the dynamic duo captured three more prestigious awards in 2021, including being named 'Best Web Series for Kids' by the National Parenting Product Awards (NAPPA); winning the Shorty Awards honor for 'Best Influencers & Celebrity YouTube Campaign' and the 42nd Annual Telly Awards' 'Bronze Winner in the General Children's Online.' Those were added to earlier recognition from the International Academy of Digital Arts & Sciences' 10th Annual Lovie Awards 'Outstanding Work Shortlist' category.
The two young brothers have received numerous YouTube Creative Awards, commonly known as Play Buttons, including a Ruby Play Button for 50 million subscribers; three Diamond Ruby Play Buttons for 10 million subscribers; 16 Gold Ruby Play Buttons for a million subscribers; and 16 Silver Ruby Play Buttons for one hundred thousand subscribers.
In recent news, WarnerMedia Kids & Family acquired the Vlad & Niki library to begin streaming on HBO Max's Cartoonito in March 2022. In addition, mobile apps have surpassed more than 100,000,000 downloads. On the licensing side, a deal with Playmates Toys includes more than 15 SKUs and Zuru Toys will produce 2 SKUs.
Vlad is the rambunctious, adventurous and competitive older brother who enjoys playing soccer, kickboxing, and water sports. A natural performer, Vlad is obsessed with animals and, when not in school, he spends his free time hip hop dancing and singing to his favorite performers including Maroon 5 and Imagine Dragons. Vlad is in second grade and speaks English and Russian.
Niki is the precocious younger brother who loves traveling, fashion, singing, dancing, painting and being creative. In his free time he enjoys do-it-yourself projects, arts and crafts, cooking and baking – pies are his favorite. Niki is in kindergarten and speaks English and Russian.
Victoria is the fun-loving mother whose lively personality is essential to the "Vlad & Niki" storytelling. The mother of three began her career performing as a competitive gymnast in Russia. She had a reputation for being the lively, expressive gymnast showcasing her exuberant personality during competition.
The "Vlad & Niki" video-streaming property is created, written and produced by Sergey, the boys' father, and his wife Victoria. Before garnering viral global attention, Sergey was a successful salesman and applied his skills to help create a worldwide brand that includes international licensing deals and brand integration.
Vlad & Niki brand-new toys and playsets created by Zuru Toys and Playmates Toys are available in retailers such as Target, Walmart, Amazon and Smyths in Europe. Fans can become fully immersive with "Vlad & Niki" on their website https://vladandniki.com where consumers will be able to watch videos, play games and purchase exclusive merchandise including apparel, accessories, drinkware and home goods.
Vlad and Niki are encouraging preschoolers to learn and engage in exciting adventures with 12 mobile application games for Android and IOS. Their games, which have 100,000,000 downloads feature music, funny animations, entertaining challenges and adorable characters.
The family now resides in Miami, Florida.