Valeo Confectionery, Iceland and The Point.1888 triple line-up of successful licensed range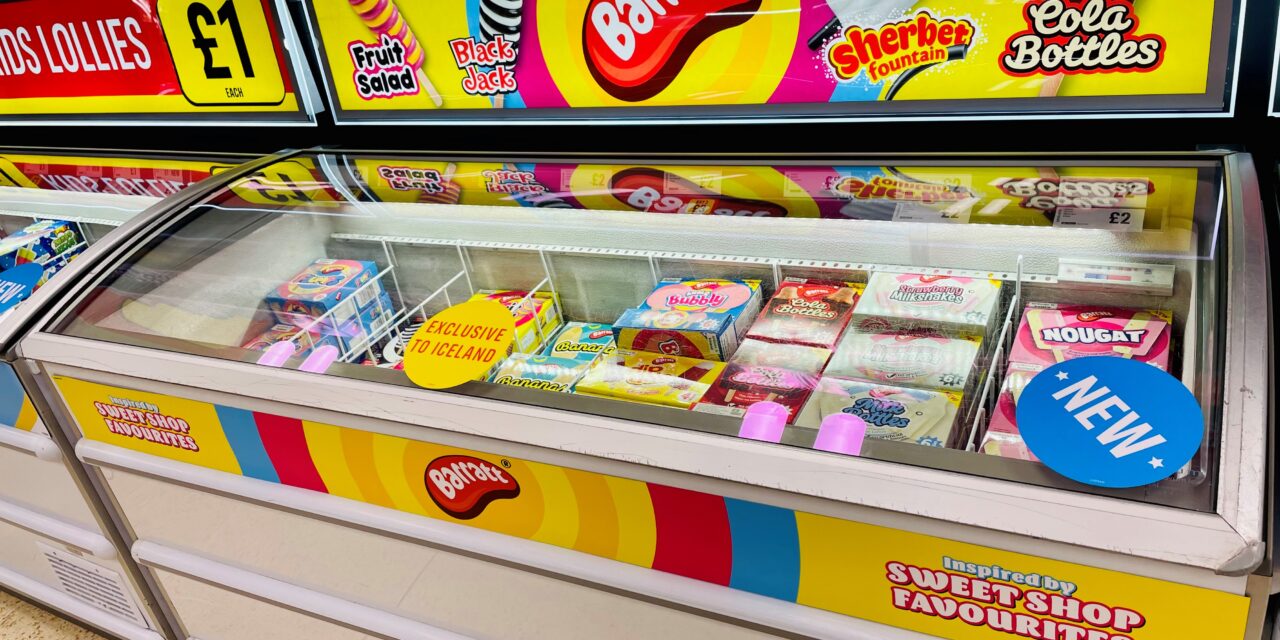 Valeo Confectionery's leading brand, Barratt, is tripling the number of SKUs in its innovative range of ice cream lollies exclusive to Iceland. Eight brand new ice lollies, inspired by sweet shop favourites, will join the four existing lollies in Iceland stores on 12th April.
The licensed collaboration, arranged by Barratt's brand licensing agent The Point.1888, was a summer hit in 2020, with more than 1.3m units sold in the first twelve weeks, despite strict social distancing measures and without a significant launch investment.
In addition to the much-loved Flumps, Black Jack, Fruit Salad and Dip Dab flavoured ice lollies, this year's product range will also include:
Foam Banana, a banana shaped ice cream lolly with the unmistakeable foam banana flavour
Wham, an ice lolly that delivers the unique Wham sour hit
Cola Bottle, a cola flavoured, bottle shaped ice lolly expected to be a bestseller
Milk Bottle, a milk flavoured, bottle shaped ice cream lolly with wide appeal
Strawberry Milkshake, a strawberry version of the Milk Bottle
Nougat, a tribute to one of Barratt's most traditional products
Anglo Bubbly, a circular, bubblegum flavoured ice cream lolly
Sherbet Fountain, a fizzy treat on a real liquorice stick
The range is designed to perfectly recreate the joyful feeling of eating a classic sweet, with many of the ice lollies offering a fun nod to the original sweets.
With health in mind, many of the ice lollies are suitable for the calorie-conscious, with the Flump lolly only 55kcal per lolly.
The extended range is expected to fly off shelves and will be well supported with TV and press advertising, a Barratt Branded Freezer unit and store window POS.
Russell Tanner, marketing and category director, commented on Iceland's investment in the wider range: "After our ice cream range sold six times faster than expected in 2020, investing in additional products was a no-brainer. The Barratt ice cream range is a simple way to bring a little bit of excitement to the supermarket shop, and is aligned perfectly with our fun and fizzy brand experience. Working with Iceland, It was really important to both parties that the new products delivered on quality and experience to satisfy discerning Iceland shoppers and Barratt fans.
"The runaway success has shown us just how well-loved the Barratt brand is and opened up doors for the brand in terms of exploring licensing opportunities across new food categories."
Sally Bentley, Senior Buyer at Iceland said: "We're thrilled to be extending our range with Barratt and it's been fantastic to see how the brand has resonated with our customers."
Bethan Garton, The Point.1888's Commercial Director, commented, "As the success of the launch last summer proved, we struck gold with our ice cream range of Barratt's best loved brands. With the time and attention invested in the product development and flavour profile matching we're thrilled the range will once again be hitting the shops, bigger and better than before."