True and the Rainbow Kingdom goes Global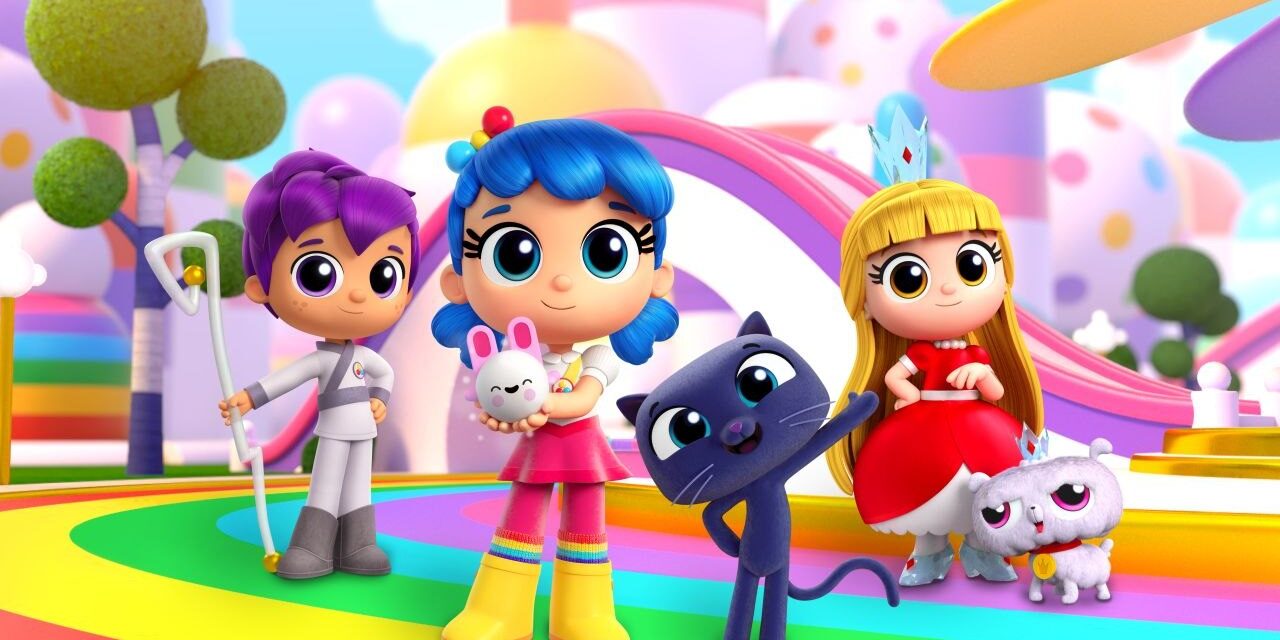 Following its successful launch on Netflix worldwide, Guru Studio's hit preschool series True and the Rainbow Kingdom has very quickly become a breakout hit on linear TV channels around the world.
The Toronto-based entertainment powerhouse, Guru Studio, known for animating shows like PAW Patrol and Pikwik Pack is now gearing up for the next phase of its global growth strategy as it prepares to roll out a full consumer products program for TRUE internationally later this year.
"We've seen worldwide demand for TRUE products skyrocket over the last year," said Jonathan Abraham, VP of Sales and Business Development at Guru Studio. "Families are falling in love with the colorful and imaginative world we've created, and it's no surprise that ratings are soaring."
The series continues to be a breakout hit with broadcasters. In Canada, True and the Rainbow Kingdom is a top rated property on public broadcaster CBC Kids, and is currently the #2 Kids Property on CBC's AVOD + SVOD platform GEM, up 46 percent this year alone. In the UK on Tiny Pop, the show very quickly rose to become a consistently top 5 property, and a high contributor to the channel's overall growth. The show reaches roughly 2 million kids per month on average in the UK alone. On Gloob in Brazil, True and the Rainbow Kingdom is the 2nd highest rated series with girls amongst all Pay TV Kids channels.
"In today's crowded landscape, you need to be everywhere to break through." said Abraham, "We premiered on Netflix which laid an incredible base for audiences to discover the series. With the launch on linear TV in local markets and the explosive growth of our YouTube channel, we're seeing the brand really take off. It's truly a winning combination."
On YouTube, the show's official channel has reached over half a billion views with new content rolling out multiple times per week.
Four seasons of the series are currently airing on Netflix and on linear television in over a hundred countries. The series also delivers a wide mix of content formats for kids including full episodes, seasonal specials, shorts and music videos.
"Our amazing seasonal content has been a big driver of year round interest in the brand." said Abraham. "We have Halloween, Christmas, Easter, Thanksgiving and Summer specials giving us a full year of incredible timely messages to rally around. Our Halloween special is a family favorite and every year we see thousands of TRUE themed costumes posted on social media where the whole family gets involved."
TRUE costumes officially launched three years ago at select retailers, such as Party City, Spirit Halloween and Fun.com. All three years, costumes have sold out. The series has also inspired a line of best selling plush by Aurora World, and story books and activity books by Bendon and Chouette. The brand is gearing up for its international consumer products launch later this year – with the company set to announce a new master toy partner.
"We've been seeing tremendous interest from across the licensing world for TRUE," said Abraham. "Soon we'll be announcing some new partners that will bring TRUE to even more families around the world."
The hit Netflix Original series is produced by Guru Studio based on the artwork of artists FriendsWithYou, and is executive produced by world renowned artist Pharrell Williams. The series follows 8-year-old True and her hilarious best friend Bartleby the cat, as they come to the rescue of the Rainbow Kingdom's whimsical citizens. True is the only one that can unleash the power of the Magical Wishes from the Wishing Tree in order to set things right and keep all the residents safe. True and Bartleby's adventures empower both boys and girls to be mindful, courageous and respectful of all living things.