44 Cats sees Global Ratings Success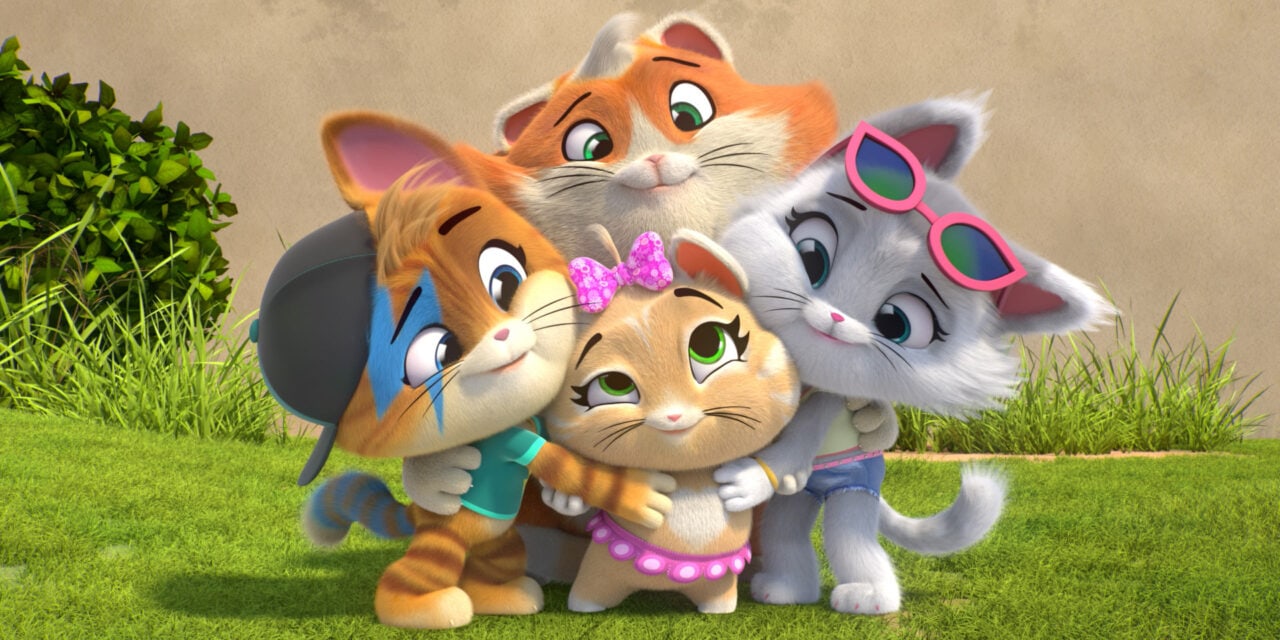 44 Cats, the latest children's TV hit series created and produced and developed by CEO of Rainbow Group, Iginio Straffi, continues to conquer new fans around the world, across all continents and cultural barriers, driven by its high-quality content, engaging storylines, colorful characters and mix of edutainment and music.
Developed by Rainbow, 44 Cats premiered in Q4 2018 in Italy and quickly became a ratings hit notching up over 150 broadcasters in more than 100 countries and 20 languages in its first season. Exactly two years later season two has launched and is already garnering new audiences and retaining millions fans from season one. A brilliant mix of original music and cuteness telling the daily adventures of four kittens – The Buffycats – and their human and animal fellows, 44 Cats reaches children around the world across all platforms including free-to-air, pay TV and SVOD platform.
The 104×13' CGI animated show has a prestigious pool of broadcast partners:
Italian broadcaster Rai who was the first to air the series on its kids' network Rai Yoyo with multiple scheduling slots and an amazing 50 million viewers per month, equating to a daily average of 1.6 million. Rai Yoyo also recorded its highest ever episode rating with 530k kids tuning in to watch their favourite Buffycats.
In the UK, 44 Cats rated in the top 6 of all pre-school series on POP TV in Q2 of this year with a peak of 5.5millions audience in a months and increased its total viewership by 50% compared to the first quarter of the year.
On the Carousel network in Russia, which has a 50% children's audience, 44 Cats achieves more than 2 million total viewers and rates 150% above the channel average.
In Canada, the Treehouse network ranked 44 Cats as the number one property in its kids 2-5 years early afternoon schedule in the first quarter of the year.
Clan TV in Spain is a recent addition to the broadcasters airing 44 Cats since May 2020; it immediately became the number one preschool show amongst all thematic channels with a children's viewership which grew from 780k to 1.5m in a single month; it also rates sixth amongst all kids shows, giving a really impressive start to the brand.
On French screens, 44 Cats records massive following on France 5 and is expected to report a further ratings increase by Christmas.
On the CCTV kids' channel in China, the series rated as the top show in both February and April 2020. It drives a 40% higher reach than prior shows in the same scheduling slot on the network.
Australia broadcasts the series on Nick JR. and also rated 44 Cats as its top show in the first quarter amongst the 0-4years kids' audience.
The Netherlands ratings showed the series to be its third top rating animated series on Nickleodeon with Girls 4-9.
Discovery Kids Latin America keeps thriving with the show on Discovery Kids leading across the continent, especially in Brazil and Mexico, the latter airing on Azteca TV which rated 120% up when ranked against other premieres. Brazil has just launched season 2 and was also more than 70% higher than other network premieres. The other LATAM countries will follow in 2021.
Additionally, The SVOD market is also a strong platform the 44 Cats with growing success; Netflix delivers worldwide, Amazon Prime takes the series for Italy plus Yandex, Start Russia and IVI stream it in Russia. Partners Youku, Tencent and Xigua (Bytedance) are on board for China.