Touchland Teams with Disney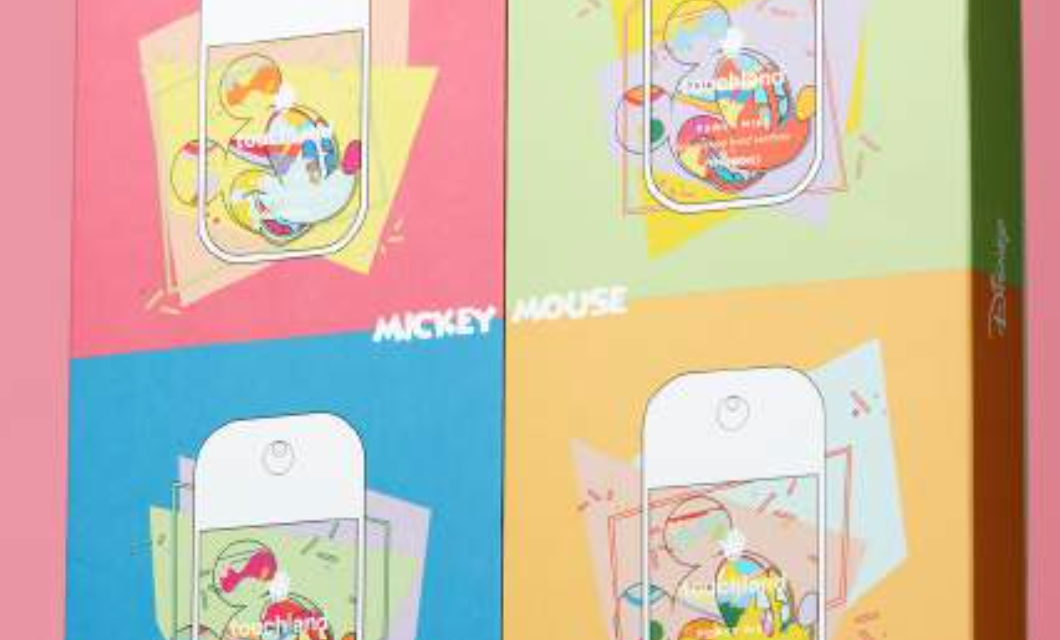 Touchland–the brand responsible for constantly shaking up the hand sanitizer industry—teamed up with Disney for the brand's first ever EPIC collaboration with the one and only, Disney Mickey Mouse! The exclusive collection is available at Touchland.com and NeimanMarcus.com, as well as all Neiman Marcus stores, as of Monday, October 4th for $45 USD.
The Touchland and Disney collaboration is a four-piece limited edition collection inspired by the iconic pop-art style. This whimsical collection features four of Touchland's fan-favorite Power Mist Moisturizing Hand Sanitizer scents — Aloe You, Pure Lavender, Citrus Grove and Unscented, with each Power Mist featuring a custom-designed Mickey Mouse wallpaper sticker that appears through the bottle. The quad comes in a customized gift box that features a multi-colored pop art carton with center sliding panels, allowing customers to experience the magic of Disney no matter where they are.
"We've married pop art with pop culture for a truly magical collection," says Andrea Lisbona, founder and CEO of Touchland. "Our team thoughtfully designed each bottle and outer package, making it the perfect gift or collectible for Disney lovers—our goal was to create a colorful, museum-worthy work of art!"
The limited-edition collection features Touchland's award-winning Power Mist Moisturizing Hand Sanitizers, which are created with a pulverizer spray system that ensures the fast-evaporating formula is evenly distributed across your hands without leaving sticky residue. The fan favorite sanitizer also contains nourishing ingredients like aloe vera and essential oils to keep hands soft, smooth and moisturized.
"We are beyond thrilled that Touchland's first collab is with Mickey Mouse, a globally recognized icon, and we are so grateful to the team at Disney for helping to bring this masterpiece to life," says Lisbona.
Touchland has been making waves throughout the beauty industry since 2018, quickly rising in popularity through their social media following and celebrity fan base, and the brand and its products regularly go viral on Instagram and TikTok. All Touchland products are vegan, cruelty free, as well as free of triclosan, parabens and other harmful ingredients. To learn more or to shop the Touchland and Disney Power Mist collection, please visit Touchland.com.