Ticket to Ride, Asmodee's Hit Board Game, Raises Over $184,000 for the Breast Cancer Research Foundation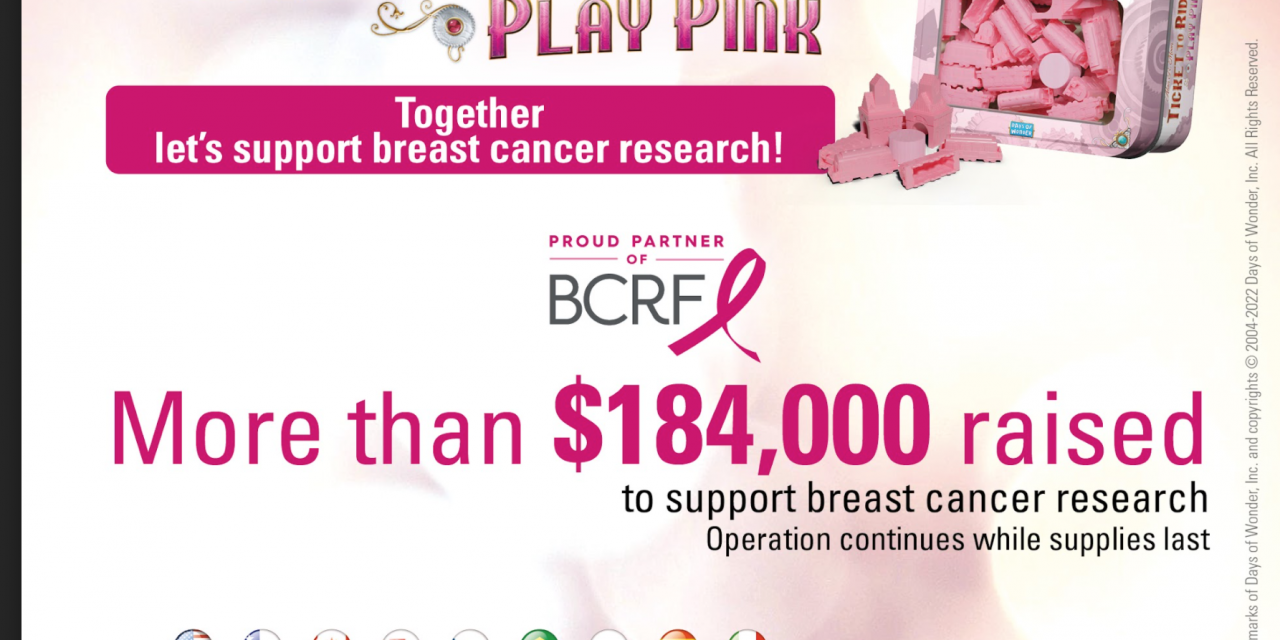 Asmodee, the industry-leading board game publisher, and Days of Wonder, the studio behind best-selling board game Ticket to Ride, announced today that their Play Pink initiative has raised over $184,000 USD for the Breast Cancer Research Foundation (BCRF). Funds raised correspond to 100% of the profits of a limited edition Ticket to Ride: Play Pink train set created by Days of Wonder as well as a contribution chosen by players on Play Pink Humble Bundle from Asmodee Digital to support critical research to end breast cancer.
Asmodee's Play Pink Initiative By The Numbers:
● Over 40,000 copies of physical Ticket to Ride: Play Pink train sets were sold
● 18 countries participated in Asmodee's Play Pink
● France, Italy, Belgium, and Poland sold out of Play Pink train sets in 10 days
● Over 67,000 digital Play Pink Bundles were sold on Humble Bundle
"We have been humbled by everyone's response to the Play Pink initiative and are incredibly happy of the commitment of our players to support this charity," Stéphane Carville, CEO of Asmodee, said. "We're so glad to bring our players together around such a great cause – breast cancer affects millions of women around the globe. We are honored to have made an impact supporting the BCRF's cause, and all the amazing work they do."
"This year, breast cancer became the most common cancer in the world," said BCRF President and CEO Myra Biblowit. "By partnering with BCRF, Asmodee/Days of Wonder is supporting groundbreaking, lifesaving science at a time when the need has never been greater—ensuring that research funded today is there for our loved ones tomorrow. Together, we will bring the end of breast cancer into focus."
Ticket to Ride: Play Pink released to retailers around the world in October for a suggested retail price of $5 USD / €5 Euro, with $2 / €2 of each sale corresponding to the entire profits going to BCRF – with the charity project continuing where supplies last. Asmodee Digital offered a digital bundle through Humble Bundle with each consumer giving any percentage of their pledge to the foundation.